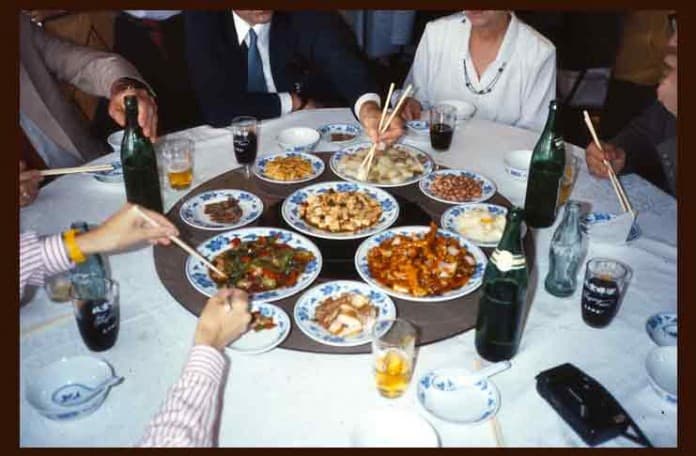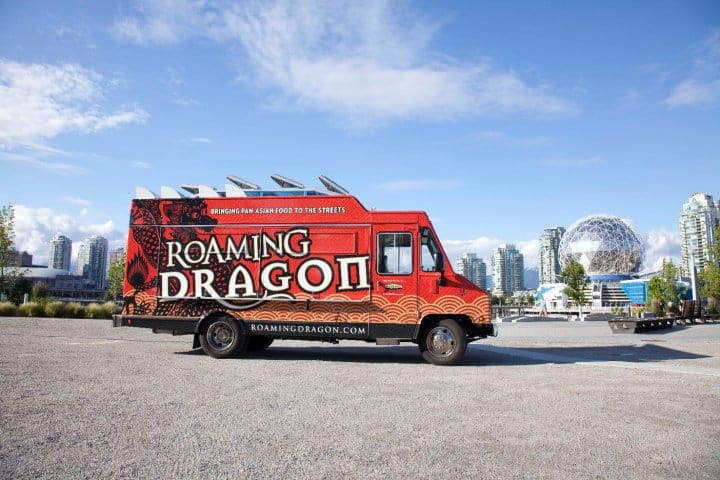 We recently told you about Vancouver holding a lottery to expand the city's street food options.  One great street food option in Vancouver that already exists is The Roaming Dragon food truck.
Curious Domestic calls it a "tapas bar on wheels", and posted a detailed review.  They spotted the truck visiting Kits Point near Arbutus and Whyte (the truck also makes appearances at Vancouver Farmers Markets), and selected 3 dishes for $15 to take advantage of the "Dragonista" twitter promo for a free Lychee Lemonade.
The dishes chosen were short rib tacos, rice balls, duck confit salad, and some pork belly sliders were added.  Read the full, delicious review after the jump.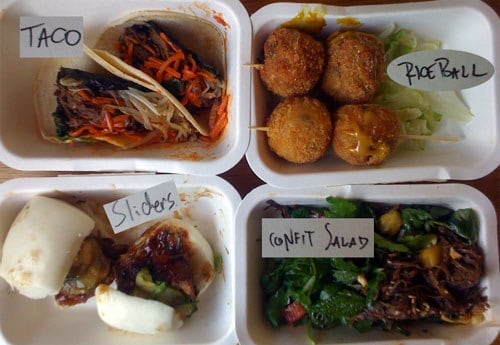 Lychee Basil Lemonade ~ Cool, tart, sweet, and refreshing.
Nice twist on a summertime standard. Basil is related to mint, and adding it to the mix was brilliant. The drink has unexpected texture, with little chunks of lychee swimming around, and is served with a wide straw. Personally, I'm not a big fan of lychee, but Gingerman liked the drink so much we came back later and bought a second one.
Duck Confit Salad ~ Savory, melt-in-your-mouth duck confit served warm on a bed of young green things with little chunks of pineapple and watermelon.
I loved the addition of watermelon. It gave a completely different contrast in texture and flavour than the pineapple, and both fruits make good company for duck. As a whole, it was nicely balanced and not too sweet. Requires a fork or chopsticks (if you're the civilized sort).
Short Rib Tacos ~ Korean style shortrib cradled in a tiny soft taco with a little nori, some greens, carrots, and bean sprouts.
Nicely spiced sort of East meets West take on tacos el pastor. This was the dish I most wanted to try, and it was a NUMMY success!
Rice Balls ~ Crispy fried balls of fried rice.
I know, it sounds deadly, but taste was the payoff. The coating was crispy and quite thin, just doing its job at holding the rice in shape. The rice was a little creamy, with an aroma of 5-spice and the taste of soy in the background. On top, a little drizzle of golden sauce with hints of curry—yum!
*Pork Belly Sliders ~ Tender morsel of pork, thin-sliced cucumber, tasty sauce, soft bun.
Char Siu Bau magically transformed into a dim-sum slider! Skeptical at first, I took one bite and was hooked. Ingenious and delicious.
*NOTE: I confess, when Gingerman listed options from the menu, pork belly was not my first pick. I've had a few bad experiences with greasy, chewy pork belly at restaurants, and didn't want to spend our dough on the possibility of disappointment. However, after we paid for our main order, the hubs let slip that I was planning to blog about the food, and Dragontruck threw in the sliders gratis. I thank them from the bottom of my stomach. Totally loved them!
Things we love @ Roaming Dragon:
EVERYTHING! The flavours are there, man!
Perfect portions for a snack or light lunch.
2-3 items + Lychee Basil Lemonade = a nice picnic for two.
Soba Noodles are vegetarian, and tofu can sub for duck in confit salad. [Curious Domestic]
Twitter     @Dragontruck
Website    www.roamingdragon.com
Facebook  www.facebook.com/DragonTruck