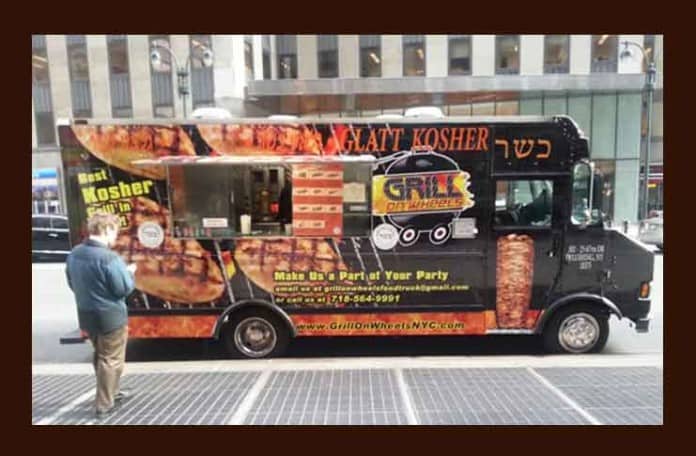 Hopefully the rain will hold out today.  Enjoy some great New York Street Food from the vendors on the right and the trucks below.
quickstopkosher – Today will be 52 nd str SE corner Lexington ave free dinges from 12-1
schnitzeltruck – Mornin to 48th & 6th. We're coming to serve up some schnitz deliciousness!:) hope rain stays away. 11:30 open. Call to preorder 347-772-7341
nyccravings – 11am by 53rd btw park/lex. FRI 7/30, Greenwich & Murray from 10-6!
Mexicue – Looking like we'll be in the 50s and Park Ave today… we'll give our exact location very soon.
CupcakeStop – Trucks on 99 & Madison and 5 & 23, Shoppe in the Limelight 6 & 20 & new Bakery in Montclair NJ 1 Greenwood Ave w/ cupcakes cookies brownies! Red Velvet, Chocolate Chocolate, Coconut Cream, Mint Chocolate Chip, Vanilla Strawberry, Fig Cake w/ Cream Cheese Frosting, French Toast..
fritesnmeats – Howdy kids! Ready for some Burger Lovin'? Were on Park Ave b/w 26th & 27th. Come get u some or just call & pick up. 917.292.9226
EddiesPizzaNY – Happy Thursday (7/29) EPT is on 52nd and park until 3pm and then off to union square in front of trade joe's (14th… http://fb.me/DRSmXRYn
StreetSweets – Hey Tribeca SS hopes the rain will stay away, we are looking forward to serving our wonderful customers of Hudson St (btw King & W. Houston)
joyridetruck – Joyride is at 52nd & Lex starting at 7:30am. Why not start your day off with an @stumptowncoffee or a delicious buzzed parfait?
waffletruck – Happy Thursday Midtowners! We're on 46 btwn 5 & 6 til 4:34 in the pm. Beat box for us for 1 free dinges today.
qbacubankitchen – Running late, but will be in midtown by 12pm. 44th st near 5thave fingers crossed!
Hoboken/Jersey City
TheKrave – 7/29 – No lunch today. Columbus and Marin 5:30 – 10:30. Yes 10:30! Open LATE! http://tumblr.com/xl1eh2p4w