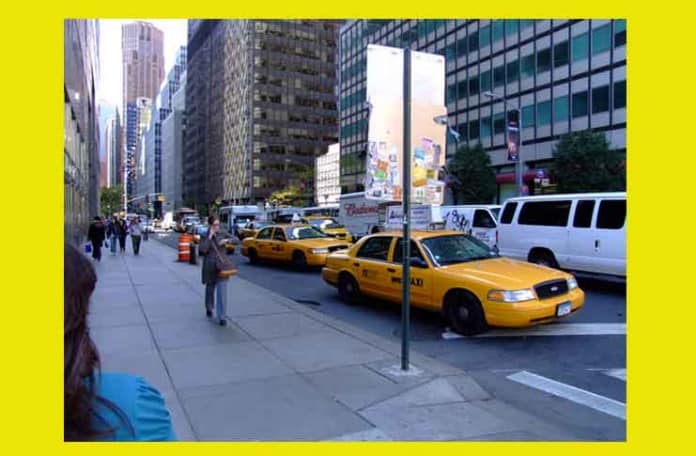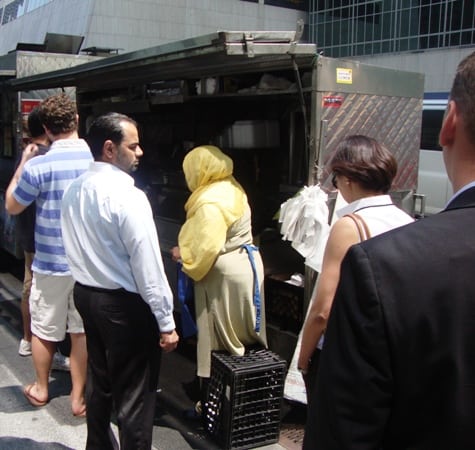 One of the lesser-known gems of the New York Street Food scene is the Trini-Paki Boys cart on the north side of 43rd St just east of 6th Ave.  They were on the south side of the street for many years, but had to move across the street due to construction.  It's a little tight across the street, squeezed in between the excellent El Rey Del Sabor Mexican food cart and a generic halal cart, but they should be able to move back across 43rd St next spring, when construction is expected to be completed.
Fatima (above, in yellow) and her husband started this cart many years ago.  One of them is from Trinidad and one is from Pakistan.  They named the cart after their boys – the Trini-Paki Boys.  Now one of their sons and his wife help run the cart.  They have a regular following, with a line of around 8 people in front of me and then behind me by the time I ordered, but it didn't take more than 5 minutes or so to get lunch.
The menu is eclectic, with some Indian/Pakistani dishes like dal and samosas, and some Trinidadian dishes like shrimp curry and doubles, which I have previously enjoyed.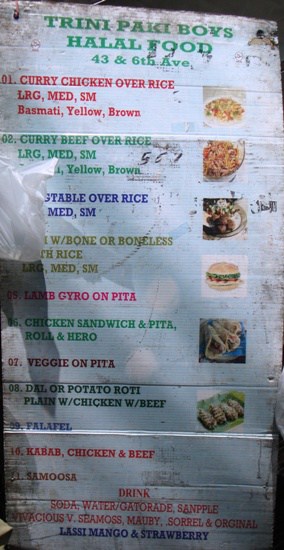 For Today's Lunch, I went with the classic chicken over rice – but at the Trini-Paki Boys cart, there's a twist that makes it better than at most of the other carts.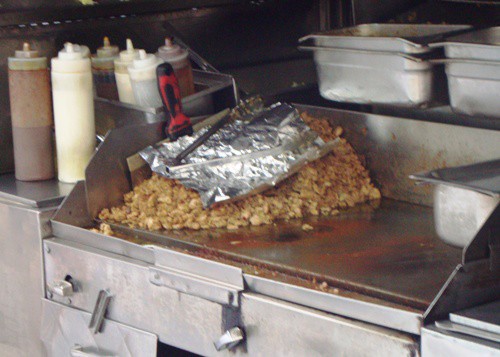 When I walked up, there was a huge mound of chopped chicken on the grill – but it was fresh and still moist.  I ordered the medium-size chicken over rice for $5, which was plenty of food.  The container was filled with a long-grain white rice (yellow is also available), and he puts some veggies (mainly cabbage) and chick peas in a curry sauce on the edge of the container. Then comes the chicken and sauces.  Here's where you need to pay attention.
They have a tamarind sauce that's awesome and a hot sauce that's very hot.  The tamarind sauce is a little sweet, and pretty spicy – and the brown hot sauce adds even more heat.  These two sauces take the chicken and rice to another level, much better than most of the other halal cart chicken over rice dishes.  I didn't get the white sauce, and was very happy with these 2 sauces.
Today's Lunch is a 9 out of 10.  The chicken was moist and tender and didn't have any funky stuff, and the rice was very good.  However, the tamarind sauce (especially) and the hot sauce are what makes the Trini-Paki Boys cart stand out from the crowd.  Their doubles are pretty good too.