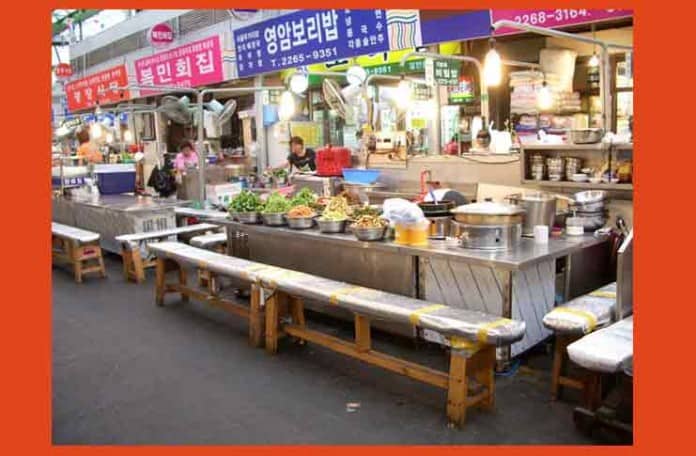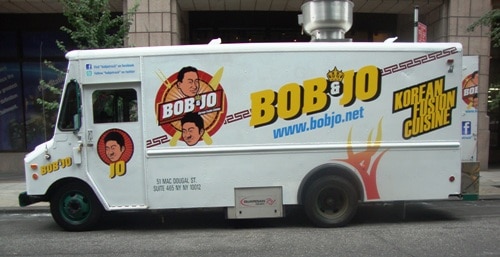 I had to go over to a meeting at 550 Madison Ave yesterday, and as I left the building, there was a line by a new truck that I hadn't seen before called Bob & Jo Korean Fusion Cuisine.  By the line, there was a video screen playing K-Pop (Korean pop music) right above the menu.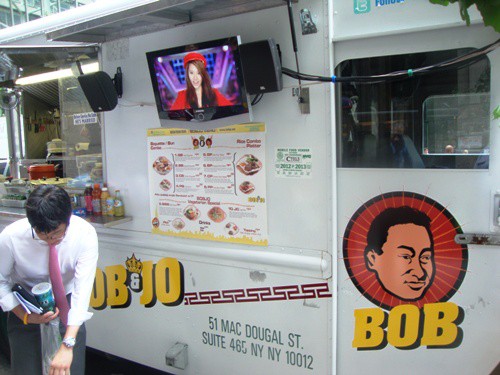 There were about 8-10 people on line, but it moved really slow because there was only 1 person working in the truck.  When I got to the front of the line (about 15 minutes), I asked if there was usually more than 1 person working in the truck.  The guy said "Jo didn't show up at the truck today. I'm Bob. Where's Jo?"  He was not happy, but tried to make a joke out of it, hence the subtitle "Desperately Seeking Jo".
I'm not sure where the "fusion" comes in because the menu looked like pretty traditional Korean cuisine.  There was galbi (short rib), bulgogi (marinated beef), spicy chicken and spicy pork on either a baguette (2 pieces) with a small bag of chips ($7) or over rice in a platter with salad & kimchi ($9).  They also offer 2 vegetarian dishes, bi-bim-bowl and jap-che.   I don't know, maybe a baguette qualifies as fusion with Korean food.  You can see the full menu here.
Since they also offered one baguette piece for $3.50, I asked for one piece of galbi and one piece of chicken, which was the same as one full baguette order.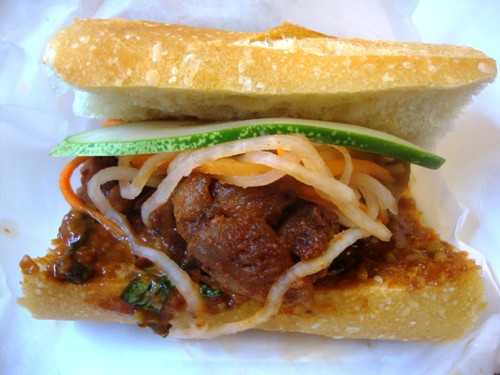 Similar to banh mi or num pang, the sandwich includes shredded pickled daikon and carrots, a thin slice of cucumber, kimchi, meat and sauce.
I started with the chicken, which has a spicy reddish-brown sauce that was pretty hot.  The spicy chicken and cold pickled vegetables offset each other well, and this was tasty.  It wasn't all that big, but it was only half a sandwich.
Next up was the galbi, which is grilled short rib.  It had a nice flame-grilled flavor and had obviously been marinated.  The toppings were the same, but the sauce was not as spicy as the chicken.
While the galbi tasted great, there were only 2 small pieces of beef on the baguette.  I realize $3.50 is not a lot of money for half a sandwich, but they really need to put more meat on the sandwich.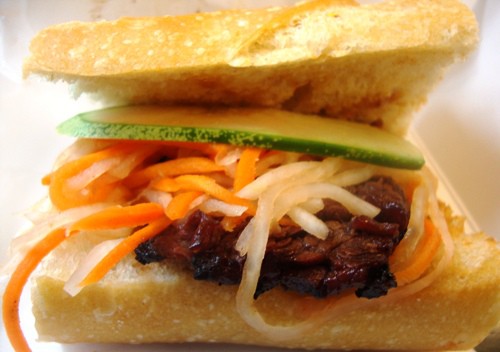 The food on the Bob & Jo Truck tasted good, but they need to put more on the sandwiches than I got yesterday.  I don't know if it's because Bob was so harried being the only one in the truck.  Based on the quality of the food, I'm certainly willing to give them another try.  Let's see how the meat platters with rice are, and what it's like with 2 people working the truck, before reaching any conclusions.
We have already added Bob & Jo to our Mobile Munchies twitter feed here, and they will be added to our directory shortly.
You can also follow Bob & Jo on twitter here and their Coming Soon website will be here.