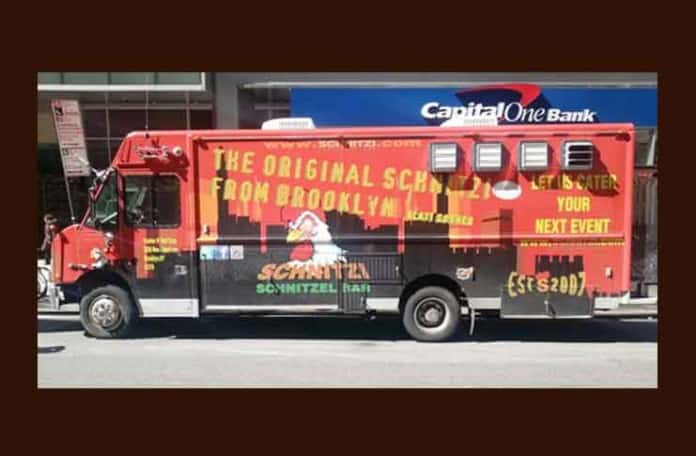 You can't tell from this week, but we're inexorably heading towards spring. Despite the crappy weather, new food trucks are blooming left and right.
The latest food truck we found is called Schnitzi, and they specialize in lots of different permutations of schnitzel. Man, that's one angry-looking chicken on the side of the truck! Guess you would be angry too if you were being cut up, breaded and deep-fried.
The menu is large and overwhelming at first, so we asked for their suggestion. After asking if we wanted a spicy option, he suggested the Spanish schnitzel for $11.48 ($12.50 after tax), which is their most popular sandwich.
You can get your schnitzi on a white or whole wheat baguette, or in a wrap, with an assortment of toppings and sauces.
By the way, the food at Schnitzi is Glatt Kosher, and there are salads and burgers too on the menu.
The guy in the truck told us that Schnitzi started in 2007 and they have two stores in Brooklyn, at Coney Island and in Boro Park. They are now expanding by opening a food truck, which only just hit the street.
While the prices are high (as kosher food usually is), they don't skimp on the portions. The baguette was just under 12″ long and packed with breaded, pounded chicken.
We tasted a piece of chicken that fell out of the bread, and he was right about the Spanish schnitzel being spicy. There was a nice amount of heat with the chimichurri sauce, enough to notice, but not too much to overpower the food.
The chicken was fried to a golden brown, giving it some crispiness.
At our direction, the baguette included lettuce, pickles and grilled onions. You can also get tomato and raw onions, if you want.
The bread was good, crunchy and soft at the same time.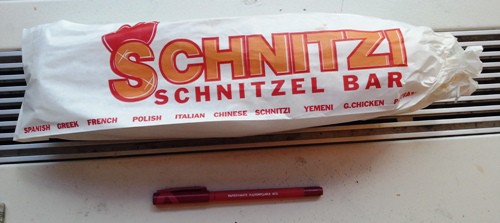 Between Schnitzel & Things and Grill On Wheels, we can't say The Schnitzi Truck is an original on the street, but the food is good, they have 9 different variations of schnitzel, and that sucker was basically a foot long!
Besides, where else can you find Greek, French, Polish, Yemeni, Chinese (?) and Indian (??) schnitzel?
You can find The Schnitzi Truck on twitter here or on the Mobile Munchies twitter feed. Their website is here.