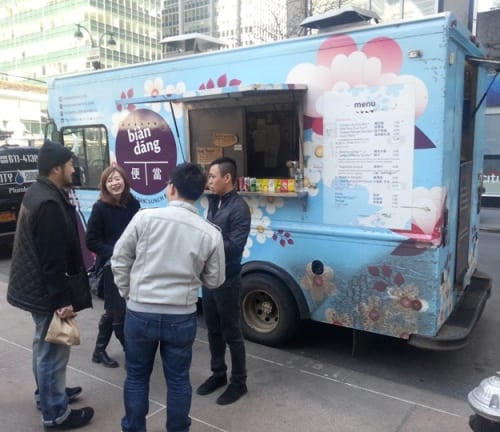 We always enjoy lunch from Bian Dang, the Taiwanese food truck that received a Rookie of the Year Vendy Award nomination in 2009, but the menu is fairly static. That's why we were excited to see a new dish, Salt & Pepper Chicken, not too long ago.
Bian Dang also has one of the prettiest food trucks on the street, a nice sky blue color with flowers.
We weren't sure what to expect from the name Salt & Pepper Chicken, but in retrospect, a dish we had in Chinatown several months ago offered a clue.
Last fall we went to Nom Wah Tea Parlor, the oldest dim sum parlor in Chinatown. During that meal, we ordered Salt & Pepper Ribs. What came out of the kitchen was a large, flat (pounded?) piece of pork that had been breaded and deep fried, and was very tasty!
Hopefully, that's what was in store for us at Bian Dang this day.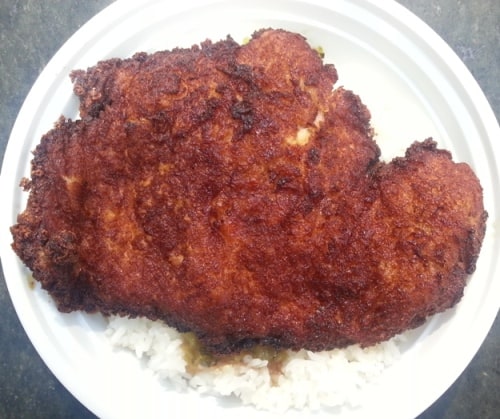 After getting back to the office, we opened up lunch, and were faced with an enormous breaded cutlet that was the entire width of the container!
Similar to the Salt & Pepper Ribs, the thin cutlet (chicken in this case) was breaded and deep-fried. The breading wasn't too heavy on the salt and pepper, but enough to jazz up the chicken.
The other thing we like about deep-frying is the chicken stayed moist. Chicken can easily be dry if overcooked, but a quick dip in the deep-fryer, and everything was copacetic.
It was a little tricky cutting the chicken with plastic cutlery outdoors, but definitely worth the effort.
Underneath the giant cutlet was Bian Dang's fantastic chopped mustard greens with pork sauce. We removed the chicken and took a photo so you can see the pork sauce and chopped mustard greens between the salt and pepper chicken and the white rice.
Bian Dang has been parking a lot lately on 53rd St between Park & Lexington Aves, but check their twitter here or the Mobile Munchies twitter feed to be sure.
Salt & Pepper Chicken is a special, and not on the regular menu, but it's worth checking twitter to find.