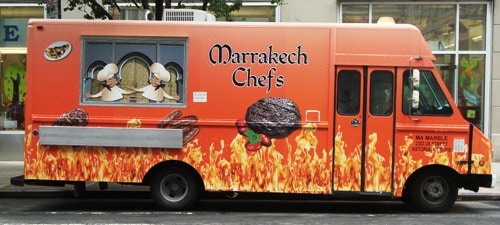 As I was heading to work this morning, I saw a food truck parked at Hudson & King that I had not seen before called Marrakech Chefs.
Even though Hudson & King has become food truck central these days, I live around there and take the 1 train from Houston St to Columbus Circle, which is a food truck wasteland.
The truck wasn't open yet, so I knocked on the door and Elmehdi came out to speak with me.  He said they have been on the street for 7 weeks, but I haven't run across them, probably because of where they park.
On Monday, they are on 24th bet Park & Madison; on Tues & Wed, they are at Hudson & King; on Thurs & Fri, they are at Wall & Water Sts.  No wonder I haven't seen them at lunchtime.
The centerpiece of the menu is tagines (slow cooked meat) that can be ordered over basmati rice, couscous or on a sandwich with olives and lettuce. The tagines menu looks pretty similar to Bistro Truck and Comme Ci, Comme Ca, who are both from Morocco too.  They are two of the best trucks around, which is a pretty high bar to reach for.
Where Marrakech Chefs differentiates it's menu is the burgers.  They have 4 different burgers topped with various ingredients such as fried egg, avocado, caramelized onions, cilantro lime dressing, portobello mushrooms and roasted red peppers.  You can check out the full menu below.  If it's too small to read, click here for a larger view.
You can follow Marrakech Chefs at twitter here and we have added them to our Mobile Munchies twitter feed, which now follows over 70 different vendors.  We will try their food as soon as possible, but please let us know in the comments if you have tried Marrakech Chefs.