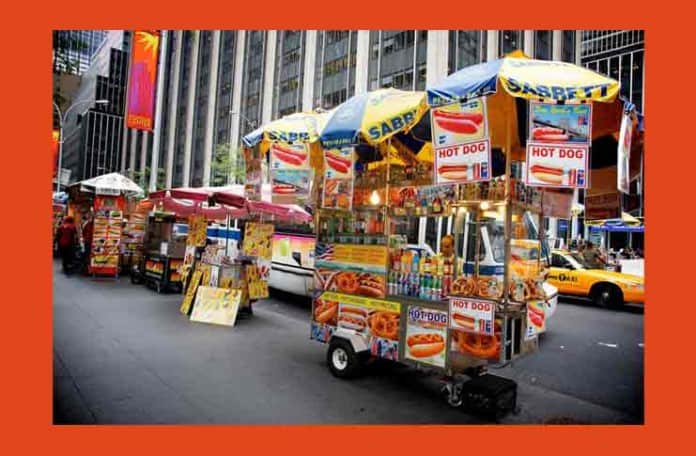 We were not able to attend the Zagat Food Truck Frenzy yesterday, but Jonathan from The Food Randomist offered to cover the event as a Guest Writer for New York Street Food.  Jonathan recently sent us his initial observations on the Gorilla Cheese NYC truck.  We liked his observations and writing, and asked if he would like to cover this event for us.
The Food Randomist, in Jonathan's words, "is a hobby born from my love of eating different/interesting food. I am always eager to try something new whether it is restaurants, food carts or trucks. My goal is try something new everyday and to share that experience on my blog. I like my food experience to follow the tried and true quote "eat, drink and be merry."  Thus, whatever I eat or drink should provide an enjoyable experience.
Without further ado, here's Jonathan's take on the Zagat Food Truck Frenzy.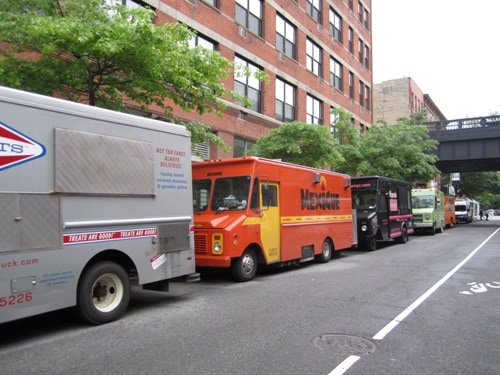 "I am all about variety for my meals so I could not pass up the opportunity to visit the Zagat Food Truck Frenzy for lunch today. Zagat gathered about twenty of the top food trucks in New York City and had them park down 21st and 22nd Streets between 10th and 11th Avenues to dole out bites of their noted cuisines. A ticket (priced at $13 at the pre- and $18 at the entrance of the event) provided you with a voucher for four items from any of the trucks.
The trucks at the event included Big D's Grub Truck, Eddie's Pizza Truck, Van Leeuwen Ice Cream Truck, La Cense Beef Truck, Cupcake Stop, the Cinnaminson Snail Truck, Joyride Truck, Endless Summer Tacos, Bistro Truck, Biang Dang, Sweetery NYC, The Treats Truck, Feed Your Hole Truck, Korilla BBQ, the Mud Truck, Katchkie Truck, Mexicue, Cupcake Crew, Desi Truck, Steak Truck, Coolhaus, Big Gay Ice Cream Truck, Souvlaki GR, Luke's Lobster Truck and Kelvin Slush. Patacon Pisao, another truck that had been advertised previously as participating in the event was not there or even referenced at all in any of the materials provided.
I was all set to go last Wednesday but the Frenzy was postponed to today due to inclement weather. Unfortunately, the weather was not so pleasant today with an overcast sky and a light drizzle of rain. Nevertheless, I made my way to Chelsea and arrived at 21st Street at 12pm. First down 21st Street was the check in booth. There I handed over my ticket and was given a voucher with 4 tickets to give to those trucks I sought meals from. I was also given a map indicating where certain trucks were parked and what they were serving. A plate was also provided. From the booth I made my way down the street and bee-lined to the end to find Korilla BBQ and their brand new orange Korilla 2.0 truck.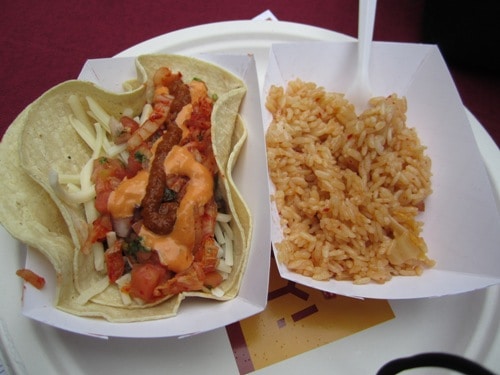 I often have street food for lunch but thus far, Korilla has been elusive. Their first truck usually parks in Midtown East and other locations outside my reach during lunch hours. I was able to try their tacos when they first launched, but they were new at the time so I opted not to review them. At the time, they were okay but I did encounter issues common to food trucks in their first week such as cold food, dry meat, long waits, etc.  I have been eager to give Korilla another try and the Food Truck Frenzy offered that opportunity. I used my first ticket to get a bulgogi taco with K'illa Sauce.
While waiting for my taco, I chatted with the crew and asked that they finally make their way to Midtown West on a weekly basis. I learned that this Korilla crew will try and head to crowded Midtown West for lunch but only after it gets its feet wet at other less difficult parking locations. I received my taco and was also given a side of kimchi fried rice. The taco was delicious. It was fairly hefty with meat but thankfully the two tortillas supported its weight and held together as I consumed the taco. The bulgogi was marinated perfectly as it was very tender and sweet. The bulgogi was nicely complemented by the kimchi and spicy k'illa sauce. Neither the the kimchi nor the sauce was too strong but each complemented the taco perfectly. The kimchi rice was good but I found the kimchi lacking. I am looking forward to seeing Korilla 2.0 in Midtown West so I can try more of their dishes for lunch.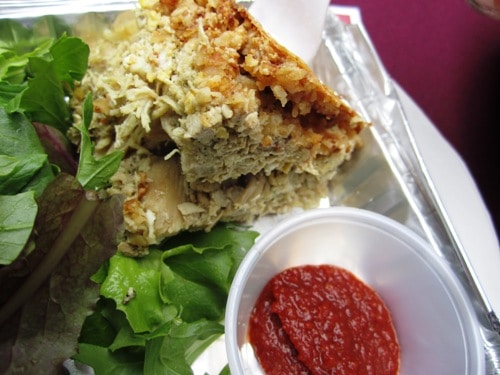 Next, I made my way to the Bistro Truck.  Recently Yassir, the proprietor of the truck added new items to the menu, including a chicken pastilla which he was serving at the frenzy. I was given a small portion of a chicken pastilla with harissa sauce and green salad on the side in exchange for my second ticket. The pastilla portion was a nice little bite, especially with the harissa sauce. The flaky filo exterior was buttery and sweet and the shredded chicken inside was tender, albeit slightly dry. The harissa was not particularly spicy, but it did add a little kick of flavor that I really enjoyed. The Bistro Truck has recently begun parking in other locations other than its usual standby near Union Square, including Midtown. I look forward to trying the other delicious sounding items on the menu in the near future.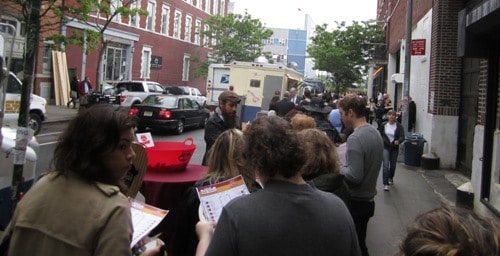 Next, I made my way to 22nd Street and unfortunately, my luck at beating long lines ran out. Every truck parked down on 22nd Street had long lines, including, not surprisingly, Luke's Lobster Truck. I am a big fan of Luke's Lobster. I have frequented their East Village location and found their lobster roll to be divine. Up to this point, I had not gone to their truck. I braved the line at Luke's Lobster and received my small portion lobster roll. The sweet lobster meat is not mixed with anything. It is a pure hunk of lobster meat in the roll. It has a light sprinkling of herbs but otherwise the lobster is the star of a Luke's Lobster roll. Although this is not a formal review on anything I ate at the frenzy, I am comfortable in saying that Luke's Lobster earns 5 Stars for a Foodrandomist "Quick Bite." On a side note, I have on multiple occasions enjoyed a Red Hook Lobster Pound lobster roll from their locations in Red Hook and by Brooklyn Bridge Park. They are delicious and you really can't go wrong with either.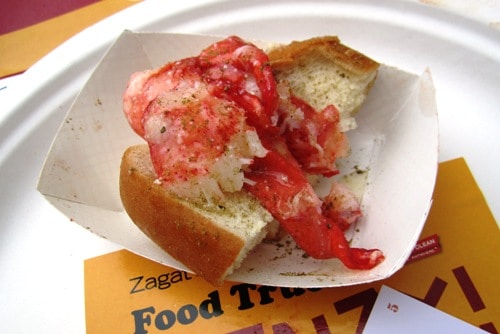 With my final ticket, I opted for a dessert and what better way to end my day at a food truck event then to have soft serve ice cream with a Big Gay spin? The Big Gay Ice Cream Truck takes soft serve ice cream and tops them with unique items like wasabi dust, sea salt and toasted curried coconut. The truck also offers a variety of specials created by its proprietor, Doug. One of these specials, The Bea Arthur, was being served at the frenzy. The Bea Arthur is an a vanilla soft serve ice cream cone topped with a drizzle of dulce de leche and dipped in crushed Nilla wafers. The additional layers of flavor on the vanilla ice cream combine to offer a delicious and interesting treat which perfectly capped off my lunch.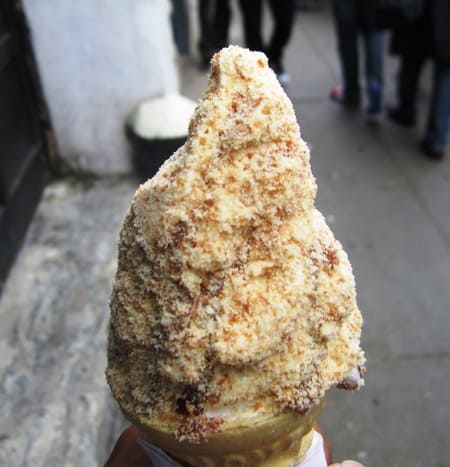 As I made my way out of the event, I noticed there were incredibly long lines at the ticket booths for people to purchase tickets.  I am not sure I would have paid the full $18 dollars for the four small bites received, but for the $13 that I paid at the pre-, it was well worth trying some excellent food from some of the City's best food trucks.
As for the lines, it wasn't too bad at the outset. I got there early enough that I did not have to wait at all for food at Korilla and Bistro, which were parked on 21st street. At 22nd Street where Luke's and Big Gay were parked, lines were crazy. Soulvaki, Desi and Steak Truck were slammed pretty badly and slow. Luke's was probably the longest line there but very quick moving, I probably spent like 5 minutes on this line.  As I left, A LOT of people were crowding the ticket area to buy tickets to get in so that was a total clusterf__k.  Good thing I bought my ticket in advance.
To summarize, small bites were doled out.  I thought the bites might have been small, but not too bad for $13.  For $18, I'm not so sure, because I was still a little hungry afterwards unfortunately."
Thank you Jonathan for your thorough and informative write-up of the Zagat Food Truck Frenzy.  Make sure you check out The Food Randomist for more of Jonathan's reviews.