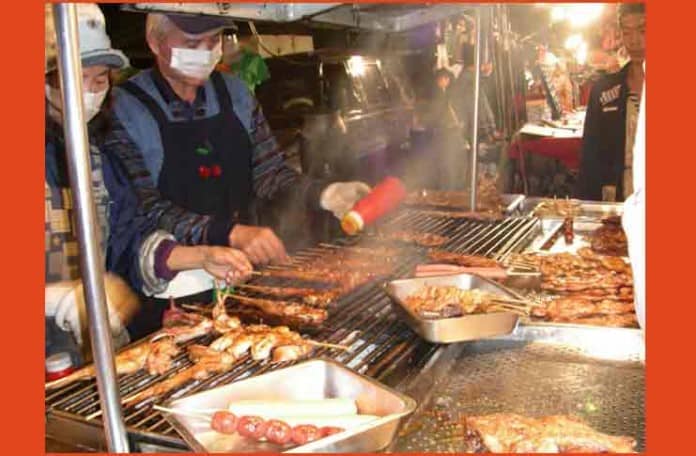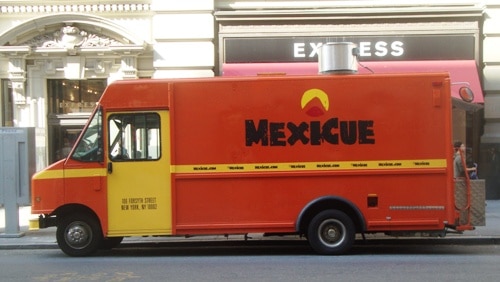 Last week I did a short post about Mexicue's new recipe contest where you have to feature bacon as the main ingredient.  Can't wait to try the winning recipe for that contest!
The article also mentioned the winning recipe for the last contest that had to use butternut squash as the main ingredient.  The winning recipe is now on Mexicue's menu for a month or two.
Today's Lunch is a butternut squash taco ($2.75), a burnt ends chili slider ($3) and a short rib taco ($4) from Mexicue.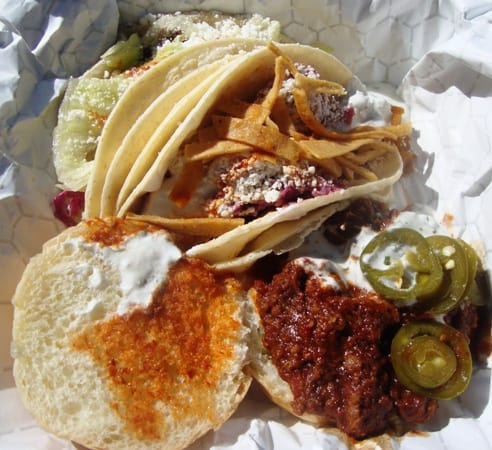 The first thing I picked up was the burnt ends chili slider, which had sliced, pickled jalapeños and crema on top of the chili.  You know how some chili can be mostly meat and some chili can be mostly beans – this was mostly meat.
The chili had a sweet, smoky bbq-type sauce, and was excellent on a slider.  The pickled jalapeños were a perfect addition, kicking up the heat level a notch or two.  The burnt ends chili slider has to be one of my favorite dishes at Mexicue.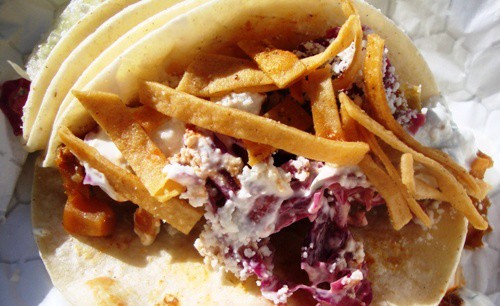 Next I picked up the butternut squash taco, which had spicy slaw, crumbled cojita cheese, cilantro lime crema and crispy tortilla strips.  This was a very good taco too.
The butternut squash was soft and almost yam-like, but not quite as sweet as a yam.  It went very well with the cheese and crema as far as taste, and the tortilla strips and slaw added some nice texture.
I didn't think the slaw was particularly spicy, but that could just be due to my love of spicy food.
Last up was the short rib taco, which had shredded short ribs, lettuce, pickled red onions, crumbled cojita cheese and a little molé sauce.
The short ribs had a really nice, smoky flavor, although the molé sauce probably added to the richness of flavor.  Definitely another winner here.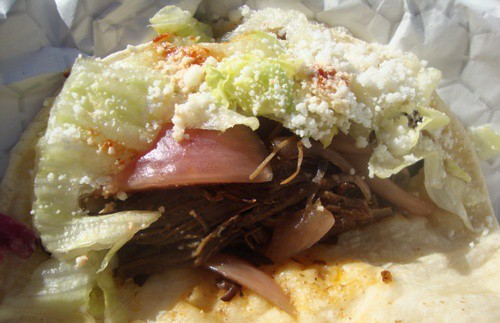 I really like the fact that two tortillas were used for each taco.  It might cost a little more, but it makes the eating experience so much better.  Nothing worse than a taco that falls apart in the middle of eating it.
Today's Lunch from Mexicue was excellent.  The butternut squash contest-winning recipe was really good, but to be honest, I can't wait to try the winner of the current recipe contest, which features bacon as the main ingredient.
If you have a taco or slider recipe that uses bacon, you can enter Mexicue's recipe contest here – and if you need a taste tester before submitting the recipe, feel free to contact perry@newyorkstreetfood.com.  I would be happy to try it out for you before it's submitted to Mexicue 🙂