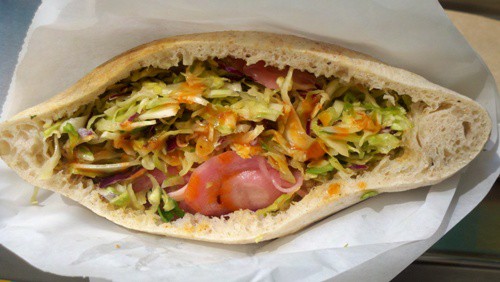 I ran across Vesta Flatbread at Truck Stop SF, and I'm glad I gave them a try.  If you care about locally sourced, high-quality food, this is the place for you – and they bake their own flatbread right on the truck!  You can see the round oven right inside the truck.
I decided to get the roast pork flatbread sandwich, which cost $9. They also had grilled chicken, carrot pate, and pork 'n' egg sandwiches.
This might look like just another large gyro or shawarma sandwich, but it was light years beyond.
First of all, the bread was amazing!  It was probably the softest, fluffiest flatbread I've ever had.  This had nothing in common with the pita bread most of us are used to.
Inside the bread was a large portion of citrus-marinated roast pork shoulder with an aioli sauce.  That was topped with cabbage & fennel slaw and pickled red onion slices.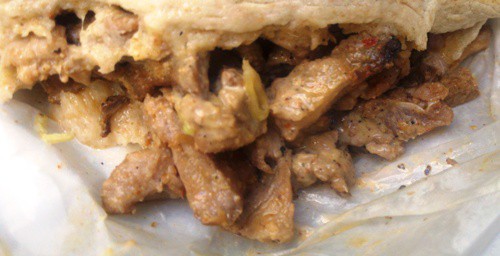 Many of the vendors here in SF seem to like pickling.  I've already run across pickled onions, carrots and daikon – and I have only been here 2 days!
The bread did break in the middle, and I needed to ask for a fork to get at most of the pork, but that wasn't really a problem.  This just gave me an opportunity to try the pork without any toppings or bread – then I scooped up some pork in a piece of bread.  Mmm good!
Vesta Flatbread was better than I expected it to be, which is always nice.  The sandwich was huge, the bread was fantastic, and I got a little messy. What's not to like?