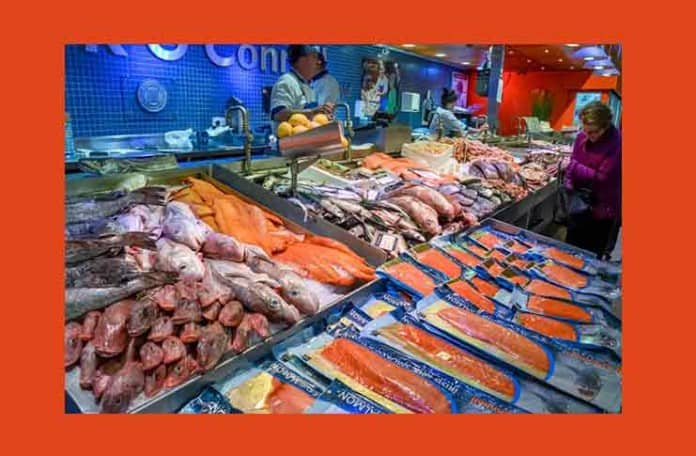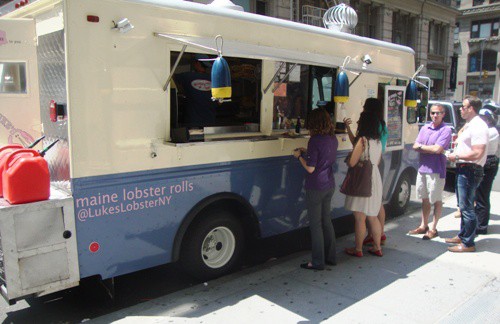 We checked out Luke's Lobster the first day it was on the street, May 10th, and had one of their delicious lobster rolls for our NYSF First Look.
It was time to try something else on  their menu, which begged the eternal question – if not lobster, then shrimp or crab?
Since shrimp is more common around here, Today's Lunch is a crab roll ($10) from Luke's Lobster.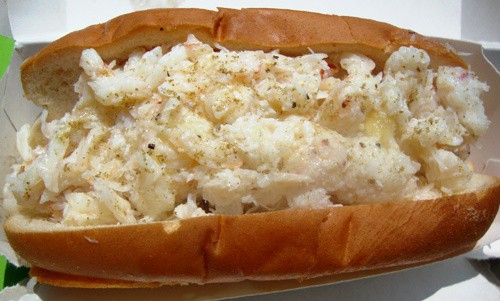 If you want a full meal instead of just a roll, Luke's offers "Schooners" of lobster, shrimp or crab, which is any roll with chips, drink and a pickle for $2 more.  You can see their full menu here.
Similar to the lobster roll, they start with a nicely buttered and toasted top-sliced roll, and stuff the roll with lots of sweet, succulent crab meat.
While I love the taste of crab meat, it usually involves a lot of work to be worthwhile.  The payoff to work ratio is way too high for me with most crab meat.
That's the beauty of Luke's crab roll.  For $10, they do all the work and you have all the fun.  And boy did I have a lot of fun!
It's not the biggest lunch around, but it was very tasty.  The roll was basically all crab with only a touch of mayo, and a dash of light herbs on top.  Excellent!
Today's Lunch was wonderful.  I don't remember ever having lots of crab meat in one place like this without doing any work.  There was absolutely none of that thin cartilage in the meat, and at $10, it cost $6 less than a lobster roll.  Now that's a pretty sweet deal if you're feeling crabby!