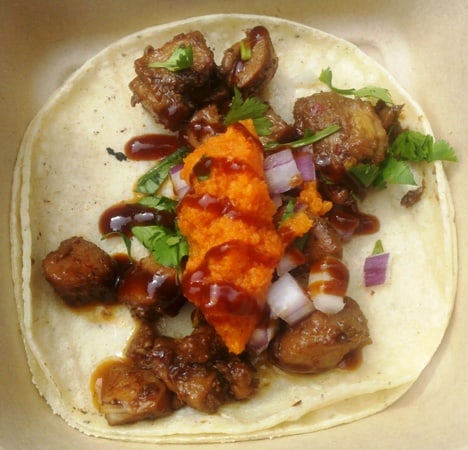 Earlier this week at the Truck Stop in SF, I tried a couple of tacos from Kung Fu Tacos and my colleague got a tikka masala burrito from Curry Up Now.  Looks pretty good, eh?
Click through for more food truck goodies from San Francisco.
The first taco was a Nun Chuk Chicken taco, which cost $2.50.   There were chunks of grilled chicken that had been marinated in a ginger and garlic sauce that were nice and gingery.  The warm chicken was topped with a cold carrot puree, cilantro, red onions and a drizzle of spicy sauce.
The initial contrast of hot and cold was surprising at first, but as the chicken warmed up the carrot puree, and the spicy sauce came through, it all went together very well.  Ginger and carrots are always a good combination of flavors.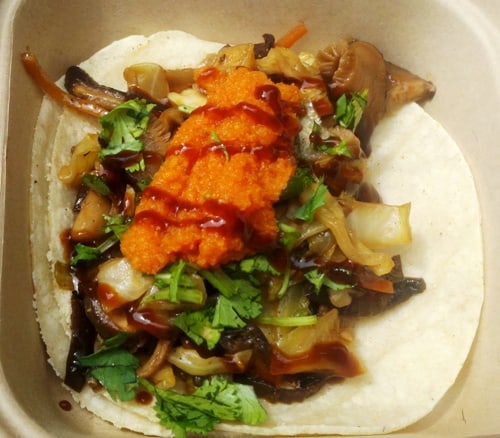 The Mu Shu Veggies taco ($2.50) had some really nice mushrooms as the base, with cabbage, onions and cilantro in a garlic sauce.  It was topped with the same cold pureed carrots and spicy sauce as the previous taco.  It might have looked like the previous chicken taco, but the mushrooms and garlic sauce differentiated these tacos from each other.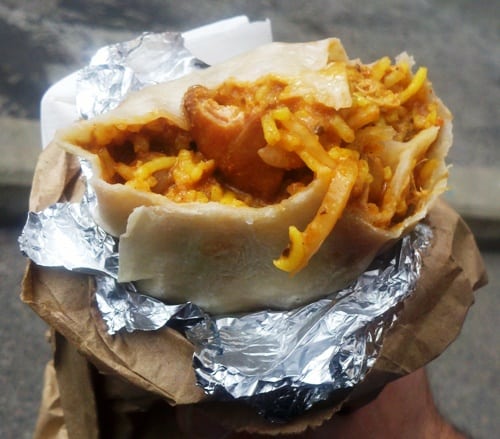 My colleague got a Tikka Masala Burrito from Curry Up Now that cost $8.  Inside a flour tortilla were pieces of chicken breast tikka masala, chana masala, pickled onions and methi pulao, which was rice with minced methi leaves.
I didn't taste it so I can't describe it to you, but I can tell you it was large and aromatic, and my colleague enjoyed it very much.  It did look like a pretty interesting dish.
Despite the illegality of food trucks serving on the street in SF, I've been able to find plenty of street food options.  There are alleys and parking lots with food trucks, and some food carts as well.  I'll let you know about all the ones I try over the next few days.
Tonight I hope to go to an Off The Grid event, where 10 food trucks gather together to serve dinner.  Should be good, if I can make it.