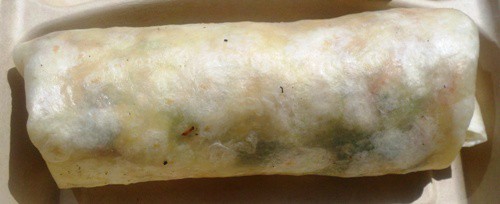 For my last food truck lunch in SF, I went to Hapa SF, whose motto is "sustainable local filipino cuisine".  The menu was interesting, with their unique takes on spring rolls, tacos, banh mi, and more traditional rice plates.
I decided to get a chicken banh mi burrito, which cost $8, but I made it into a combo for $3 more with a small order of lumpia.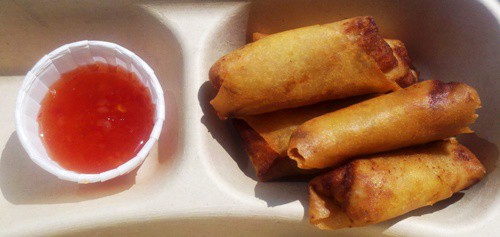 The chicken banh mi burrito was a large 10″ tortilla stuffed with grilled adobo brined chicken, pickled carrots, jicama, cilantro, cabbage and jalapeños.
The chicken had a mild brine undertone that was nice, and there were lots of cool, crisp, fresh veggies.  The cilantro came through pretty strong, and gave the burrito an almost mint-like flavor.
This was a delicious, clean tasting banh mi burrito, but on nearly every bite, liquid came out the bottom.  I had to be careful not to  get messy – but it was very tasty.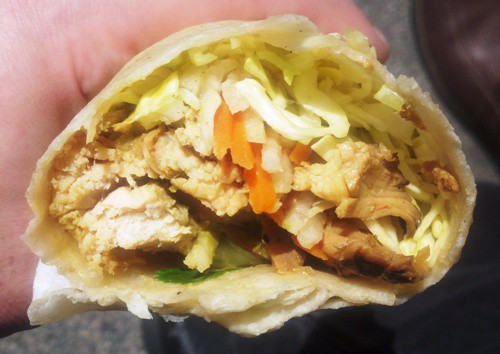 The "small" order of lumpia had 5 mini spring rolls with a sweet and sour sauce on the side.  Inside was a mixture of finely ground pork, carrots and water chestnuts.  The fried mini-rolls were a nice snack, especially dipped in the sauce, although 5 of them was a big snack.
I've really enjoyed my visit to SF.  Being within walking distance from Truck Stop SF gave me a choice of 3 trucks each day for lunch – and some days I even tried two of them.