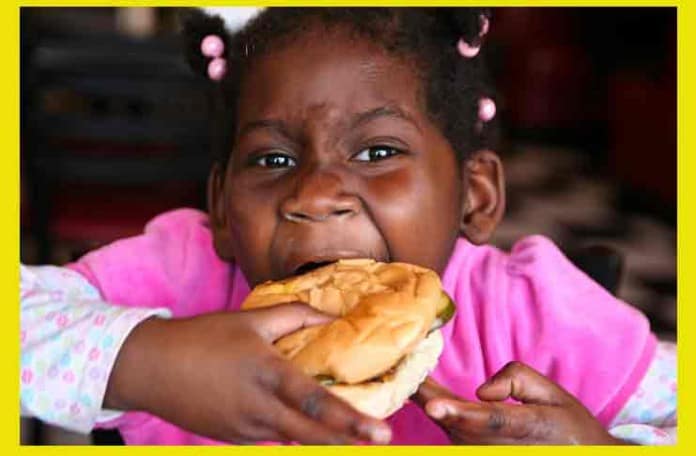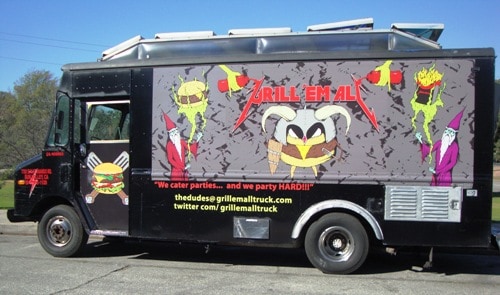 It was my last working day in LA, and I was bummed out.  The Grill 'Em All truck (who won the Great Food Truck Race last year) was at Universal Gate 2 on Valleyheart, where I had lunch every day this week from a different food truck.
Unfortunately, I also had a business lunch that I had to attend on my last day.  I couldn't get a burger and fries from Grill 'Em All, then go to a business lunch smelling like burgers and fries.
Lunch wasn't until 1pm, so I took a quick walk over to Valleyheart around noon to lick my wounds and talk to the Grill 'Em All guys for a couple of minutes before lunch.  Matt was in the truck and I told him about New York Street Food and gave him a sticker for the truck.  I asked where they were going to be that night and he said Eagle Rock, which was only about 15-20 minutes away.  Score!  Grill 'Em All for dinner on my last night in LA!
Grill 'Em All were at the Verdugo Bar from 8-10pm, the same place where Mandoline Grill started out.  The Verdugo Bar has 26 different types of beer on tap and a back patio with rows of wooden picnic tables to sit and drink (and eat).  The truck was parked just outside the seating area, so I went over to check it out.
Ryan was standing outside the truck, so I introduced myself and asked for his recommendation since it was my first time there.  He asked if I liked blue cheese, which I love, so he suggested the Blue Cheer ($7).  It was a burger with blue cheese, potato chip pieces and cranberry gastrique (a thick sauce made by a reduction of vinegar or wine, sugar, and usually fruit).
The burger was named after the band Blue Cheer, who are  often cited as the first heavy metal band.  (Check out their version of "Summertime Blues" and you'll see why.)  You can check out the rest of Grill 'Em All's menu here.
Matt took my order and I asked him about the choices for french fries.  He remembered me from earlier in the day, and said he appreciated my finding them that night, so he offered to give me an order of truffle fries on the house. Now that's how you build customer relations!
While the order was being cooked, I went into the bar and ordered a schwarzbier (German black beer), which I knew would be heavy enough to stand up to a blue cheese burger.  I went back to the truck, picked up my order and took a seat at one of the tables.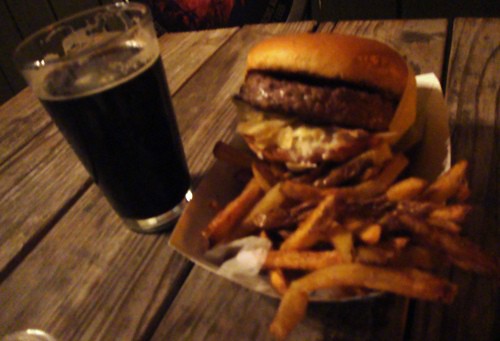 The Blue Cheer burger was thick, and it was cooked medium rare.  Potato chips on the burger was pretty cool, adding some crunch and saltiness.  The cranberry gastrique was an excellent accent, playing off the blue cheese and burger perfectly.  And the roll was big and fluffy too.  What a great burger!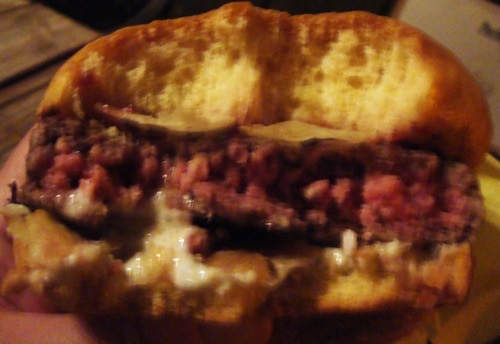 The fries were double-dipped and drizzled with truffle oil.  They were crisp and soft at the same time, and the truffle oil added a depth of flavor that you don't usually get with french fries.  Excellent!
They also gave me 3 dipping sauces – roasted garlic aioli, chipotle ketchup and blue cheese.  The garlic aioli was very garlicky, but that was fine for tonight.  It's not like I was looking to meet women or anything like that.  (I'm a happily married man.)  The chipotle ketchup was a spicy ketchup that was delicious, and the idea is so simple, I'm surprised you don't see it more often.  BLue cheese is blue cheese, and that's a very good thing!
A Blue Cheer burger from Grill 'Em All with a schwarzbier from Verdugo Bar was a wonderful way to end my LA trip.
It's been a great week, but at this point, I've eaten so much food that I might even be ready for a salad.  (I said might!)