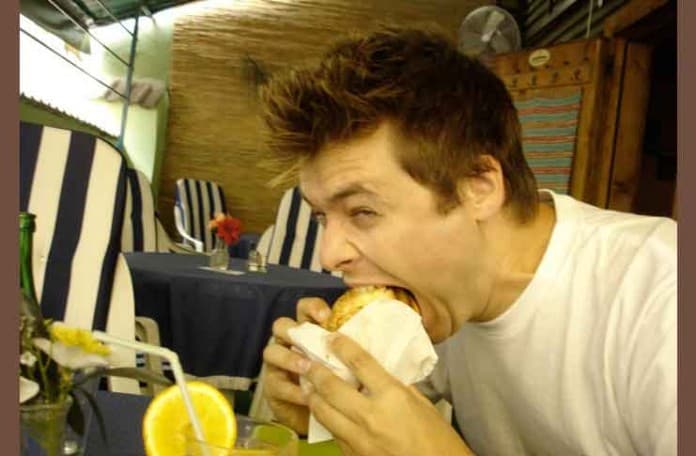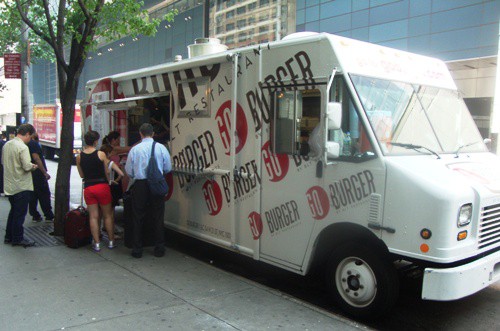 It's a beautiful day, and the Go Burger truck was on 55th by 7th Ave, only a few blocks from my office.  Sounds like a good opportunity to try their BCO Dog.
A couple of weeks ago, I really enjoyed a Philly Burger from Go Burger, but I'm actually more of a hot dog/sausage/wurst guy, and the BCO Dog caught my eye last time.
Today's Lunch is a BCO Dog ($7.50) and vidalia onion rings ($5) from Go Burger.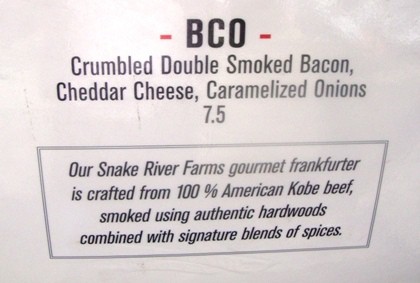 A BCO dog is a Kobe beef hot dog with crumbled double smoked bacon, cheddar cheese and caramelized onions.  They had me at crumbled double smoked bacon!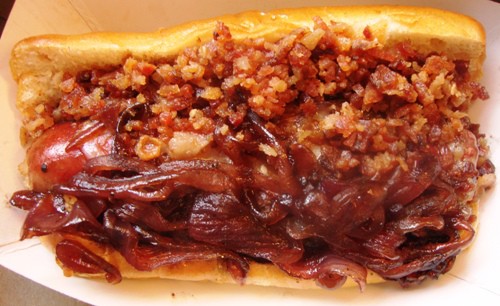 And it was as sick (I mean that in the best way possible) as it sounded on the menu.  They didn't just crumble a few bacon bits on top.  There was some serious bacon-osity going on (yes, I made that word up). Tons of caramelized onions too.
The caramelized onions had a sweetness to them that I didn't expect.  They were obviously sauteed in something sweet.
The salty crumbled bacon, the sweet onions and the gooey cheddar cheese were a great combination by themselves, but when you hide an all-beef Kobe dog underneath, it's phenomenal.  There was so much bacon and onions that the cheddar cheese got a little buried, but I could think of worse sins.  The dog came through just fine…but a little more cheddar cheese couldn't hurt.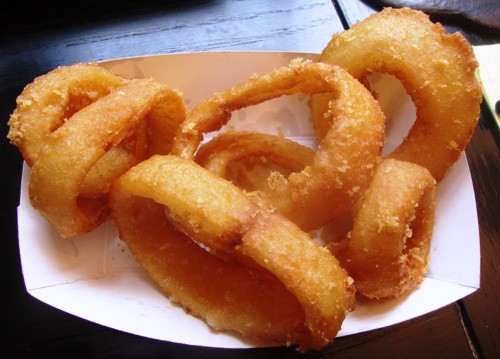 The vidalia onion rings were excellent too. Initially, I wasn't sure about spending $5 on onion rings after spending $7.50 on the BCO Dog – but someone has to do the dirty work.
The rings were not a huge portion, but I would rather have a few great ones than many mediocre ones.  That was the case here.  The breading was very light and crispy, but not heavily greasy.  There was obviously some grease because the rings were deep-fried, but these were among the larger, lighter and cleaner onions rings I've had lately.
Using vidalia onions for the rings made the onion part really sweet too.  Not like the caramelized onions that were sauteed in something sweet, but naturally sweet onions.  Very nice!
Today's Lunch from Go Burger was excellent. On the BCO Dog, EVERY bite had bacon and caramelized onions along with the dog.  And the vidalia onion rings were great too.
Go Burger may be known for their burgers, but I'm kinda partial to their dogs.  After having the Kobe Dog last year and the BCO Dog today, I'm hoping they add another dog or two to the menu.