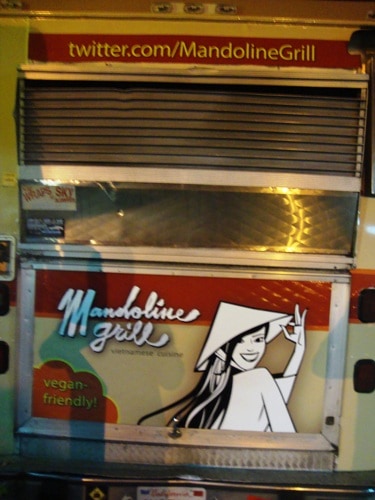 As NYSF readers know, I really like banh mi and num pang, the Cambodian version of Vietnamese banh mi.  While I get num pang fairly often in New York, I don't get banh mi nearly as much – but L.A. has a bunch of banh mi trucks.
Since L.A. can be a bitch to get around, I decided to try the banh mi truck that was convenient to where I was located.  That turned out to be the Mandoline Grill, which was in the parking lot of The Other Door bar in North Hollywood, the same place I went to try the Canter's Deli Truck.
After asking the owner Mong a few questions, I decided to get the grilled pork banh mi ($6), which she said was their most popular sandwich.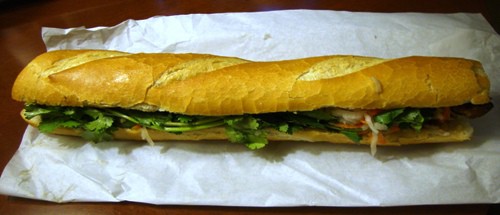 Mong grew up eating the food at her mother's Vietnamese restaurant in Honolulu.  She learned these Vietnamese recipes from her mother, and then made some changes to put her own personal twist on each one.
After starting the Mandoline Grill in the Verdugo Bar, Mong then spent some time working in the Dosa Truck to learn the food truck ropes.  She rolled out the Mandoline Grill truck in February 2010.
Once you choose your main course (pork, bbq chicken, steak or tofu), you can get it as either a banh mi , 3 tacos or a bun (with rice noodles) for the same price.  As I said, I went for the banh mi, which comes on a 12′ baguette.
Their banh mi is pretty traditional.  It comes with pickled carrots and daikon, sliced cucumbers and jalapenos, whole cilantro stalks, mayo and scallion oil.
Before taking a bite, I opened the banh mi to look inside, and also took out a piece of pork to taste.  It was a bit salty, having been marinated in soy sauce and some spices before being grilled.  I'm pretty sure I could taste some Asian 5-spice powder in there too, which gave the pork a nice flavor.  After sampling the pork, I closed the sandwich back up and started eating it.
The cucumbers, carrots, daikon, cilantro and jalapenos gave the sandwich a nice, refreshing taste, and these crisp, fresh ingredients and the baguette offset the saltiness of the pork.
This sandwich worked on several levels.  The only downside was the absence of pate, which is often found on banh mi sandwiches.  (You probably know this already, but the baguette and pate are remnants from France's colonization of Vietnam. )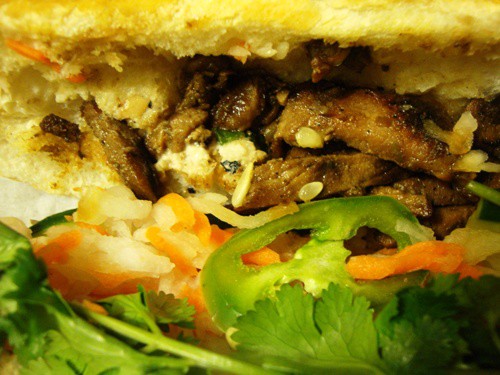 This was a pretty big sandwich for $6.  It wasn't really thick like the reuben sandwich from the Canter's Deli truck, but it was very long and had plenty of grilled pork and the other ingredients described above.
The grilled pork banh mi from the Mandoline Grill was a very nice meal.  It had a bunch of diverse flavors combined into one sandwich, and even though it was a big sandwich, I wasn't overstuffed after eating it.
This sandwich reminded me of why I like banh mi so much in the first place.