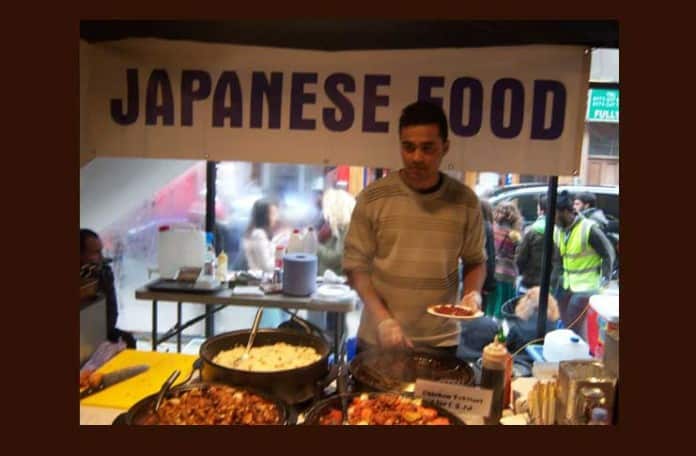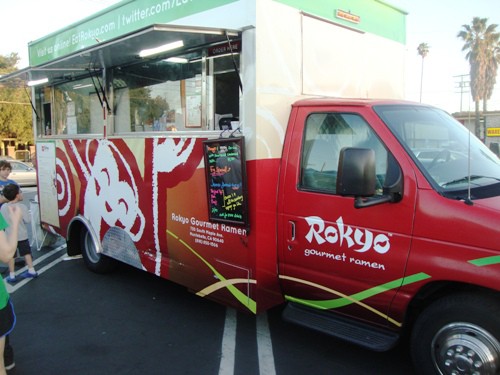 One of my favorite meals is ramen.  Nothing like a great broth with noodles and lots of other stuff in it, especially in the cold weather.  After trying some Korean snacks from Ahn-Joo, I came across Rokyo Gourmet Ramen and knew immediately what I was having for dinner at the Highland Park Din-Din-A-Go-Go.
Well, it's not cold in L.A., but I still was eagerly looking forward to trying ramen from Rokyo.  The sign said their noodles are organic, and they make them fresh every day. They also let you choose which toppings you want in the ramen.
I'll tell you what toppings I chose after the jump, but just look at this baby! Wow!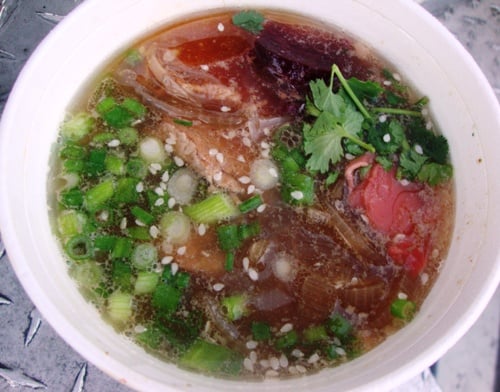 First you choose either pork or mushroom broth.  Then you choose a mild or savory base. Then you choose either Niman Ranch pork or beef, or shiitake mushrooms & bok choy as a main topping.
Where it gets challenging is choosing the secondary toppings.  There are 14 choices including scallions, ginger, carrots, and similar items, and you can choose as many as you want for the same price. Check out the full menu here.
I got pork broth and braised pork with a savory base and beets, ginger, braised onion, cilantro, scallions and sesame seeds.  I wanted egg too, but they were out of it.  I also got some sesame oil in the ramen, and sriracha sauce was available too.
And what did all of this cost?  Try $7.68 including tax!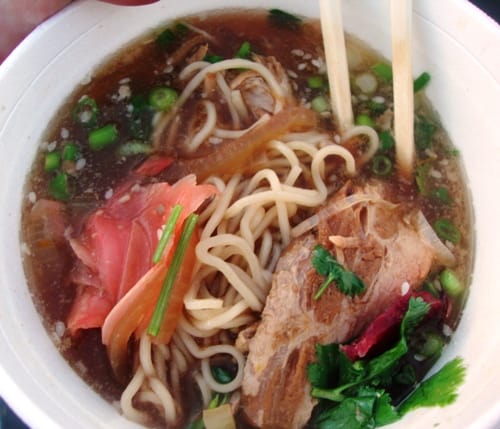 First I tried the broth, and it was delicious.  I know I say that a lot, but this was really, really good.  The broth had flavors and a complexity that you don't find in ramen too often.  I'm not sure exactly what went into the broth, but it was great.  Maybe it was the savory base that kicked it up, but I really enjoyed it.
The pork was excellent as well, with a nice marbling of meat and fat. I usually like leaner meat, but this was tasty.
The toppings were of my choosing, and I enjoyed every single one of them. The ginger added a lot of flavor, as did the cilantro, scallions and sesame seeds and oil.
You couldn't see the noodles at first, but there were plenty of them once I had some of the broth and toppings.  The noodles were thin, springy and fresh.  Another winner.
I can definitely say the ramen from Rokyo was my favorite meal so far this week.  It helped that I love ramen and don't get it too often.  It also helped that every ingredient was top-notch, and there were a lot of ingredients.  I guess it's a good thing they ran out of egg.  Otherwise I might have died of happiness.
WE NEED A RAMEN TRUCK IN NEW YORK!  Are you reading this David Chang?