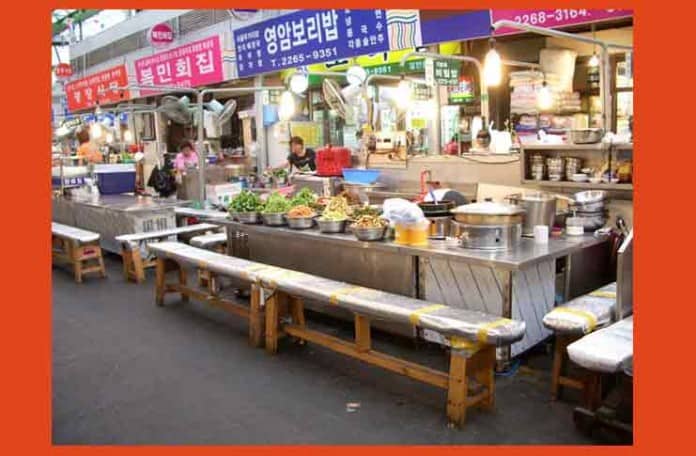 At the Highland Park Din-Din-A-Go-Go, there were 7 trucks parked along a narrow stretch of a parking lot.  Before checking out all the trucks, I decided to have a couple of Korean nibbles from Ahn-Joo, which means "snack" in Korean.  Their philosophy is to serve Korean pub food from the truck.
This truck and a bunch of the others seem to be sponsored by Brisk Ice Tea, which is why the truck looks like it has a Mexican guy on it (actor Danny Trejo) and not Korean artwork.  About half of the trucks here had the same wrap, with only the truck names being different.
Guess Brisk Ice Tea is jumping feet first into the food truck phenomenon.  When I was in Austin for SXSW, they sponsored a free taco giveaway from one of the taco trucks, but I wasn't able to get there.
Nevertheless, the menu looked interesting for a few appetizers before dinner.  They had noodle dishes, several types of skewers, and even some large dishes like Korean fried cicken and meatloaf – but what really caught my eye was Korean nachos.
I ordered the Korean nachos (on special for $5, usually $7) and a skewer of spicy chicken and peppers ($3).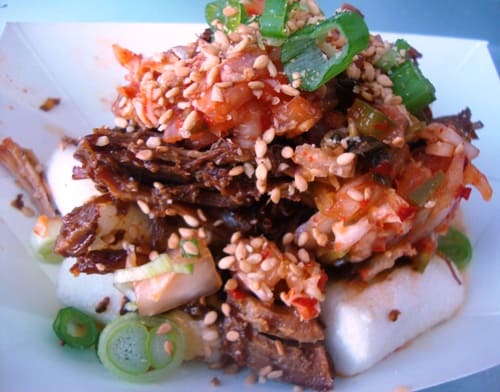 The Korean nachos came out first, and they looked amazing!  There was braised pork, kimchi, sesame seeds and scallions over what looked like Korean rice cakes.
When I started eating, it was as good as it looked.  The pork and kimchi were a great combo, and as I got deeper into the dish, there was some cheese sauce in there too.
Then I got to the rice cakes, and after having a version from the Kimchi Taco Truck, I knew what they were.  But they were quite different from the ones I had in NY.  The rice cakes from KTT were more doughy, and could have been mistaken for cylindrical pasta.  They also came with a red sauce at KTT.
These rice cakes had a much lighter consistency, although they were still cylindrical.  They provided a solid foundation on which to put the pork, kimchi, cheese, scallions and sesame seeds, althoug when you bit into it, the rice cakes were light.
The Korean nachos were pretty big for an appetizer for one person, but they were excellent.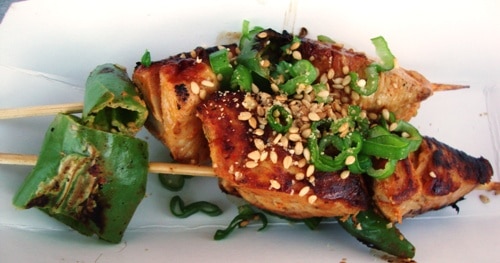 The spicy chicken and pepper skewers were pretty good too.  There were two skewers for $3, with large pieces of grilled white meat chicken, hollowed-out jalapenos, scallions and sesame seeds.
The chicken itself wasn't spicy, but the jalapenos added a nice kick.  This was a tasty snack.  They had several other skewers, but I had to leave room for dinner, and wanted to check out what other trucks were there.  Here's the Ahn Joo menu, which is pretty interesting.  There were plenty of trucks to choose from.