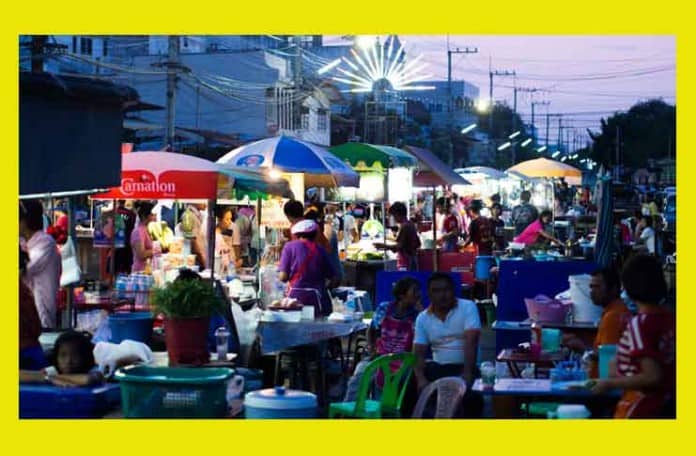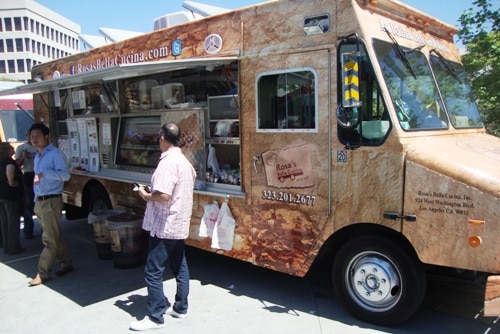 I've really enjoyed the food in L.A. this week – Korean nachos, Yucatan pork tacos, Indian dosas, Japanese ramen. But some days you just want a sandwich.  Today was one of those days, and there were 2 great options to choose from.
The Canter's Deli truck was parked right next to Rosa's Bella Cucina – hmmm, Jewish deli or a classic Italian sandwich?  Tough choice, but one made easier by the fact that I had 2 sandwiches from Canter's Deli on my last trip to L.A. –  a reuben from the truck and a pastrami sandwich that I picked up on the way to the airport for the trip home.  Time to try someone else.
A classic Italian sandwich it was.  They even called it Il Classico on the menu.  You can get a slider size for $4 or a regular sandwich on ciabatta for $9.  Everyone out here seems to have  sliders. What am I, a rabbit?  Enough with the sliders.  I ordered a "Papa", not a "bambini".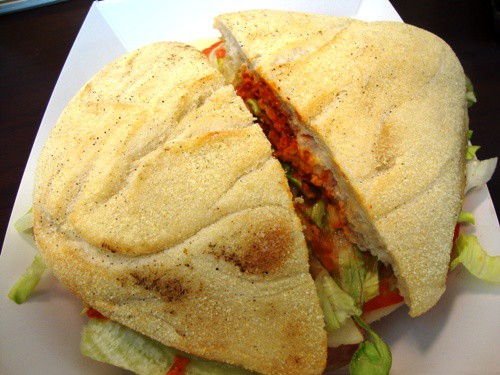 I spoke with the guys from the truck while I was waiting for my order, and they were both originally from the New York City area.  Yes, I'm counting northern NJ as the New York City area.
As it says on their website, "Rosa's Bella Cucina is generation 2.0 of DePalma Brothers, the Italian deli and caterer that has acted as a hub for the Italian community in northern New Jersey for over thirty years.  The Graziano family are natives of Naples, Italy.  Their daughter Rosa, with their blessing, is now sharing this same old world Italian tradition with the Los Angeles community with Rosa's Bella Cucina, an Italian Kitchen & Delicatessen on Wheels!"
When I got the sandwich, Il Classico had exactly what you would expect – ham, Genoa salami, provolone, lettuce and tomato – but there was an extra surprise on this sandwich.  They put a roasted red pepper spread on the bread.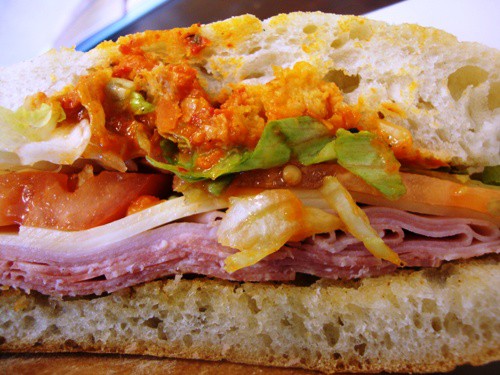 I'm used to having oil and vinegar on Italian sandwiches, but the roasted red pepper spread gave the sandwich another dimension that I hadn't experienced before.  Crushed sweet red peppers went very well with the ham, salami and provolone.  In retrospect, I'm not surprised, I've just never had it that way before.
I'm not sure where they get their bread from, but the ciabatta was soft and very good.  It was strong enough to stand up to the fillings, but very easy to eat.  This was a nice sandwich, and even got me a little homesick.  No worries, I'll be home by the weekend.
Rosa's Bella Cucina also had a great looking hot food menu, but it was too hot for that today.  They are well-known for their arancini, and have two homemade varieties, one with meat sauce and one with spinach.
Rosa's Bella Cucina was a little taste of home 3,000 miles away.