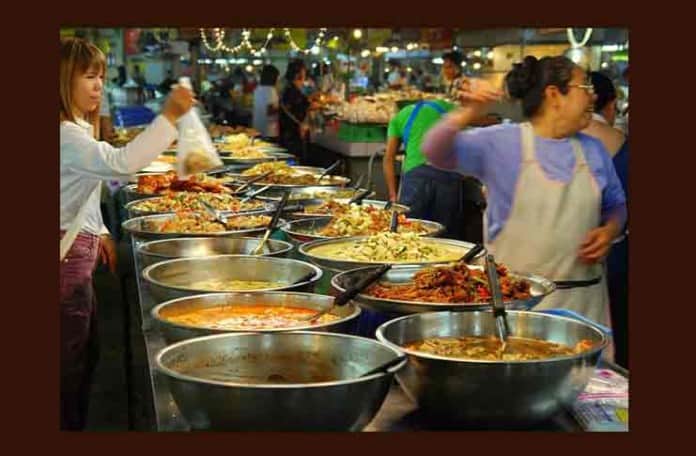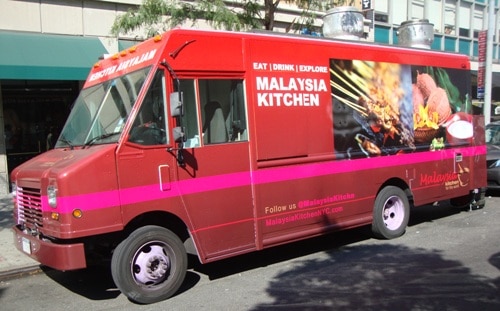 As I've mentioned a few times, the new Malaysia Kitchen food truck will be giving out free samples around Manhattan for the next month and Queens for 2 weeks after that.  The truck is promoting Malaysian food in general and 9 restaurants in particular.
First up is Fatty Crab, who have 2 locations – one at 634 Hudson St in the Meatpacking District and one at 2170 Broadway on the Upper West Side.
Today's (free) Lunch is Nasi Lemak and Kari Ayam from Fatty Crab, courtesy of the Malaysia Kitchen food truck.  Find out where they will be on twitter here, although we have already added them to our Mobile Munchies twitter feed, where you can find them as well.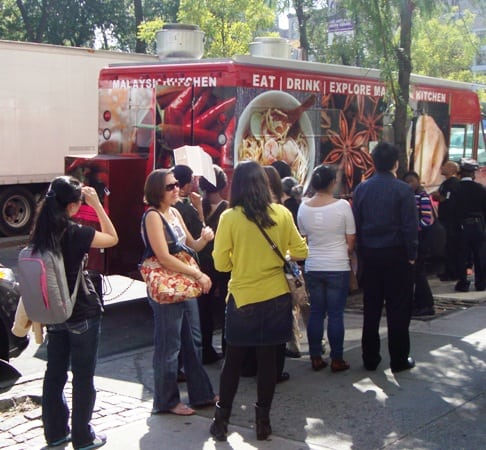 Things got off a little late, as the police had to check, double-check and triple-check the truck's permits before they would let anyone start serving.  Once that was settled (about 15 minutes), the truck opened its window and started serving everyone who patiently waited in line.
While we were waiting, I spoke with Laura from RF Binder, the PR firm handling the various Malaysia Kitchen events such as the Night Market, which I really enjoyed last April in DUMBO, and was reprised last month in the Meatpacking District.
Laura told me the truck would have food from one particular restaurant for 3 days, then another restaurant's food would be featured for the next 3 days, with a total of 9 Malaysian restaurants being highlighted.  The full schedule of restaurants and dishes being served can be found here.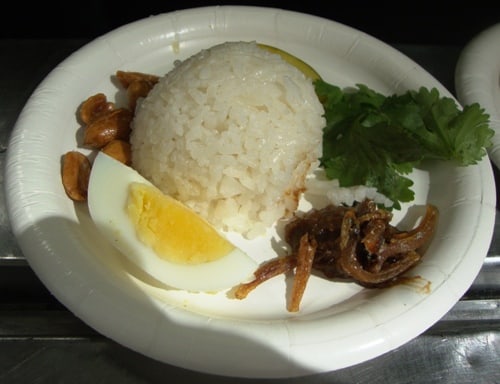 Nasi Lemak is rice cooked in coconut milk, which was served with (clockwise from bottom left) a hard boiled egg, peanuts, pickled cucumbers (behind the rice), cilantro and sambal ikan bilis – a spicy sauce made with anchovies and chilies.
The rice had a nice coconut flavor, and the hard boiled egg, peanuts, pickled cucumber and cilantro were good, but were what I expected from these items.
The big surprise for me was the sambal ikan bilis.  It was crunchy, salty, very spicy and a little fishy – a pretty interesting combination.  I don't usually like anchovies, but I did enjoy this little snack.  It would have gone perfectly with a cold beer on this beautiful day.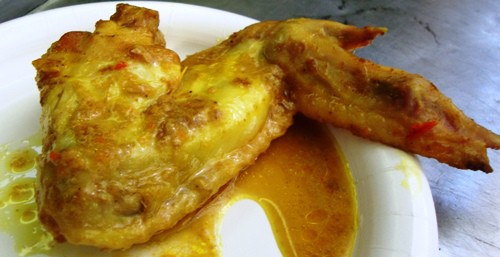 The second dish they served was kari ayam – chicken with a coconut curry sauce.  In this case, they used chicken wings.
The sauce itself had a light curry flavor and was not as coconutty as the nasi lemak rice dish.  It was a tasty, if messy, appetizer.
Today's Lunch was a bit of a misnomer.  There wasn't really enough food for lunch, but it did what the Malaysia Kitchen people intended – it piqued my curiosity about trying a full meal of Malaysian food.