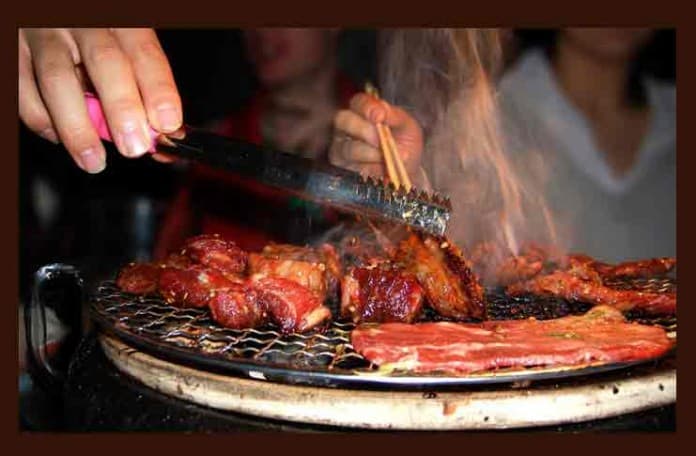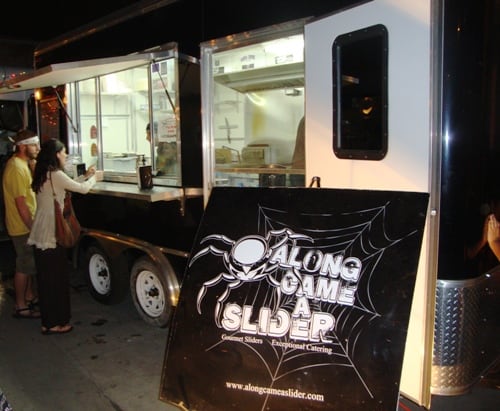 One of the places Mike from Austin Food Carts recommended for my visit was Along Came A Slider.  He said they have real gourmet sliders, and his two favorites were scallop and lobster sliders.  That sounded awesome, and they were at 5th & Trinity, right in the middle of the SXSW madness.
When I got to the truck, I told Tyler, the chef and owner that Mike had recommended his scallop and lobster sliders, but Tyler said they had to cut down the menu for SXSW.  I didn't realize that some of the more adventurous trucks and trailers were going to cut their menus down for SXSW, but in retrospect, it makes sense.  With such a large number of people, you need to keep things moving quickly.
And the WD Pig ($5) sounded like a real tasty slider anyway.  BTW, WD stands for Wired & Drunk.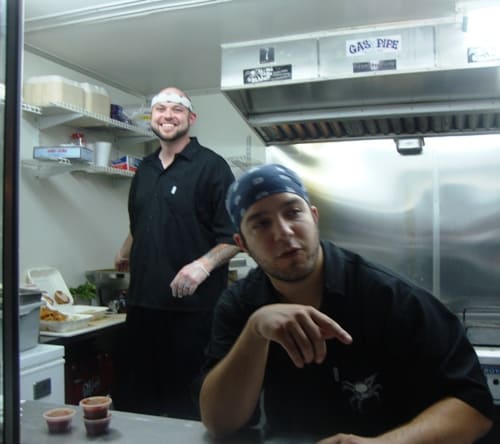 I had already eaten only a little while ago, so I only had room for one slider, and in this situation, you have to go for pork.  The picture below isn't the best photo I've taken, but it gets the point across.  It might be called a slider, but it was the size of a regular sandwich.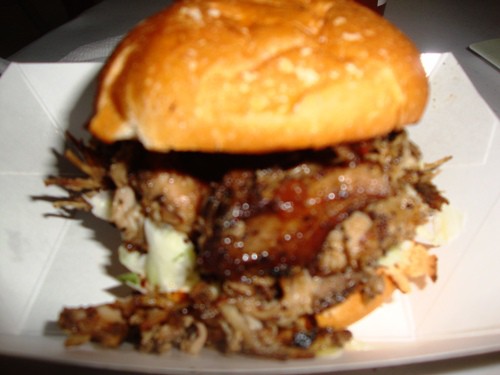 The pork shoulder was rubbed with pecans and coffee before being cooked, which gave the meat a depth and richness that was wonderful.  There was a little bit of charring around the meat, which added even more flavor.
The bbq sauce was made with red wine, and the slider had jalapeno cole slaw on it too.  It wasn't overly spicy, but had a nice zing to it.
I would have loved to try a scallop or lobster slider, but the WD Pig was a great meal.  I just wish I had more room to try another slider, because the barbacoa brisket looked amazing too!
Along Came A Slider's website is here, twitter is here and facebook is here.
Thanks for the great meal Tyler.