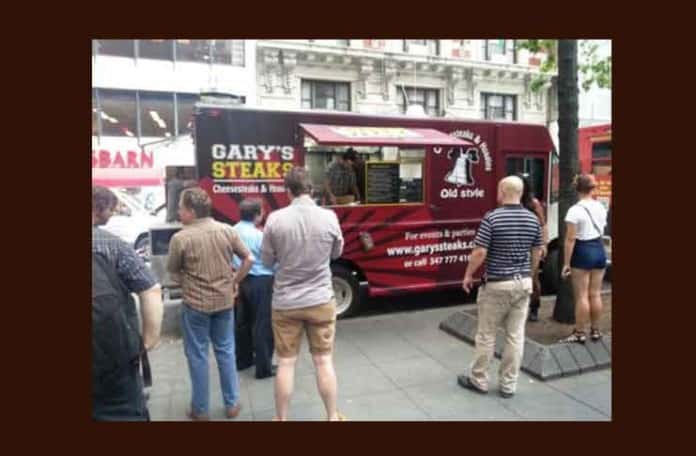 The NYC street food scene keeps evolving, but some of the same faces keep popping up.
We first met Hacene when he managed the Gorilla Cheese truck before striking out on his own with the Steak & Crepes cart. The concept for Steak & Crepes didn't really work out (do I feel like a cheese steak or a crepe today?), and the crepes were dropped pretty quickly.
Now Hacene has reappeared with a new food truck called Gary's Steaks that focuses on what he knows best, Philly-style cheese steaks. Yes, we already have Phil's Steaks, Shorty's and Carl's, but judging by the number of people at Gary's Steaks, there's obviously room for another Philly cheese steak vendor. (BTW, we have no idea who Gary is, if he even exists.)
We ordered the mushroom cheese steak for $9.50. The basic one is $9, and you can get any combo with fries, dipping sauce and a drink for $12.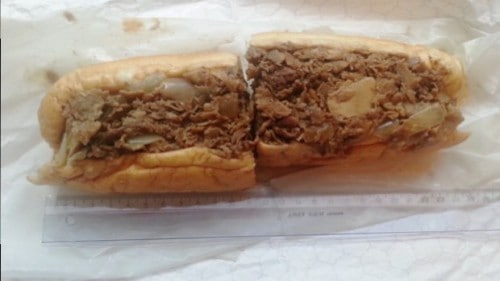 The meat was thinly sliced and shredded, as it should be, and there was a lot of beef squeezed into the roll.
Just like Phil's, they use Amoroso's bread for their sandwiches, and you can get white American cheese, sharp provolone or Cheez Whiz. We prefer sharp provolone, but white American is on our list, too. Cheez Whiz is one "product" that we've never warmed up to.
The cheese was more apparent when eating the bottom of the sandwich than during the first few bites, but the second half of the sandwich had enough cheese.
One thing Gary's Steaks had on the menu that we haven't seen anywhere else was the falafel hoagie. Guess that's for the vegetarians who come to the truck with their carnivore friends.
Overall, this was a very respectable cheese steak. I'm not sure if we lined up cheese steaks from all the different vendors whether we could tell the difference. That might be worth trying sometime, but it sounds more like a challenge for Adam Richman.
You can find Gary's Steaks on Twitter here, and their website is here, with a menu. We've seen them a lot on 46th St east of 6th Ave, where there are usually 4-6 food trucks lined up each weekday during lunchtime.