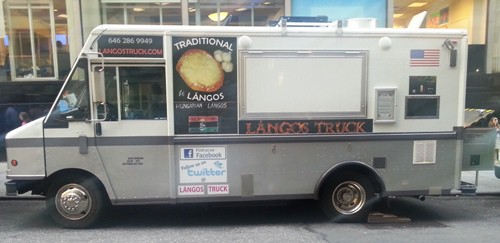 We recently tried a new food truck called Langos that serves the eponymous Hungarian food called langos. This dish was new to us, but the woman who ordered right before us said she was Hungarian, and had langos many times before. However, it was her first time at this relatively new truck, so she couldn't offer an opinion on their version yet.
To put it into terms a non-Hungarian could understand, langos struck us as sort of a flatbread pizza with different types of toppings available. The classic is served with cheese, garlic and sour cream and costs $6.
We decided to order the special, which was a fancified ham and cheese version for $9.
Taking our langos out of the bag, it was round and nearly the size of the paper plate it was served on.
One bite made it apparent the dough was very different from pizza. The dough was much lighter, quite crispy on the outside, and soft and airy on the inside. This was no mean feat, considering the langos dough was fairly thin.
The quality of the toppings was first-rate. The ham was plentiful, tasted smoked, and was cut into chunks like it came from a ham steak. No thin-sliced deli meat here. The menu said this dish was made with proscuitto cotto, but we liked this ham very much.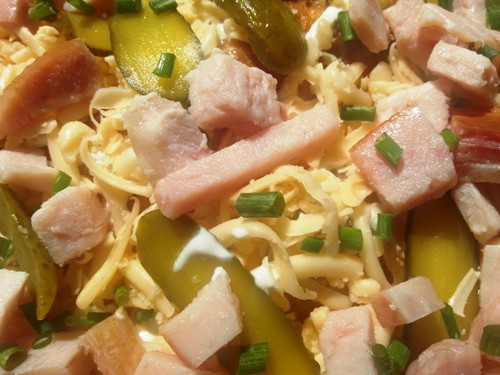 The cheese was shredded smoked gouda, and once again, there was more than enough to go around.
Finishing off the toppings were cornichons sliced length-wise, sour cream and chives.
The cornichons and sour cream added a tanginess to the dish. Between the cornichons, sour cream, smoked ham and gouda, the langos had a briny, somewhat smoky flavor unlike anything we've had before. We didn't quite expect it to be so tangy, but must say, it was tasty.
The Langos truck currently spends 2 days per week in the Wall St. area and 2 days on 47th St between Park and Lex. For more details, check out the Langos Truck on twitter here, on facebook here, their website is here and the menu is here. The website says "Best Dough On The Planet". That's a tall order, but the dough was very good.
Speaking with the server while waiting for our order, he said they plan on introducing more Hungarian food in the next week or so. He said they were thinking about stuffed peppers, stuffed cabbage, and possibly a burger made with Hungarian sausage. That last one sounds especially interesting to us.