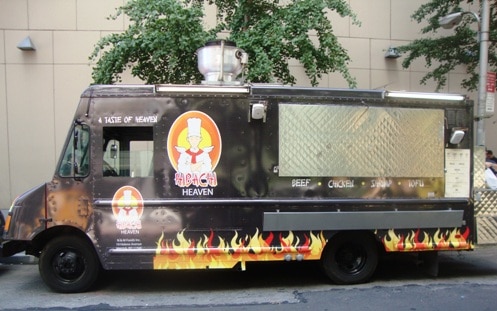 About a month ago, we told you about a new food truck that was coming out soon, and had a Japanese hibachi-style cuisine.  Well, Hibachi Heaven debuted last week, and we stopped by for a NYSF First Look.
We arrived at 1:15 and there were about 15 people either on line or waiting for their order.  At 1:30, we had our lunch in hand.  For it only being their 2nd or 3rd day, that's pretty good.
We ordered a shrimp bowl with Heavenly Ginger Sauce, which cost $9. We also got fried rice instead of brown.  The full menu is below.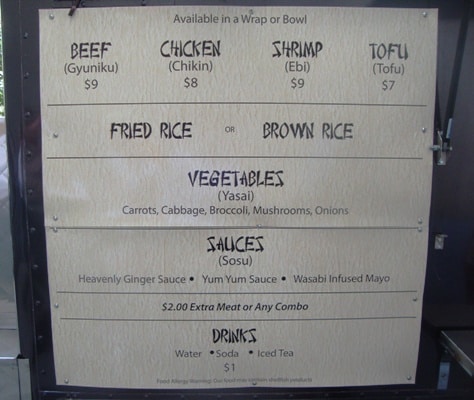 I've been corresponding by email with the owner, Nick Russo, for about a month, as the truck was being readied for the street, but we hadn't met in person.  After being handed my order, I introduced myself to Nick, who was also one of the servers.
I made this point because when I opened the container, and there were a dozen medium-sized shrimp, it wasn't because Nick knew this lunch was going to be reviewed.  Everybody on line got the same size order.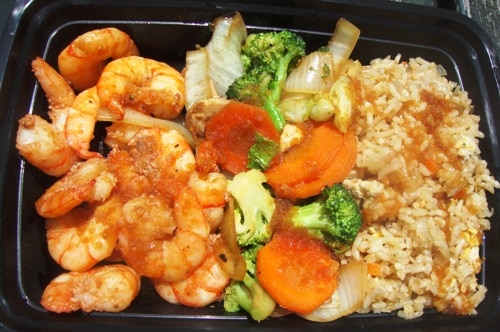 Whether you will like Hibachi Heaven or not depends upon whether you like Japanese hibachi-style food.  This was pretty close to what you get in a hibachi restaurant.
The shrimp were still nice and juicy, and as I said, there were an even dozen.  That's a good portion for lunch.
There were also a nice amount of veggies, including broccoli, carrots, onions, cabbage and a few mushrooms.  The veggies were cooked but still crisp, with a nice snap still left.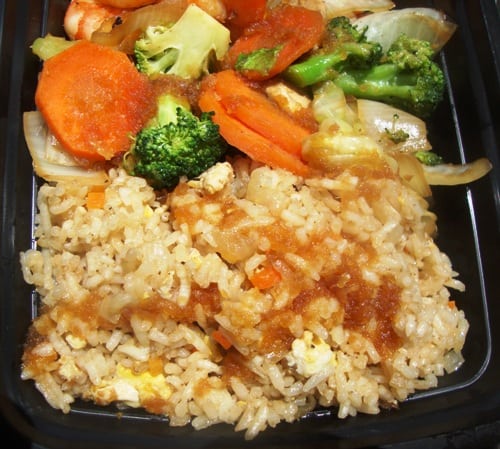 The fried rice was a nice helping, and there were plenty of pieces of scrambled egg mixed in with the rice, as well as a few carrots.
As for sauces, I didn't get yum-yum sauce, but did find out it's made with mayo, cajun spices and sugar.  Wasabi-infused mayo sounded good too, but the heavenly ginger sauce sounded even better.
I am a big fan of ginger, and the ginger sauce was good.  It was basically shredded ginger in a light sauce, and it picked up the flavor of the food really well.
While I enjoyed lunch a lot, by the end it was a bit salty.  It's been a long time since I've gone, but I recall hibachi food being a little saltier than I like at restaurants too.  Perhaps a low-sodium soy sauce could bring this down.
In addition to rice bowls, you can get any of the dishes in a wrap for the same price.
You can follow Hibachi Heaven on twitter here or on our Mobile Munchies twitter feed.  Hibachi Heaven's complete schedule for the week is on their website here, although they do not appear to be out today.  Probably fine tuning operations after the first few days out last week.