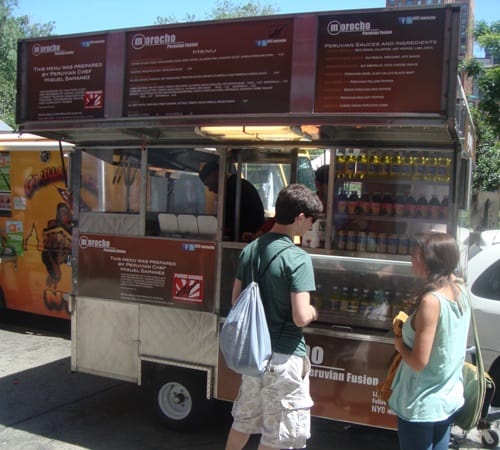 To kick off NYSF Burger Week, we head south to Union Square via Peru. If you want an idea of the variety of burgers available from NYC street vendors, one need look no farther than Morocho NYC, the Peruvian cart on Union Square West just north of 14th St.
The chef/owner of Morocho NYC, Miguel Samanez recently recommended we try the burger a lo pobre.  He told me it translates to "poor man's burger", and is basically a kitchen sink burger with a Peruvian twist.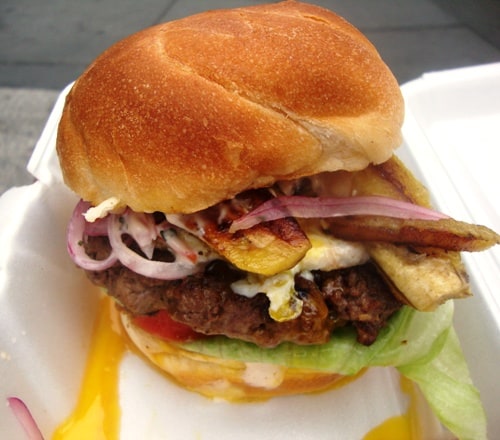 Watching them put this burger together was fun.  It starts with lettuce and tomato on a lightly toasted bun.  Then a big, fat, grilled burger is placed on top.  Salsa criolla (cilantro, lime juice, salt, red onions & habañero) is also put on the burger.
After that, the piece-de-resistance is added – a fried egg on top with the yolk still soft.  I love eggs, and a fried egg on a burger with a runny yolk is probably what sold me on this dish in the first place.
Going on at the same time, the top of the bun gets rocoto mayo, fried plantains and red onions.  Rocoto is a type of hot pepper used in Peruvian cooking.  See the photo below for the top of the bun before assembly.
When it's all put together, you get the beauty pictured above.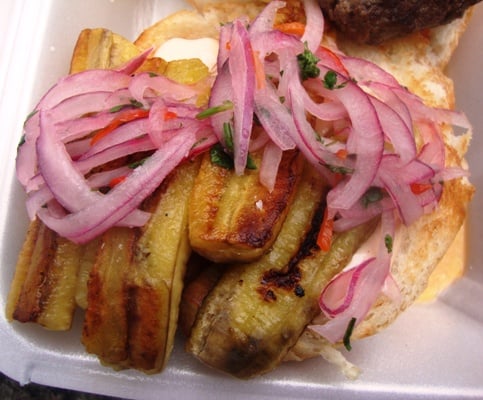 When the two sides were put together, the yolk popped, which was fine.  I would rather have the yolk pop inside the container than on my shirt, which is what usually happens.  I actually got lucky for once, and went back to the office after lunch with a clean shirt.
This was one delicious burger of Morocho NYC.  The spicy mayo came through right away, as did the sweetness of the fried plantains.  So did the onions, and of course the burger, which was nice and meaty and cooked to medium.
I can see why the Burger A lo Pobre is such a popular dish.  It puts a delicious Peruvian spin on the burger, and is very filling for $7.
The menu at Morocho NYC is somewhat meaty, but there are at least two dishes for vegetarians that looked good too.  I'm just starting to learn about Peruvian dishes and sauces.  You can too by reading the menu here, and there are descriptions of the 8 different types of sauces here.
You can follow Morocho NYC on twitter here or on our Mobile Munchies twitter feed, although they park on Union Square West between 14-15 St for lunch and dinner.  No website yet, but their facebook is here.
Morocho's Burger A lo Pobre was a great way to kick off NYSF Burger Week.  It showcases the diversity available from NYC street vendors, but is still a delicious burger.  Great job Miguel and Armando!