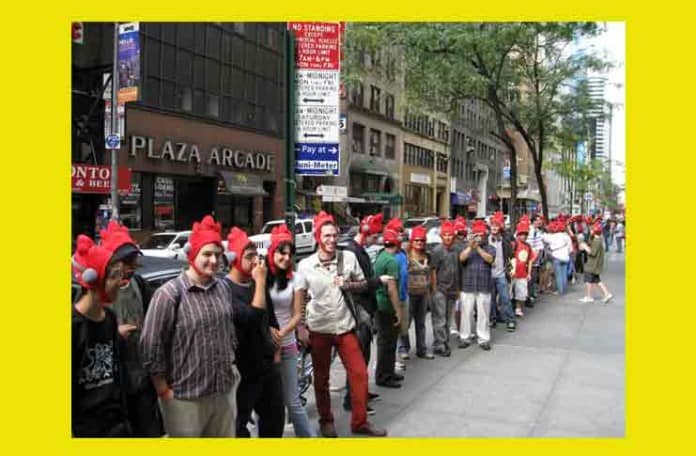 We got to try some great new street food during the Food Truck Drive-In yesterday.  For Part I of our review, click here.
One truck I've seen parked around my neighborhood overnight recently is the Green Truck, although I haven't seen them open for business yet.  Just by chance, I passed the Green Truck Friday night as I was heading to the store to pick up some groceries, and someone was sitting in the driver's seat.
I went up to the truck and introduced myself and met Kam, the owner of the Green Truck.  Turns out he lives in my neighborhood and sometimes parks on the street overnight.  They are originally from California, mainly cater film and TV productions and work music festivals like Coachella, but they were expanding into New York.  Kam told me they would be at the Drive-In on Saturday, and that I should try their Mother Trucker veggie burger.
When I walked into the lot, the first person I saw was Kam and went over to say hello.  The Green Truck's motto is Local*Organic*Sustainable.  Their menu looked great, and I normally would have gone for the fish taco, but I just had Choncho's excellent fish taco, and Kam had recommended the Mother Trucker the previous night, so I went with his recommendation.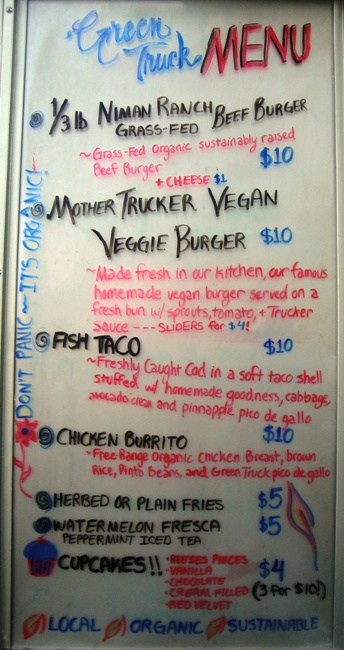 I'm basically a carnivore and don't have a lot of interest in too many veggies – but the Mother Trucker was pretty good.  This vegan burger had a nice taste to it.  There were alfalfa sprouts on top (which I like), two slices of tomato, and a thousand-island type sauce.  They offered a smaller "slider" for $4, which was perfect because there were still a few other new trucks to try – and this was pretty big for a slider.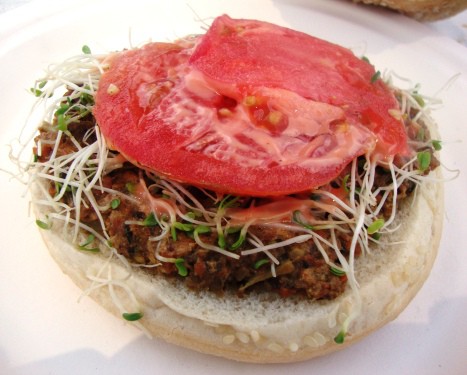 The next truck I tried was Krave Korean BBQ tacos.  I've written about them before, and they are on the NYSF Mobile Munchies twitter feed, but I can't get out to Jersey City during the week and hadn't tried them yet.  I don't know if it's because of all the press Kogi BBQ gets, or that Korean BBQ tacos are just a genius idea – but they had the longest line all day.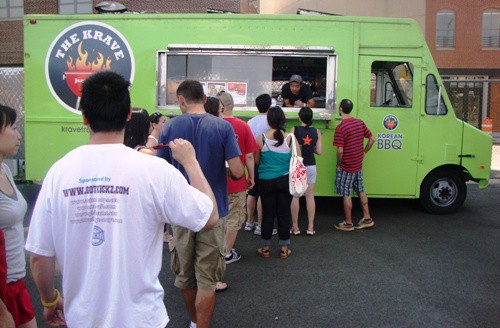 While they had kimchidillas (kimchi quesadilla) and Kravers (sliders), I went with their specialty – Korean tacos.  The choices were galbi short rib, sesame chicken and tangy pork, which were $2.50 each.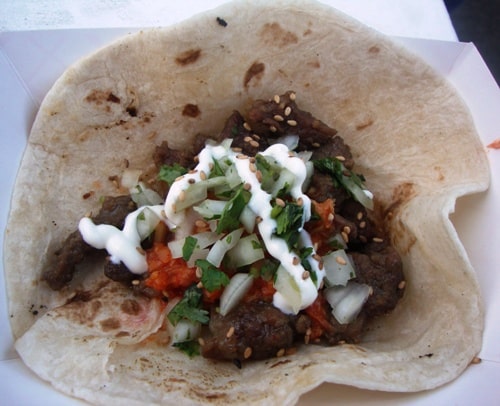 The galbi beef short rib taco was amazing!  Chunks of grilled bbq marinated beef, onions, cilantro, kimchi, sesame seeds and crema.  Definitely my favorite dish of the day!  Almost makes me wish I worked in Jersey City (I said almost).  The bbq beef was tender and very tasty.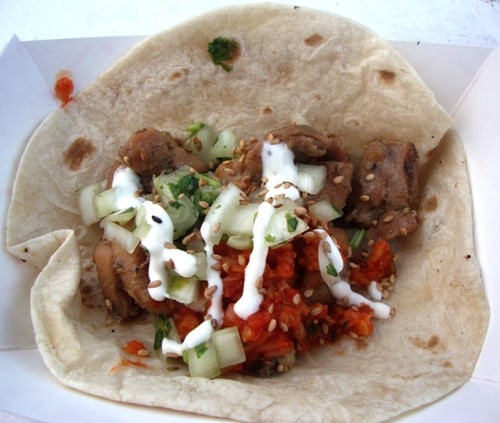 The sesame chicken taco was very good too.  The same ingredients as the beef taco, except with grilled sesame chicken.  This was also a very good taco, but I preferred the beef.  The beef taco gets a perfect 10 rating, while the chicken gets only slightly less.  All-in-all, these were some awesome tacos.  No wonder they had the longest lines of the day.
I was getting pretty full, so it was time for dessert.  There were many choices, such as Street Sweets, Wafels & Dinges and the Treats Truck – but I went to another NJ truck because I can't try them during the week.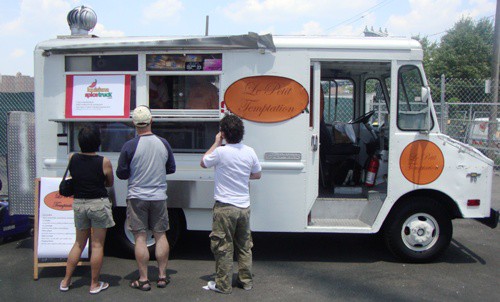 I've had some email correspondence with Jessie from the Louisiana Spice Truck/Le Petit Temptation, but have not yet met him or tried their food.  Jessie started with the Louisiana Spice Truck out in Jersey City, and has a pretty good following – enough that he recently opened a dessert truck called Le Petit Temptation.  For today's festival, Jessie combined both menus into one truck.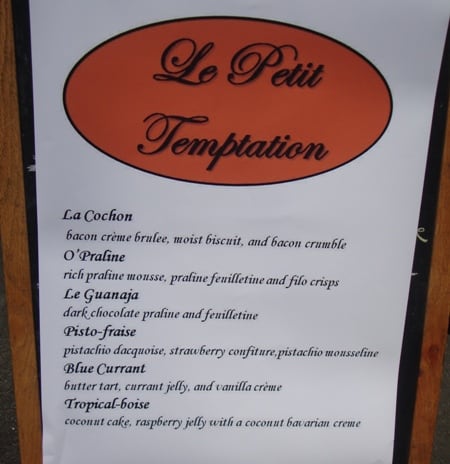 The Louisiana Spice truck had a great menu today with Cajun jambalaya, bbq pulled pork sandwich and a Tex-Mex pulled chicken sandwich with spicy avocado sauce and cole slaw – but at this point, I couldn't eat another main course.  I had to get dessert.
Check out the menu above for Le Petit Temptation – wow!  I've always been a dark chocolate person, so I chose Le Guanaja.  The chocolate was rich but not too heavy, and the rest of the dessert was even lighter.  It was painful not trying the pulled pork or chicken sandwich, but this was an excellent dessert.  Jessie said the praline was really good too.  You could tell Jessie was from Louisiana because he pronounced it praw-leen – but I couldn't eat anything else at this point.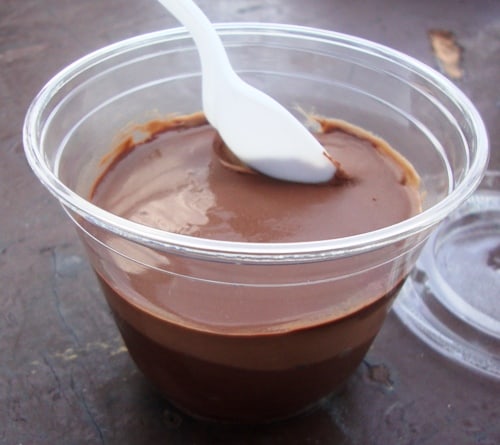 After pigging out, I went over to the Vendy Award/Street Vendor Project table and met Sean, Matt and Amy.  I've developed an email correspondence with Amy over the past few months, and New York Street Food will be a Silver Sponsor at this year's Vendy Awards on Sept 25th.  Sean runs the Street Vendor Project, which is a non-profit organization that helps street vendors with legal and other important issues.  We chatted for a while, and then it was time to head home.
This was a wonderful day, other than the USA losing to Ghana and not advancing in the World Cup.  I tried a bunch of new food trucks and finally got to meet several people I've only emailed.  I do want to offer an apology to Adam of the Cinnamon Snail for not having any room left to try their food, but I promise to make it out to Hoboken as soon as possible.