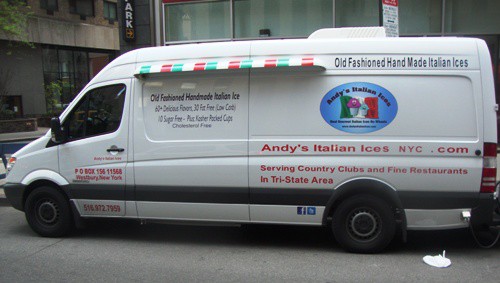 Now that we're into the hot weather, it's a good time to remind you about Andy's Italian Ices.  Andy's Italian Ices have nothing to do with those ices you used to eat with a wooden spoon as a kid.
Andy's Italian Ices are handmade, and have far fewer calories and fat than ice cream.  They have water ice, creme ice, and even some sugar free flavors made with agave syrup.
Andy's has over 45 flavors to choose from, including left-field options like margarita, bubble gum, red velvet, pomegranate, and even Red Bull on occasion.
I recently had a regular-sized watermelon for $4, and the regular size is quite large.  You can also get a large for $5, a take-home cup for $6, and there is also a kiddie size for $3.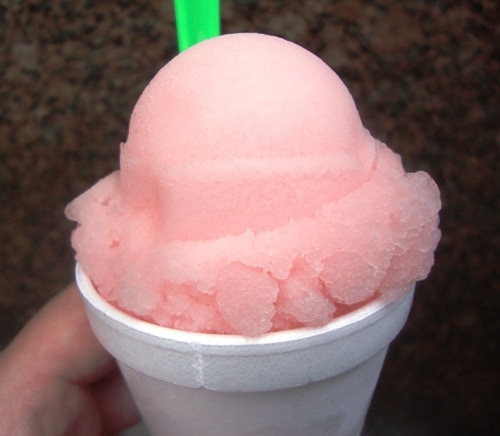 It's kind of difficult to "review" Italian ices.  My cup was filled with very smooth Italian ices that had a nice, pronounced watermelon taste.  It wasn't too sweet, but was definitely a cool, refreshing dessert.  What else is there to say?  It was great on a hot day.
When I was at the truck, Andy asked if I wanted to try a sample of the Red Bull ices, which he happened to have that day.  Since they don't have it regularly, I said yes, and he gave me a small cup.
Yes, this had the distinct taste of Red Bull, and by the end, I even had a slight buzz.  If you drink Red Bull regularly, you probably won't feel it, but I rarely have Red Bull.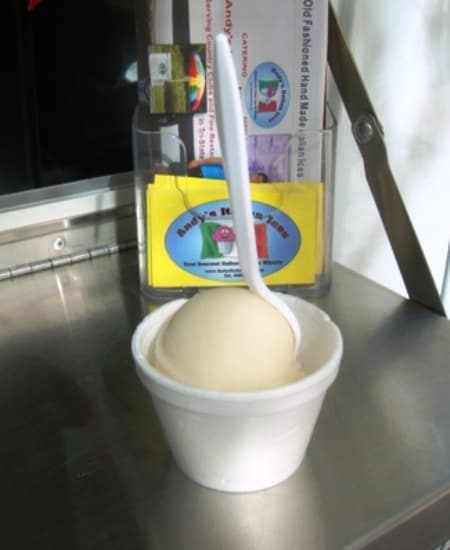 In addition to handmade Italian ices, Andy's also has full coffee and tea service.  They have coffee, espresso, tea and hot cocoa,  as well as iced lattes, macchiatos, cappuccinos, and mochaccinos.  That's a lot of ways to cool off on a hot day.
According to their website, Andy's water ices and most of their créme ices are dairy-free, low-carb, cholesterol-free, gluten-free, void of trans-fats, have no sodium, and are fat-free.  You should be able to find something for everyone, even those with special dietary needs.
I definitely want to try a bunch of the other flavors such as blue raspberry, chocolate fudge brownie and cotton candy.
Andy's Italian Ices is often at the various food truck lots around town (WTC, Hudson Sq, LIC), and hits various neighborhoods as well.
You can follow Andy's on twitter here, facebook is here, and they are also on our Mobile Munchies twitter feed.
Check out these flavors.  There are weekly specials as well.