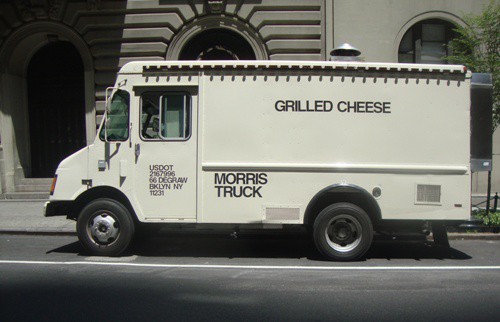 It's been a while since we've been to the Morris Truck, but it was too hot for grilled cheese, so I was hoping they would have one of their cold summer sandwiches.
The menu at the Morris Truck rotates, with certain items appearing more regularly…and I was in luck.
They had a cold feta with summer squash sandwich. Although the bread was grilled, the filling was cold. That's what I call the best of both worlds.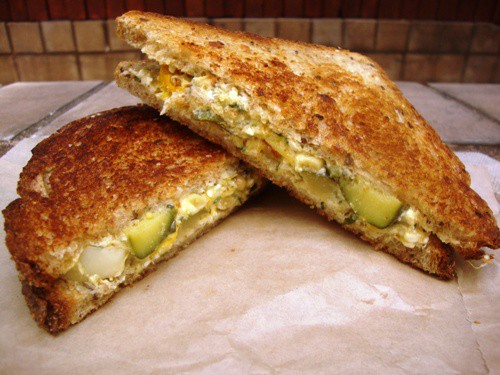 The sandwich was served on 7-grain bread, but I'll have to take their word for it. I didn't actually count the grains. It toasted up real nice, and was strong enough to hold chunky veggies without a problem.
Inside the sandwich the feta came through nicely, but what really stood out was the lemon vinaigrette. There was a tartness that went well with the summer squash, which is not the lightest of vegetables.
There were also toasted pine nuts, which imparted a nutty flavor and some crunch. Oh, I almost forgot, there were a nice amount of herbs in the sandwich too.
This was a very good summer sandwich for a 90 degree-plus day.
Morris Truck also has a menu of house-made fresh sodas for $3. They have soda flavors like yuzu ginger and strawberry tarragon, but I had to go with the one called Milk of the Poppy, which I understand is from the Game of Thrones.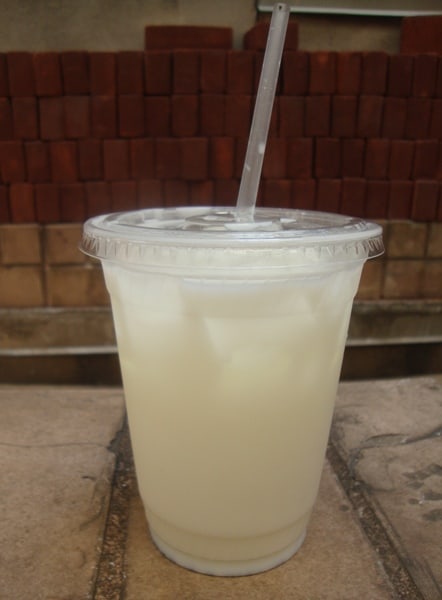 This was a very refreshing drink with milk, vanilla syrup, poppy seeds, and a little carbonation from seltzer. Yes, it was basically a vanilla egg cream. I'm normally partial to chocolate egg creams, but on a day like today, vanilla was lighter and more appropriate for the weather.
You can follow Morris Truck on Twitter here or on our Mobile Munchies Twitter feed. If you haven't done so already, check them out.