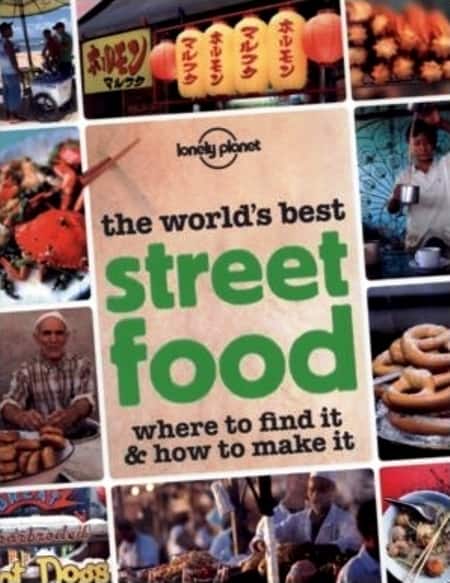 One of the things we love about New York City is eating street food from around the world without even having to leave town. We love to travel, and when we do, street food is one of the best ways to keep expenses down, but it's not always possible to go directly to the source.
Lonely Planet, who have been traveling to out-of-the-way places for many years, recently came out with a book about the world's best street food. Not only do they tell you where to find 100 of the best street food dishes in the world, but there are recipes for each and every one, so you can make them at home.
The book runs the gamut of the world's street food dishes, from acaraje to zaplekanka. The recipes have descriptions whether they are easy, medium or complex to make, as well as other signifiers such as spicy or vegetarian. About 80 of the recipes are for savory foods and 20 of the recipes are for sweets.
Each street food included in the book has 5 sections: What Is It?, Origin, Tasting, Finding It (in that country) and the Recipe. You can learn all about these foods, and then make them a part of your home-cooking repertoire, if you want.
There is also a 4-page glossary explaining everything from acai to zomi. If you have an interest in local, indigenous street food around the world, there is a wealth of information in this book.
So what caught our eye? We've told you about some of our delicious lunches of kati rolls, arancini, currywurst and banh mi. How would you like to learn how to make them at home?
The World's Best Street Food retails for $19.99, but you can get it for about $13 on Amazon here. Enjoy!