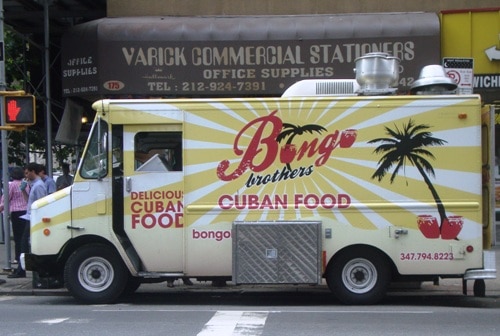 Bongo Brothers is the only Cuban food truck we know of in NYC. The first time we went there, we had to get a Cuban sandwich. the big question was what to get on subsequent visits.
Perusing the menu, we saw a new item, shredded chicken breast in either a platter or a sandwich. What caught our eye was one of the sauces available with this dish, guava bbq sauce.
We decided to go with the platter for $9, which came with a few side dishes. The sandwich was $7.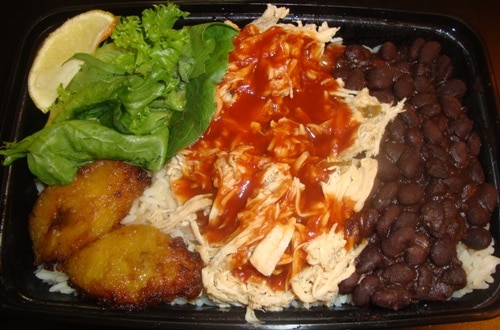 Opening the container, there was shredded chicken breast with bbq sauce, white rice, black beans, a small salad and 2 maduros for dessert.  Talk about a complete meal for $9.
There was a nice amount of shredded chicken, which was still very juicy and moist. It was topped with a sweet, slightly fruity bbq sauce. We tend to like sweet bbq sauces, so this was right up our alley.
The black beans were a pleasant surprise. I'm not usually going to go out of my way for black beans, but these were firm and had a good flavor.
There was a lot of white rice underneath everything, and it was good with both the chicken and beans, although it was a tiny bit watery.
As for the salad, it was only a few pieces of lettuce, but it had a fruity dressing that was tasty. I would have liked more of it.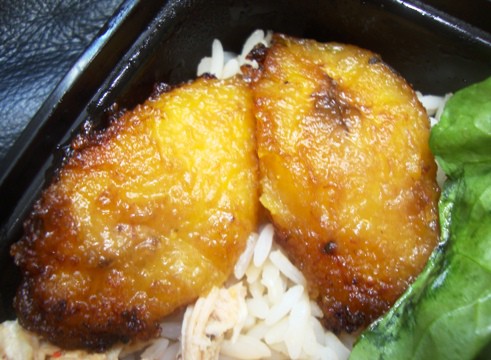 To finish things off, there were 2 maduros, which are like plantains or bananas, but much sweeter. This is not a technical explanation, but they were kind of like caramelized plantains to my inexperienced Cuban palette.
You can find good Cuban food from Bongo Brothers on twitter here or on or Mobile Munchies twitter feed. They tend to stay out of midtown, but hit different areas from the Flatiron District down to the Financial District.