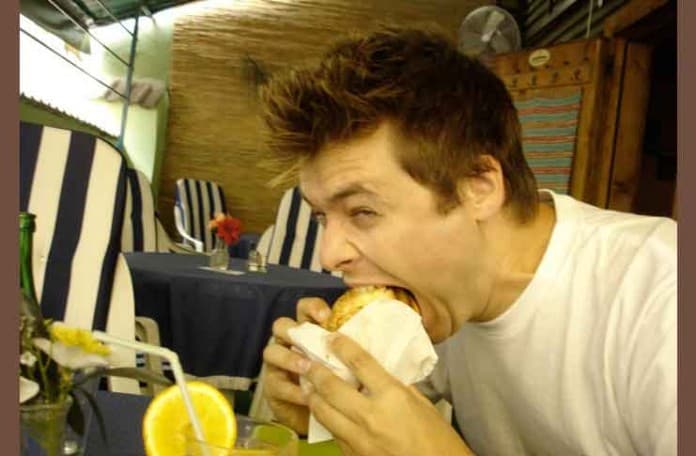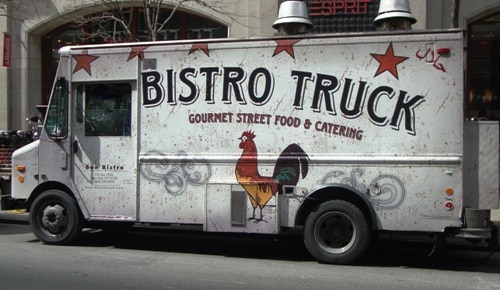 Yesterday was the last day of the year for Bistro Truck, so I headed up to the Columbia Food Pod to get one last meal to hold me until 2012.  (Bistro Truck will be part of this week's MasterCard free lunch giveaway on Thursday, but with a limited menu.)
I spoke with Yassir for a while yesterday about his plans, some of which I can tell you and some of which he asked me to keep confidential for now.
First, Yassir is going back to Morocco next week for a little while.  He will be looking for "inspiration" from the street vendors there, and will also be working on a couple of projects while in Morocco.  When Yassir returns, he will be fixing up the truck, revising the menu, and he has another surprise in store that I will tell you about when he is ready for it to be public.
After our conversation, I had chicken tajine for lunch ($10).
The chicken tajine was served over couscous, with a chickpea salad on the side.  It also came with spicy harissa sauce, which I put on the chicken before taking the photo.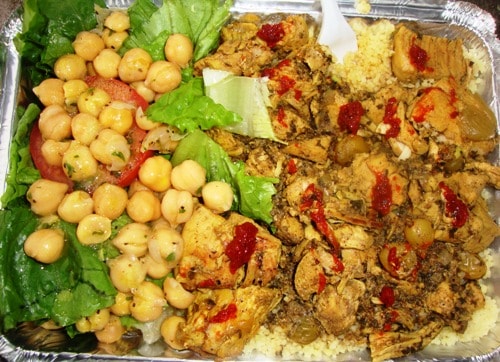 The chicken was all white meat, and appeared to have been prepared with a spice rub.  It was cooked with onions and more spices, and was very tasty.  The chicken was soft and tender, and even better when scooped up with some couscous.
The couscous was light, and a pleasant alternative to rice that usually comes with this type of lunch.  The chickpea salad was a cool, refreshing way to finish the meal.
The chicken tajine from Bistro Truck was a nice meal for my last one of the year.  It's a distant cousin to the "street meat" found on countless halal carts throughout the city – but 100 times better.
If you like chicken over rice from halal carts, you'll love this meal.  It costs a bit more, but is definitely worth it.  Too bad you're going to have to wait until 2012 to enjoy it.  But don't worry – Yassir expects to be back by mid-January.
Hopefully he will come back with more pastillas on the menu.  I never did get to try the seafood pastilla.