Sammy (in black coat) at the Queens cart
I've walked by Sammy's Halal cart on the NE corner of 6th Ave and West 4th St in Greenwich Village a few times.  Sammy's Halal won the 2nd Vendy Award in 2006 for his cart on Broadway and 73rd St in Jackson Heights, Queens.  Since then, Sammy has expanded with additional carts on East 4th St near Broadway in the East Village and the one I went to in the West Village.  It's tough to miss the giant picture of the Vendy Award on the side of the cart.
How has the food changed since Sammy's won the Vendy Award in 2006?  I didn't try it back then, but I can tell you how it is now.  Today's Lunch is chicken over rice from Sammy's Halal ($5).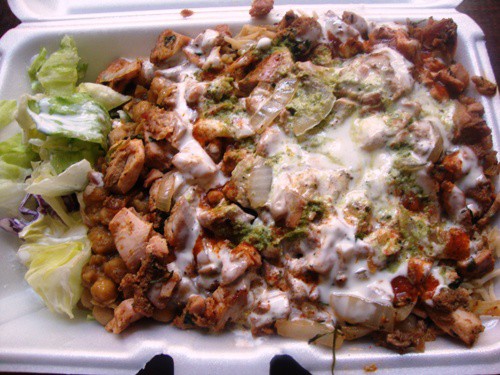 Sammy's chicken is pretty similar in style to other halal carts, but his chicken was moist, tender and had no funky stuff in it at all.  It was a mix of white and dark meat, and every bite was between pretty good and excellent.
Sammy's has 3 sauces to choose from – a white, mayo-based sauce, a red hot sauce, and a green sauce, which is the one that separates him from the rest of the halal carts. The white sauce was good, but not spectacular.  The red hot sauce was very good and very spicy – my lips and tongue were tingling for a bit of time after eating.
The green sauce however was an herb-fest.  It was not spicy, but was a mix of parsley, mint, cilantro, garlic and possibly some other herbs and spices too.  It picked up the lunch considerably.  Without the green sauce, this is just another chicken over rice dish.  While you may or may not want hot sauce depending upon your taste, the green sauce should be considered mandatory.
The rice at Sammy's was a cut above too.  There were small pieces of charred onion cracklings (yum) and a bunch of spices.  I was able to see whole cloves and caraway seeds in the rice, among other things.  He also asked if I wanted some chick peas, which he put on the side of the rice.  The chick peas added another taste and texture to this dish.
Today's Lunch gets an 8.5 out of 10.  The chicken over rice is worthy of a former Vendy Award winner.  I think it's better than the 53rd & 6th chicken over rice, which gets more press and has much longer lines.  The only downside to Sammy's is the location – none of his carts are convenient to midtown.  However, if you work near, or are in the Village at night or on the weekend, Sammy's is an excellent option.  Ditto for Jackson Heights.