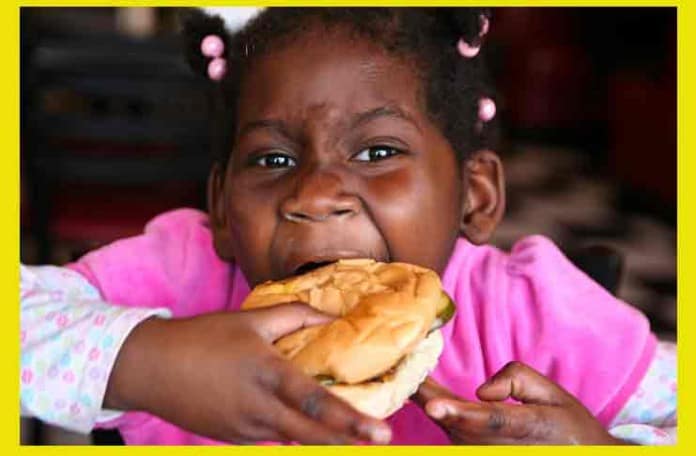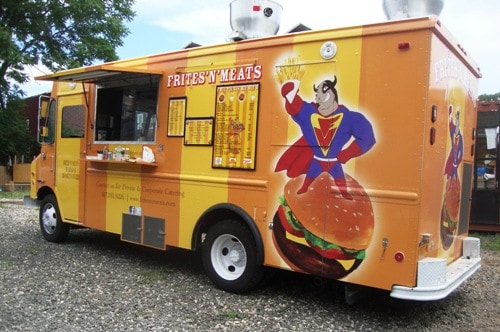 I had a chance to stop by the Frites 'N' Meats truck over the weekend, which was my first visit since their accident back in April.  Two of the three brothers were at the truck, and I decided to get what I often get at Frites 'N' Meats – the Burger of the Week.
The Burger of the Week last week was The Ploughman ($8.50), but I'm sure you'll be seeing it again on their rotating list of Burgers of the Week.  I also got an order of frites ($3) with a couple of dipping sauces.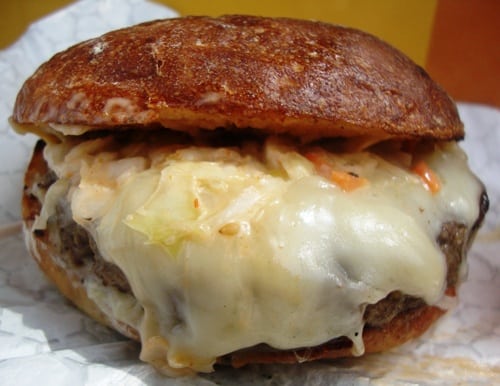 The Ploughman was a seasoned Angus beef patty with cheddar cheese, gruyere cheese, onion jam and "sassy slaw".  I normally put ketchup and sometimes mustard on burgers, but the Ploughman looked so good, I didn't even think about putting anything on it.
Between the burger itself, both cheeses, and the soft, fluffy bun, it was a big bite to get everything in my mouth.  Luckily, I have a big mouth, and it was put to good use on the Ploughman.
In addition to the beef and cheese, which are always my favorite parts, I particularly liked was the onion jam. It picked things up a bit, and added some edge to the burger.
I don't usually put cole slaw on my burger, but in this case it added some crunch to the otherwise soft ingredients.  Kudos must also go to Balthazar Bakery for an excellent brioche bun.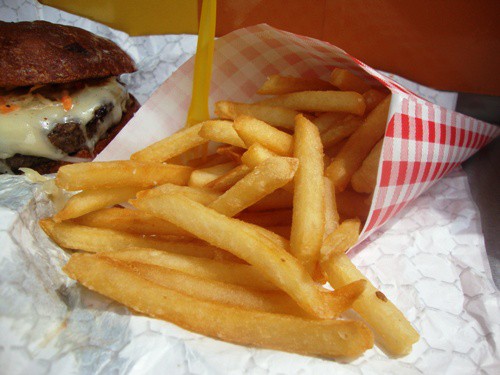 The frites come in the now-standard cone, and they are double-fried, which gives them a crunchy exterior, while keeping the inside soft but still piping hot.
I got chili mayo and horseradish mayo for dipping the frites, which cost 50 cents each (ketchup, mustard & mayo are free).  The chili mayo was good, but I didn't really find it spicy.  Maybe I'm just getting used to chili.
The horseradish mayo had a clean-out-your-sinuses kick that was very good with the fries.  It would probably be tasty on their burgers too, since horseradish goes well with beef, but there was already so much on the burger, I didn't add horseradish mayo.
It's great to have Frites 'N' Meats back on the NYC streets again.  The guys were telling me that some of their old parking spots (like 52nd & 6th) were no longer available, but they will still be at some of their old spots, and trying some new ones.  In fact, they told me the new LIC Food Truck Lot last week was a pleasant surprise.
While all of the burgers I've tried at Frites 'N' Meats have been good, I usually go for their Burger of the Week, whether its the Ploughman, the Southwest Fusion Burger, or the Oinker.  Hopefully they came up with some new Burgers of the Week during this recent hiatus.