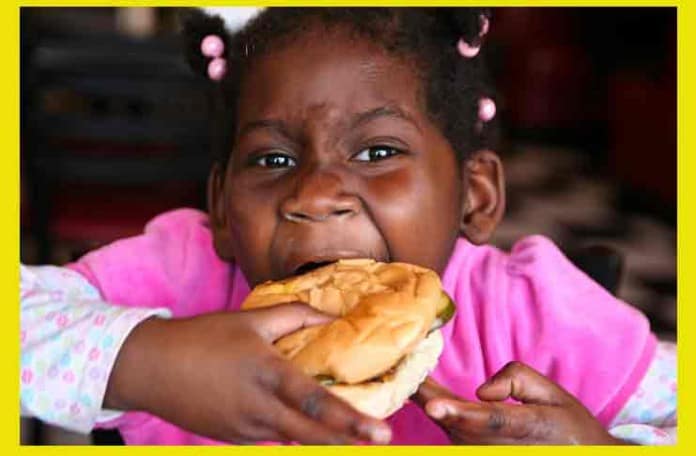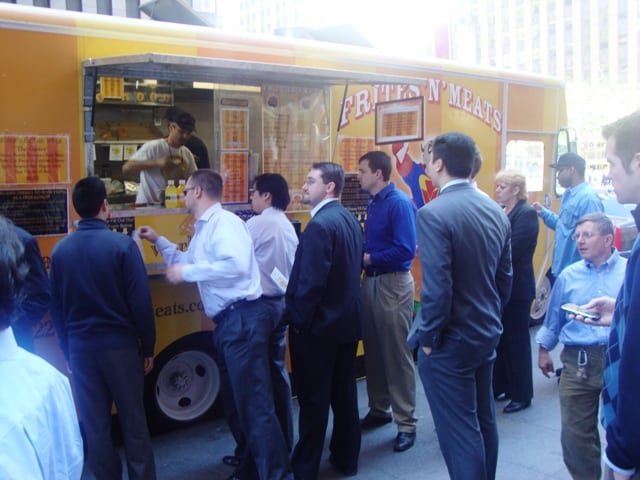 I didn't get a chance to try the Oinker burger special last time Frites 'N' Meats was in midtown, so I called them up at 11:15 and placed my order for a 1:15 pickup on 48th St between 6th & 7th Ave (this was yesterday).
It's a good thing I called ahead, because there was a line of about 15 people and another dozen or so waiting for their orders.  If I hadn't called ahead, it likely would have been at least 1/2 hour from ordering to pickup.  This way, I called 917-292-9226 and it took all of a minute to pick my order up.  Today's Lunch was an Oinker burger and frites. When I called in the order, they said that onion jam goes well with the Oinker, and I readily agreed.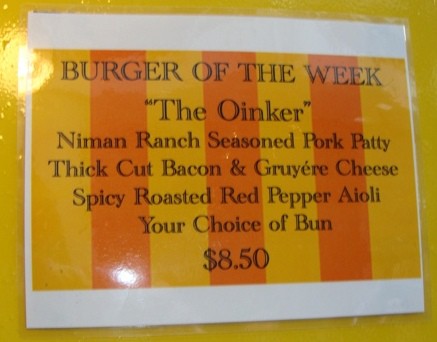 As shown above, the Oinker is a seasoned pork patty with bacon, gruyere and spicy red pepper aioli.  One thing most of the (Middle Eastern and Indian) street food carts don't have is pork, so this was a nice change of pace from the onslaught of chicken and beef.  I was quite disappointed at missing the Oinker a few weeks ago, but I guess this can be called Oinker II – The Resurrection.
When I got back to the office, my first thoughts were how good the frites smelled and how big the burger was.  Then I saw that a Dum Dum lollipop was included, and I was even happier.  Dum Dums hold a treasured place in my childhood, although I don't remember ever having a mango flavored Dum Dum growing up, which this was.
The Oinker was delicious.  The pork patty was seasoned with some chopped scallions and spices, and there was even a little kick to it.  When combined with the bacon, gruyere cheese, spicy red pepper aioli and onion jam, I was in heaven.  The pork gave it a different orientation than most burgers, but what a difference!  This was a great burger.  They were right about the onion jam adding to the pork patty, and the brioche bun was wonderful too.
The frites were similar to last time, which means they were excellent (and consistent) – a little crunchy on the outside and soft on the inside, with just the right amount of salt.  There were also a lot of frites in the order, which was a good thing because they cost $3.
Today's Lunch was a 9.5 out of 10.  It gets a 10 out of 10 for food, but loses half a point for value.  The Oinker ($8.50) and frites ($3) were both excellent, but $11.50 is a bit too much for me to spend on lunch.
Frites 'N' Meats usually serves dinner in Tribeca, and $11.50 for dinner is certainly reasonable, so that's one option.  Another option for me would be to just get the burger, which was pretty big, and buy a small bag of chips on the way back to the office.   I would miss those frites, but then lunch would be more in my price range.