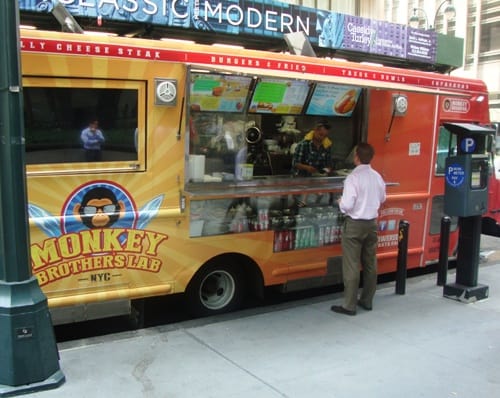 We recently heard about a new truck called Monkey Brothers Lab, but without a twitter account or website, they were difficult to find.
Yesterday the truck was parked along the Food Truck Paradise of 47th St between Park & Madison Aves.
The menu is a jumble of street food items, with cheese steaks, burgers, tacos, burritos, quesadillas, rice bowls, and a few other items.
We've been having a lot of cheese steaks lately, so for our First Look, we ordered a Texas Burger Deluxe for $11, which comes with fries. The burger alone was $9.
The Texas Burger comes with lettuce, tomato, cheese, and a fried egg on top.
They handled the fried egg just right, with plenty of yolk running down the sides of the burger and bun. We may have needed a few extra napkins, but there's nothing like a messy yolk covering all aspects of a burger.
The patty itself was pretty large, at least 1/4 pound, and probably closer to 1/3 pound. The meat wasn't overly seasoned, and the taste of ground beef was paramount.
The sesame seed bun was a bit larger than the burger, so the first few outside bites were mostly bread and egg yolk. Not a bad combination.
One thing they did that was a little silly was to crush the burger to fit inside a round aluminum container. It was taller than the container, and the bun got somewhat crushed, but the burger survived just fine.
The fries were steak fries, and they could have used some more time in the fryer. They were thick and potatoey, but soft and kind of mushy.
Steak fries need to be crisper, and these could have used more salt. We're not big salt eaters, and even we wanted more salt.
The Texas Burger from Monkey Brothers Lab was pretty good, if messy. The fries, not so much.
They are relatively new, so let's give these guys some constructive criticism, and hopefully they read this and listen.
We were told they will be setting up a @MonkeyBrothersNYC twitter account within the next few days. When that happens, we will add them to our Mobile Munchies twitter feed.