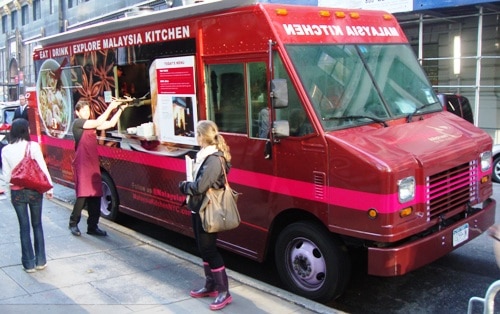 Today is the Official Launch of the Malaysian Food Truck that will be giving out free samples of Malaysian food in Manhattan for the next month and Queens for 2 weeks after that.  This promotion is intended to raise awareness of Malaysian food, which is an amalgam of Malay, Chinese and Indian cuisines, with a smattering of Portuguese, Thai, Indonesian and even Middle Eastern influences thrown in for good measure.
There will be 9 restaurants cooking and giving away their particular Malaysian specialties, and each restaurant will get 3 days each to give away their delicious food before the next one takes over the truck.  You can follow the Malaysian Food Truck on twitter here, although we have already added them to our Mobile Munchies twitter feed, where you can find them as well.
The Official Launch is today at 40th St & 6th Ave, on the south side of Bryant Park.  For the first day only, they are giving away a Malaysian breakfast consisting of roti jala and pulled tea.  Today and every other day will be lunch only from 11:30 to 3pm, or until supplies run out.
So what is roti jala and pulled tea?  Click through to find out.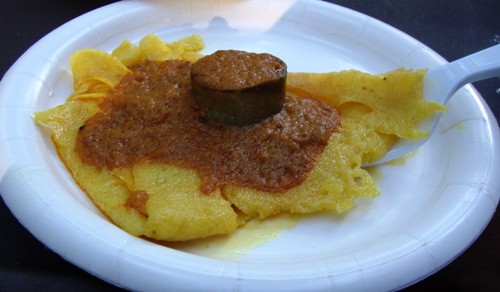 Roti jala is a type of crepe that translates as "net bread".  The batter is made with flour, eggs, butter, coconut milk and a little turmeric for color.  It's then rolled around on the griddle with a spiky implement that gives it a lacy, web-like appearance (kind of like Swiss cheese).  You can do many things with it, but today they topped it with a spicy brown sauce and a pickled cucumber.
I'm not used to spicy food for breakfast, but this was delicious.  It was a little eggy and crepe-like.
The pulled tea was similar to Chai tea, but they "pull" the tea by pouring it back and forth between two containers that are held a few feet apart.  It airs out the tea and mixes the ingredients together better.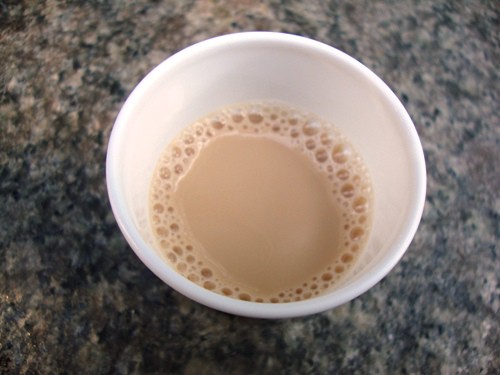 Breakfast was very enjoyable, and I'm going to check out lunch today as well.  With free and delicious Malaysian food from Fatty Crab and other Malaysian restaurants, why go anywhere else.