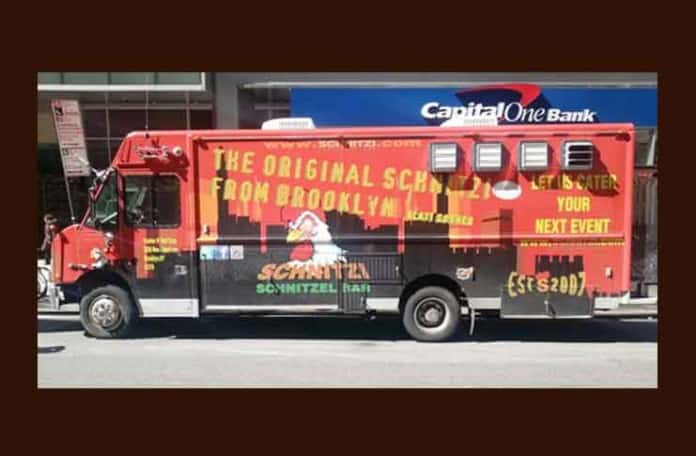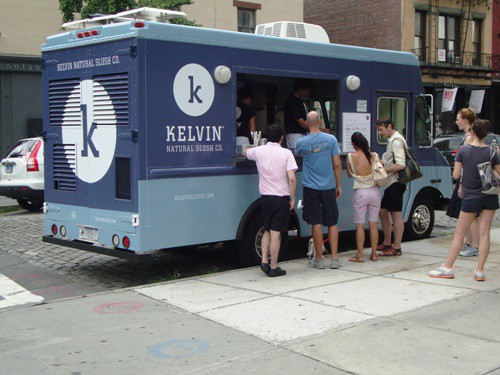 With spring approaching, we've been checking in with the various food trucks who have been off the road for the winter, and wanted to give you an update on when you can expect to see them back.
KELVINSLUSH
– Lots of people are asking us when Kelvin Natural Slush Co, the 2010 Vendy Award Winner for
Best Dessert
, will be back out.  They don't have an exact date, but we were told it will be in early April.
SouvlakiGR
– The 2010 Vendy Award Winner for
Rookie of the Year
is getting verrrry close to opening their new restaurant at 116 Stanton St on the Lower East Side.  A little birdie told us their NYC DOH inspection has already been scheduled, and if everything goes according to plan, they will open shortly thereafter.  Once the restaurant is comfortably up and running, they will be bringing the truck out again, too.
biggayicecream
– The three-time Vendy Award finalists may be out for a couple of one-offs in March, with more days out as the weather gets warmer.  But don't expect BGICT to be on the street full-time until early May. UPDATE- BGICT will be out Wed 3/9 in Union Square filming for the Food Network.  Check their twitter on Wed for more details.
The Cinnamon Snail
– We heard back from the Cinnamon Snail, last year's Vendy Award finalist in the Rookie of the Year category. Adam said their first day back will be Friday, March 25th, and he said to "look forward to a dope new array of goodies!"
TheTacoTruck
– After taking the truck out for the
St. Patrick's Day Parade
in Hoboken last weekend, TTT will be back out tomorrow!  They will be in Jersey City for lunch and uptown Hoboken for dinner on Tuesday and Thursday this week, and are in the process of solidifying their spring schedule.
laspicetruck Jessie from the Louisiana Spice Truck tells us that "March will be a good time to restart LST", but he wasn't specific about a date.  They will also be selling their excellent line of pastries, Le Petit Temptation, at the Liberty Towers gourmet shop on Hudson St in Jersey City.  Le Petit Temptation pastries have been sold at the Greene-Ville Gardens store in Fort Greene, Brooklyn since mid-January.
As you would expect, the ice cream/slush trucks are much more weather dependent than hot food trucks, but stay tuned and we'll give you more details on all the food trucks as they come in.