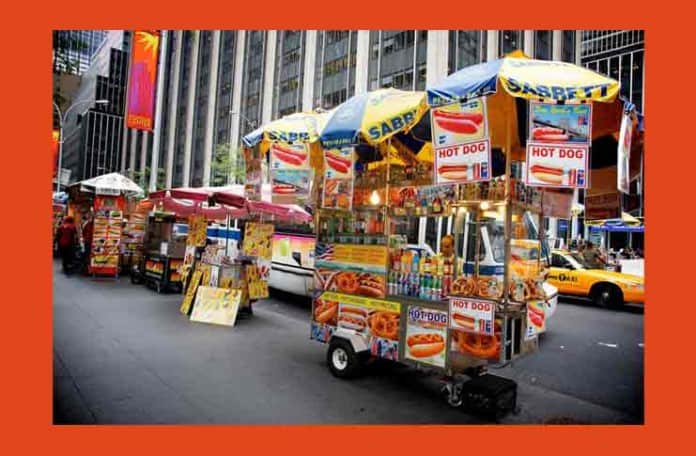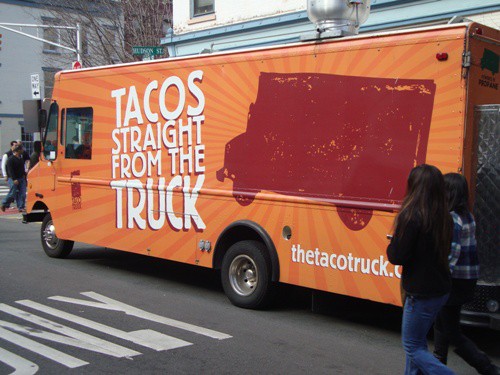 On Saturday (3/5) they held the St. Patrick's Day parade in Hoboken, and The Taco Truck was on the street for the occasion.  I don't know why they celebrate the holiday on March 5th in Hoboken and March 17th in Manhattan, but it was as good an excuse as any to Eat More Tacos!
It was a nice, sunny 50 degree day, so I hopped on the PATH train at Christopher St and took it one stop to Hoboken.  The place was in full revelry, and I even ran across a smoking leprechaun.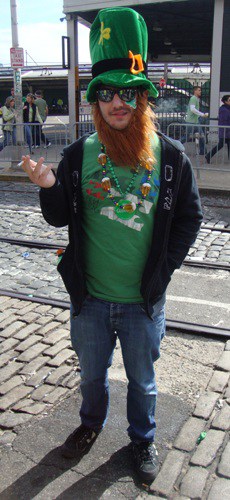 I had one meal previously from The Taco Truck last year, and it was excellent.  Since then, The Taco Truck has opened a storefront location at 62 Newark St in Hoboken, but the truck has been off the street for the winter.  With the weather getting warmer, Emma told me they expect the truck to be back on the street regularly this week or next.
Today they had a special St. Patrick's Day menu, which was similar to their regular menu, with cilantro crema and guacamole providing the green.
I ordered a cochinita pibil taco ($5.50 for two) and a pescado taco ($5.50) and sat down on a sunny stoop to enjoy them.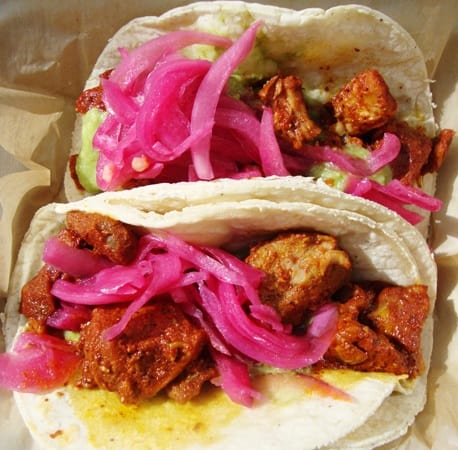 The cochinita pibil tacos had large chunks of marinated pork, along with pickled red onions and a creamy green salsa.  I really like chunks of meat in tacos rather than shredded meat, and these did not disappoint.  The pork was spicy, but not overly so.  I could even detect a little citrus flavor from the marinade.  These were some tasty tacos – and they used two tortillas for each one!
Whereas the cochinita pibil taco was mainly meat and onions, the pescado taco had much more in the way of toppings.  In addition to breaded catfish nuggets, there was Mexican slaw, chipotle salsa, Mexican tartar sauce and lots of pico de gallo on top.
The fish was breaded with cracker meal, to which a little oregano and chili powder was added before the fish was dipped and fried.  I ate one nugget by itself before digging into the taco, and it was delicious. These alone would have made a really good popcorn fish meal or snack – but the taco was even better with all the toppings.
The chipotle salsa and Mexican tartar sauce were a great combination, adding some zing to the taco.  Between the fried fish, pico de gallo, slaw and two sauces, there were a bunch of different tastes and textures going on in there.  Definitely another winner.  They only used one tortilla for the pescado taco, but it was wrapped in paper, and was not messy at all.
It's tough for me to get to Hoboken during lunch, but somewhat easier on nights and weekends.  It was really nice getting a jump on the opening of The Taco Truck for the season.  They aren't officially open yet, but will be very soon.  We will let you know exactly when they open for the season…and you can follow them on twitter here to find out for yourself.