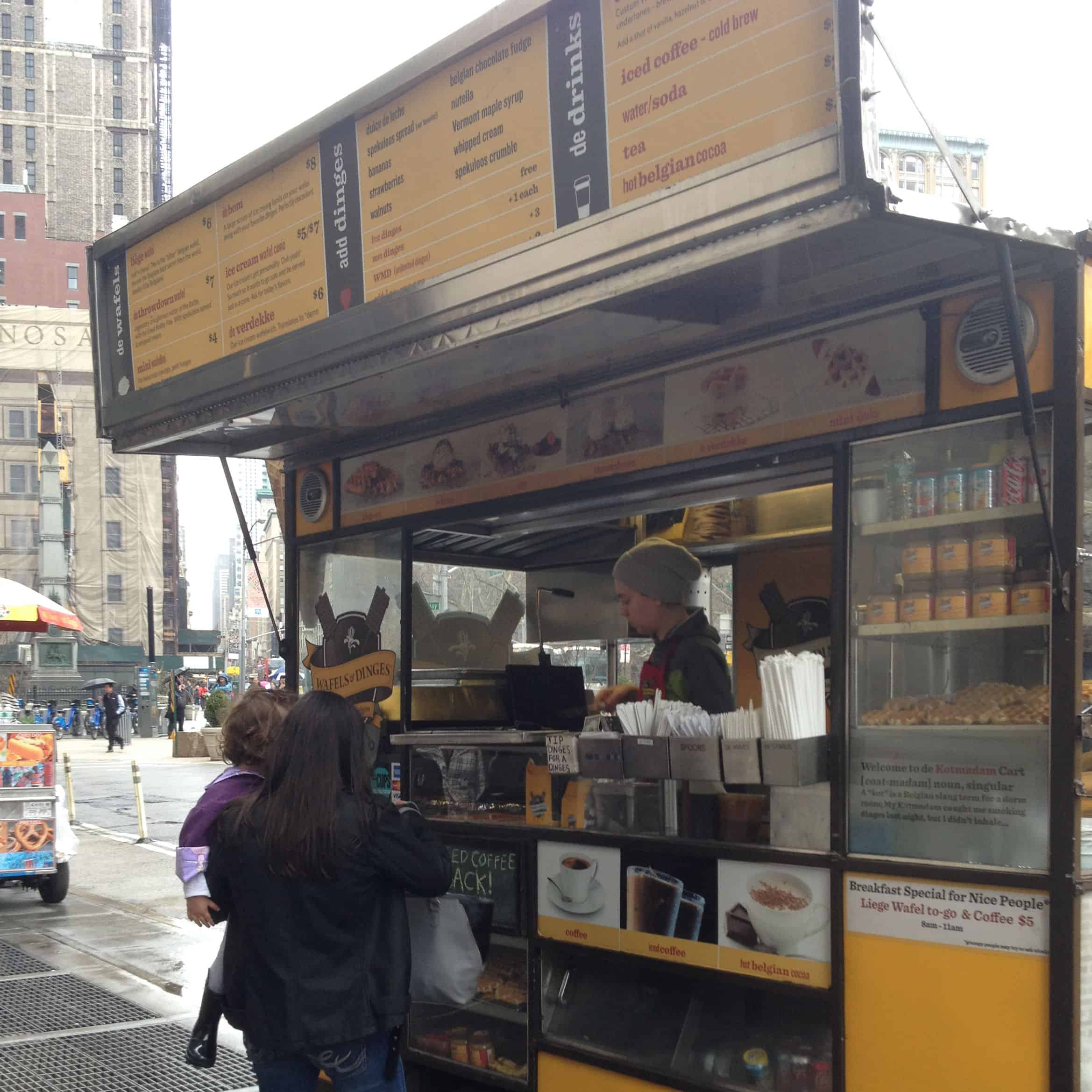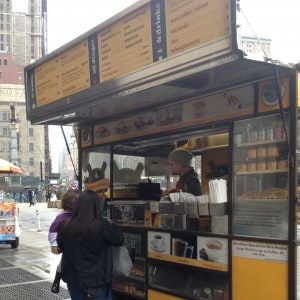 Every last one of us, whether we're honest about it or not, will answer their internal call for some sort of comfort food. It's the kind of food that can bring back memories from your childhood, or food that can get you through a rough patch in your day.
And with that in mind, I ventured out on one of the first days of spring despite the downpour into the Flatiron District for some comfort food that would take my mind off of the dreariness that hung over the city. For many of us, waffles qualify as a prime go-to comfort food. As luck would have it, I didn't have to venture too far to find Wafels & Dinges posted up in front of Mario Batali's Eataly Cafe located a stones' throw from Madison Square Park.
I hadn't gotten food from them in ages, and I wanted to see if they still had that comfort food magic I remembered from my last visit.
Wafels & Dinges has become a steady part of the New York City food landscape, doling out thousands of freshly made Belgian waffles from their fleet of trucks since 2007. (They commemorate this origin point with a whimsical anecdote about their first-ever NYPD traffic ticket complete with photo on the site.)
With quite a few prestigious achievements under their belt that include winning 'Best Dessert' at the NYC Vendy Awards in 2009, Wafels & Dinges has steadily brought this cool Belgian dish to happy people in the boroughs.
Today, I wanted to try their famous waffle that beat world-renowned chef Bobby Flay on his TV show, 'de Throwndown Wafel'. I stepped up to the cart and could smell the heavenly aroma that only warm Nutella can emit and grabbed one to go.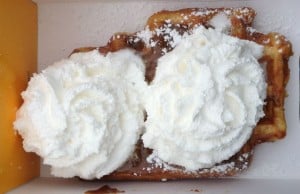 In that first bite, I got why de Throwndown Wafel was a champion of desserts.
The waffle itself was fluffy in a delectable way, but very filling. Served with two heaping dollops of whipped cream and their famous 'spekuloos' spread, the Throwdown literally melted with each subsequent bite I took.
For the curious, the 'spekuloos' comes from spiced shortcrust biscuits that are made during the holidays in early December throughout Belgium as well as the Netherlands and parts of Germany.
The Throwdown Wafel costs you $7, and if you want to really go crazy, you can opt for a variety of toppings, or 'dinges' to go with it with the first one being on the house. My pick? Belgian chocolate fudge. Other topping choices include dulce de leche, syrup and Nutella. You can even snag a scoop of vanilla ice cream to adorn your waffle for an extra $2.
Now, Wafels & Dinges doesn't stop here. They also give a nod to Mexican cuisine with their Chilli Con Corne, a seasonal offering that's composed of a corn waffle laden with heaping servings of chili, cilantro and sour cream. As far as drink choices to complement your waffle, you can go for the usual coffee or tea with the option of having a vanilla or hazelnut shot for about two dollars or try their Belgian hot cocoa which will run you $4. Or if you're just going to go full-on dessert bomb style, grab one of their specialty shakes. At $8, you can pick from vanilla, chocolate or go with the spekuloos shake.
To find a Wafels & Dinges truck, make sure to check out their website as well as their Twitter account for up-to-date locations and times throughout Manhattan and Brooklyn.