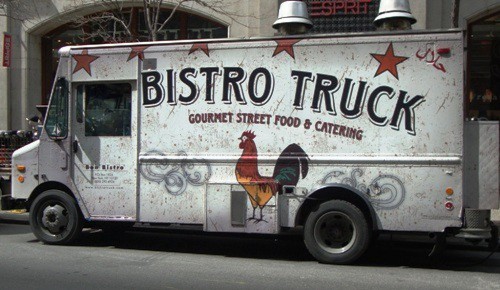 We just spoke with Yassir from Bistro Truck, who told us that Bistro Truck will close at the end of October for the winter. That's only a couple of weeks away.
Yes, that's sad news, but there's a silver lining! You'll still be able to get a Bistro Truck lunch during the off season…and you won't even have to wait outside in the cold.
Yassir tells us they will be instituting a delivery service to addresses near their regular parking spots. Logistics are still being worked out, but this is how it's expected to work:
On Wednesdays, Bistro Truck usually parks on Old Slip & Water St. On Wednesdays, people within a 5-10 block radius of that location will be able to order lunch from Bistro Truck and have it delivered. Same deal on Thursdays around 5th Ave & 19th St. You can see Bistro Truck's current parking locations here.
As we said, logistics are still being worked out. We will keep you informed of further developments, and you can also check their website, twitter or our Mobile Munchies twitter feed.
Lastly, Yassir told us you may still see Bistro Truck around from time to time over the winter. Even though their street permit is seasonal (April-Oct), he told us about a new parking spot in Midtown East that may open soon.
It's not exactly on the street, but the NYCFTA hopes to have a different food truck parked there each day. We are not at liberty to be more specific yet, but will let you know when and if this spot firms up.