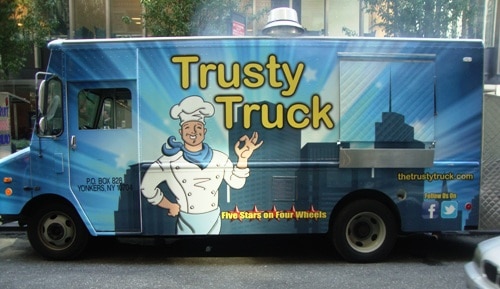 Ever had a hamburger shaped like a hot dog? Well, after having a great First Look at the Trusty Truck last week, we went back for a second loo, to get our Durger.
As previously mentioned, the specialty of the house is the Durger, which is a hamburger shaped like a hot dog. They currently have 5 varieties on the menu, even a vegetarian durger made with a lentil base.
The owner, Dom, told us their most popular durger was the Mr. Smith, which costs $6. Sounds good. To go with Mr. Smith, we got an order of sweet potato fries for $3.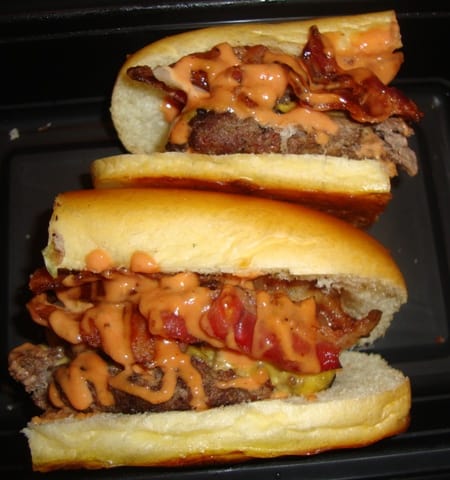 Mr. Smith is like a bacon cheeseburger deluxe in a different shape. Although the durger is a hamburger shaped like a hot dog, they split it horizontally and grill it over flames.
All the durgers are made with 100% all-natural Black Angus beef. When the durger is on the grill, American cheese is melted on top. Then it's put on a bun with lettuce, tomato, bacon and their homemade TT sauce.
A durger is not quite as beefy tasting as a thick hamburger, but it's certainly not for vegetarians. Elongating the shape helps the other flavors come through, such as the bacon and TT sauce.
We would say in this format, the durger accounted for about 50% of the taste of each bite. In a traditional burger, it's more like 75% of each bite is burger taste.
As for the bacon, we liked that it was not overly-cooked. There was still a little chewiness to it.
The TT sauce was ok, but we would have preferred ketchup and mustard on the durger, and maybe some relish too. They wouldn't give us the ingredients in the TT sauce, but it included ketchup, mayo and some spices, although it wasn't spicy.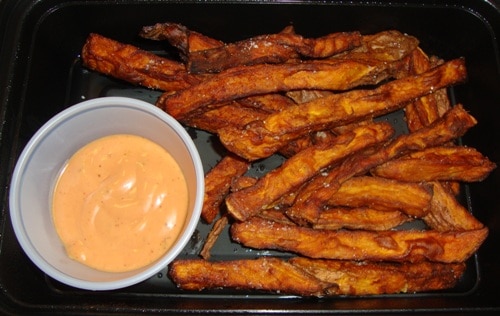 We get crazy when vendors serve huge orders of fries for $4 or more. These are supposed to be side dishes that you get to complement the main course. Who can eat a big burger (or durger) and a huge order of fries for lunch? We can, but usually end up in a food coma around 3 o'clock.
Trusty Truck gets it right here. French fries are $2.50 and sweet potato fries are $3, and the size is manageable. We would rather have a smaller amount and pay less money than have an enormous side order.
We're big fans of sweet potato fries, and these were decent. The outside could have been a little crispier, but we did have to travel a bit with the food.  We also like a light dusting of sugar on sweet potato fries, but these were only dusted with salt & pepper.
The Trusty Truck is a welcome addition to the NY food truck scene. The word "durger" doesn't exactly roll off the tongue, but a hamburger shaped like a hot dog is always welcome, and the food here will make your tongue (and belly) happy.
They are still new to the street, so exact parking routines are not yet set. The best way to find the Trusty Truck is on Twitter here or on our Mobile Munchies twitter feed. You can also find their website here and facebook here.
The chef, Giovanni, told us they are still toying with the menu, getting rid of items that aren't selling well, and bringing on new dishes. We're really looking forward to that Holy Chipotle, Batman.