By Faith Rein
This is not a simple feat yet uptown hope springs thanks to industry veterans Bella Karakis and Joel Rogozinski. 
 e.terra™, a culinary workspace solutions company opened its first flexible commercial kitchen location in Harlem, New York. This startup provides community-focused, flexible commercial kitchen solutions and business services to support the growth of food & beverage companies in every stage of development.
"We started e.terra to re-envision the commercial kitchen model and to benefit those most economically impacted by the pandemic in the New York City culinary community," commented Bella Karakis, CEO of e.terra. "Chefs, caterers, bakers, food entrepreneurs, and established brands all have unique needs, and our centrally-located Harlem location is designed specifically to help businesses of all sizes start, launch, grow and succeed. It's time to get chefs cooking again." 
The Harlem space is 5,600 square feet of production, storage, film/pop space, and comprehensive business support. Featuring 2 large kitchens, state-of-the-art commercial kitchen equipment, and technology, with room to scale while keeping startup costs low. It includes a shared commercial kitchen, a baker's kitchen, ghost or private kitchen stations, dry and cold storage, office co-working space, and a full roster of business support services.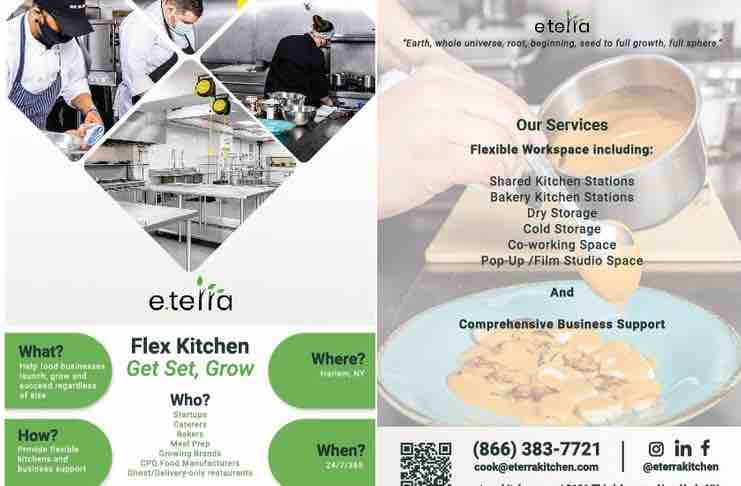 e.terra: A Commercial Kitchen Solution Is Essential For Every Community
Facilitating the growth of local food options is an essential service for every community. For these small businesses to succeed they need the right combination of production space, business support, and access to community partnerships. 
e.terra plans to expand its operations across the 5 Boroughs, the Tri-State area, and to other communities across the US, applying this formula to each community where an e.terra kitchen is located.
One of the differences between a ghost kitchen and e.terra is the structure to serve a more diverse and broad audience. Ghost kitchens are typically multi-location delivery-only concepts that are well funded and seek additional delivery locations for expanding territory.  e.terra is able to service a wider audience, from start-up to small food businesses and delivery-only concepts by providing flexible kitchen rental options tailored to the individual business needs, dedicated ghost station rentals as well as comprehensive support."
 Only through active community engagement and strategic partnerships can we create a comprehensive support system necessary to address the daily struggles of food businesses regardless of where they are located. 
The success of others and giving back is what they do best. Focused on supporting any small business and growing a community with education and encouragement. 
Bella explained:  "we cannot succeed without integrating the communities we operate within. This is why e.terra focuses on cultivating public-private partnerships with non-profit and community organizations, such as the Isaacs Center and Harlem Park to Park, as well as active community engagement. We believe we can effect positive change in the culinary community by creating job opportunities for unemployed young adults, meaningful and lasting business opportunities for small food businesses, and addressing the myriad of issues surrounding food insecurity in NYC.
The Stanley M. Isaacs Neighborhood Center (Isaacs Center), offers internship opportunities to young adults enrolled in the Center's Culinary Program and seeking a career in the food industry. The Isaacs Center is a non-profit, multi-service organization located on the Upper East Side of Manhattan focused on the needs of children, low-income families, out-of-school and out-of-work youth, and aging New Yorkers. 
"The City's economic recovery will hinge largely on its efforts to create employment pathways for those who have been surviving on the margins throughout this pandemic. Isaacs Center is proud to partner with e.terra to bring hope and opportunity to young adults seeking careers in the culinary field, at this critical time of economic renewal both locally and nationally," said Gregory J. Morris, President, and Executive Director, Isaacs Center. 
e.terra founder Bella Karakis is an experienced IP attorney, start-up mentor, and entrepreneur with a track record of success in the food and beverage industry. She was co-founder and CEO of Union 3Sixty5, a DC Metro-based mobile food operation, and co-founder/CBDO of Chefscape, a shared commercial kitchen with locations in the DC Metro and NYC area. 
Her co-founder, Joel Rogozinski, is an experienced entrepreneur and veteran of commercial financing and mergers and acquisitions. Joel serves as e.terra's CFO and brings a wealth of knowledge in food startups and commercial kitchen management. He also mentors entrepreneurs and provides business and finance consulting. They are joined by Eugene Kharlamb, a seasoned NYC restauranteur, IT and technology specialist, as CTO. 
Want to read more of our latest posts? Check out our tips for wanna-be Food Entrepreneurs.
Living and loving in NYC, food has been a passion of hers. East Coast to West, Faith's goal is to explore and learn with the contribution of other like-minded foodies. Faith Rein has written for 2Girlsfromabar@blogspot.com. Youtube channel – faith.rein, love food love faith. You can find her @: Faith.rein/facebook (always looking to add friends) / faith rein@twitter / faith.rein@instagram / faith.rein@gmail.com