Want to be the new hot food entrepreneur in the food truck industry? It's quite a challenge, and you'll need lots of stamina, persistence, and knowledge. 
Food trucks are more popular today than they have ever been in the past. You have likely seen them at all types of special events and festivals. Also, ever since COVID-19 hit, many people prefer to grab a meal from a food truck rather than sitting inside a crowded restaurant.
If the thought of owning and operating a food truck appeals to you, there's a lot to consider. From picking the perfect name to sourcing quality ingredients such as local produce like 00 flour for baking great pizza, getting it right takes some time and effort, and attention to detail. If you want some tips to help kickstart your career as a food truck owner, here are some tips on how to set up your food truck for success. 
4 Tips To Help You Become The Next Food Entrepreneur In the Food Truck Industry:
1. Conduct Market Research
Before purchasing a food truck or starting any food business, a successful food entrepreneur will conduct detailed market research. This research should help you answer important questions, such as:
     

How many food trucks are already in your area?

     

Are there some areas that need a food truck?

     

Is there a growing food trend in the area?
Once you know the answers to these questions, it will be much easier to make smart, informed business decisions about which kind of food truck to operate and where to begin.
2. Select the Right Type of Food Truck
When it comes to the different types of food trucks, you have a lot to choose from. You could choose from specialty grilled cheese sandwiches, tacos and sliders, barbeque, pizza, and so much more.
You may wonder how to choose the one that's best suited for your needs. The market research you made as a want-to-be food entrepreneur, can help point you in the right direction. If you find out there are many barbeque food trucks in your area but no taco trucks, you know what to try. It's a good idea to find an idea for a food truck that doesn't have a lot of competition and that suits your personal interests.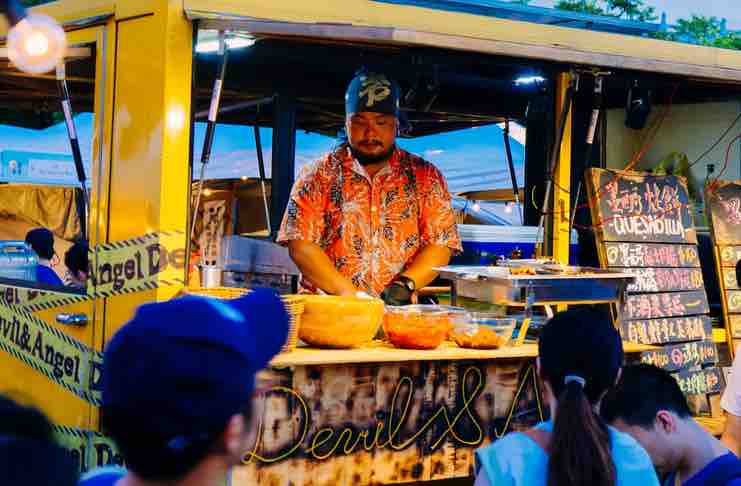 3. Create a List of Needed Supplies
You will need many supplies to outfit and operate your mobile food truck business. Instead of making purchases as you go, create a list of what you really need. Some of the items to include on this list include:
     

Safety supplies

     

Disposable gloves

     

Cleaning supplies

     

Aluminum foil

     

Utensils

     

Food prep dishes

     

Serving containers
After creating a list, you can start to shop around to find the best deals on these items. In most cases, this strategy is going to help you save a lot of time and money.
4. Purchase the Right Truck
It's important to note that food trucks are not all the same. You can find options that range in price from $50,000 all the way up to $250,000. Also, you can purchase used or new, depending on your needs and budget. While new trucks are able to be customized, they are more expensive.
While used trucks are a cheaper option, there is an increased risk of needing expensive maintenance in the future. You can also lease a truck so you can test out the food truck venture. 
Once you figure out the type of food truck you want to purchase or lease, make sure to buy from a reputable food truck dealer.
It is also important to think about how you will finance your food truck. When in this situation, some business owners will pursue a loan specifically for this. If you get a food truck loan, you don't have to worry about taking cash away from other parts of your business.
Are You Ready To Own a Food Truck?
If you're passionate about becoming a food entrepreneur and owning a food truck, you need to be organized, knowledgeable, and ready to work hard. Be sure to keep the information above in mind, which will help ensure your business has a good, strong start. 
Want to read more of our latest posts? Check out our recipes for Cranberry Cocktails that you can make at home.