I recently was able to take a cruise on the Oceania Riviera. It is a beautiful ship designed for passengers who like to travel and see the world. This is a ship that has a higher level in education, experience and for people who prefer to read, relax and enjoy. 
When it comes to dining they prefer only the best that is available. That is something we should all expect. And, on the Riviera, you can step into the restaurant and experience things that are not easy to find in the city or on the ocean. 
We left NYC for Miami to board this ship. We sailed for 1 week, stopped in the Western Caribbean, at Cozumel, Costa Maya, Belize and Roatan. 
We were invited to step into a special dining experience where only 20 individuals are able to have a meal that is unique. From the moment we arrived in the cocktail area until we entered the room we received a new experience. 
We are in a room with the two chefs and their small team of assistants. There are three individuals who will assist you with the meal. And there's the Wine Steward who will introduce the various wines that will accompany each meal you will have during this invitation. 
ENTER A PLACE TO ENJOY
You enter a restaurant and you can expect a meal. That is normal. But sometimes you enter a place and have something that is special. That allows you to have and enjoy a meal you never thought existed. Until; today.
Welcome to La Reserve. This is the restaurant located on the Oceania Riviera, La Reserve is a special restaurant for a limited number of guests each night. There are no more than those who are in the room with you.
You enter this evening and start with a glass of rose wine and a small appetizer. Then you are seated at your table where the special feast begins.
There is no menu handed to you. Instead, you receive the menu for the evening that all quests will have and that was prepared by the chef. This evening it is The Odyssey Menu that was created for us to enjoy. 
There are no special requests. The items on the menu were selected by the chefs to be made on this one evening. All items are made and complemented with a glass of wine that is suitable for the entree you receive. It is a wine tasting with a meal tasting. Combined.
SEVEN MEALS TO ENJOY
We started with Bay Scallop Teriyaki that is seared on Riverstone. It is a large scallop that has been slightly grilled prior to being placed on a scorching hot stone to finish. The scallop is lightly seasoned and topped with a teriyaki sauce.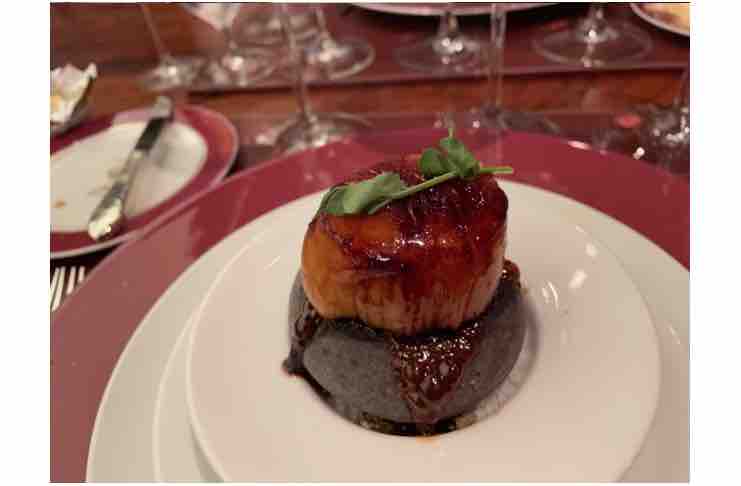 It is moist, fresh, and a taste that reminds you of a small place in Tokyo. Perfection. This is served with a glass of Pommery Brut Rose Champagne from Reims, France. A light complement to a delightful taste.
Next, we had Escalope of Rougie Perigord Foie Gras sauteed with and served over grilled pineapple and hibiscus flower. It is light. Tasty. Fresh and tender. Enough seasoning with each bite you take. This is with a glass of Chateau de la Roulerie Coteaux du Layon. A slight taste of the fruit that goes with the foie gras. A wonderful flavor to enjoy.
Maine Lobster Cassolette is next. This is like being in Maine again. This is topped with tarragon and Sea Urchin Bisque. You might only imagine this, but here it is. Flavorful, light and a taste that only comes from Main with real clam chowder. This is with a glass of Mer Soleil Chardonnay from California. A nice addition for a dish that is perfect alone.
The Risotto
Now you move to a Portobello Mushroom Risotto. There is a touch of ricotta cheese and a black truffle. Seasoned properly all you need is a spoon for each bite you take. It is made properly with a taste that is rare. This is served with Tenuta Guado Al Tasso il Bruciato. Another rich tasty compliment to the dish. And with black truffle, you can not go wrong with this.
The main item for dinner is the Wellington of Veal Tenderloin. This alone is a traditional Wellington meal. A good apportion that is rich, flavored, and delightful. It is served with a Cabernet Sauvignon reduction and harvested vegetables alongside it.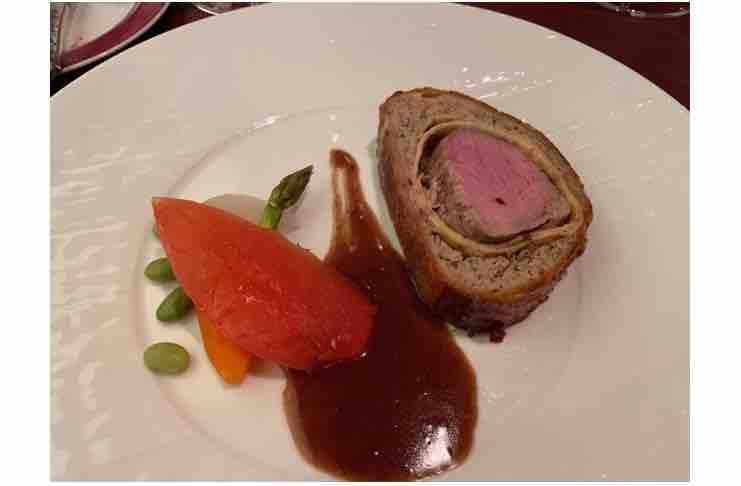 This entree can be a meal itself. Each taste is a flavor to enjoy. To complement this dish we are receiving a glass of Eberle Cabernet Sauvignon from California once more. A richer flavor to go with the veal. It is a perfect match.
It is now time to take a break as we wait to see what might come next. In this case, it is a Napoleon of Poached Williams Pear and Melted Brie de Meaux. It is heaven. It can be a dessert alone instead of being a different course of cheese. Melted, slightly warm, each piece is a comfort with each taste you take.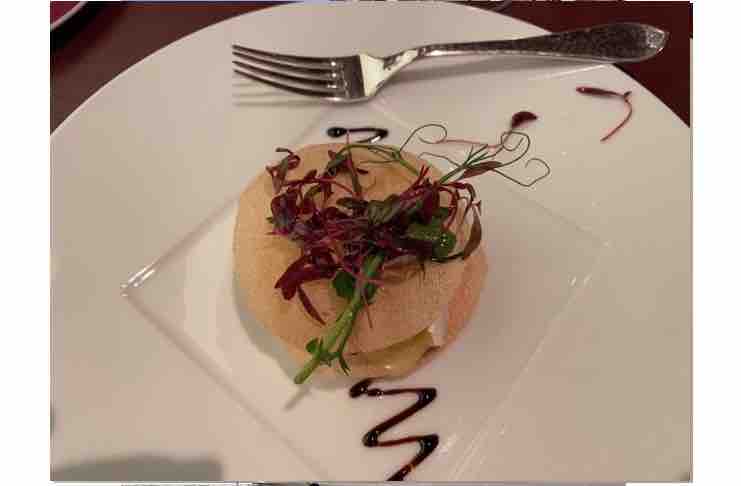 It is rich and soft, seasoned and moist. Just the way to have brie and a pear To go with this we enjoy a glass of Chateauneuf-da-Pape. This alone is a classic glass of wine that is fresh, ripe, and full-bodied. This is a flavor to enjoy all the time. The combination is ideal.
TIME FOR DESSERT
Finally, we have a dessert. This is an enjoyable dinner which is complimented with a light and tasty dessert. It is Floating Island which is accompanied with pralines and roasted pistachio cream. It is so light and refreshing.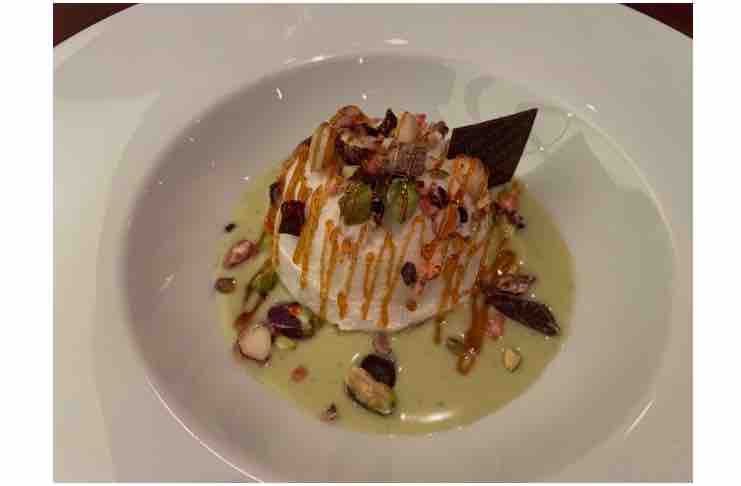 The flavors are rich and are airy. Each spoon tastes like something that completes the meal we have just had. It is a delicate Floating Island that is to be enjoyed with elegance at the end. Naturally, the wine we have is a Marenco Brachetto d'Acqui Pineto from Italy. Just like the Floating Island, it is light and refreshing.
Overall it is the perfect way to end a meal that is unique and different. It tastes like something you have had, but not in the same combination. This was different. The chefs and their team have made this meal special for just a unique number of individuals that have been invited to this dinner on this one night. And, to think if you were here you could have been invited.
THE MEAL TO EXPERIENCE, AGAIN
La Reserve is a meal to experience and enjoy. There is no rush. You enter with a small group of individuals who are here to try a dinner that is made next to you. It is made by chefs that create something new when you are there.
The chefs take traditional recipes and concepts that they then turn into a new direction. They take from tradition and create a new path. It is a path that you can take today and might change tomorrow.
This is available on Oceania Riviera alone. You might see or know of something similar in a city you visit. But to have it on this ship as you travel the ocean is unique and special. It is worth the opportunity to do so when you can. 
La Reserve. A place. A palette. A path to taste a new culinary experience. The taste is yours.
Want to read more of our latest posts? Check out our 5 all-time favorite street foods in Korea.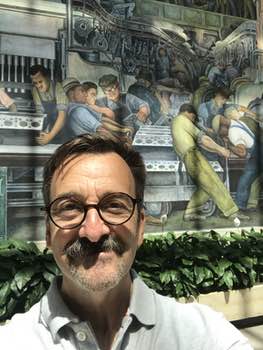 "The Jaded Traveler". Ron Rossi was born and raised in New York. A globalist at heart, Ron is a marketing director by trade, and has lived and worked around the world including Asia, Europe, Africa, and South America. Food is one of the best ways to learn about a country, a people and a culture. So, Ron is always looking for the best in mid-range to budget and street food. He is always on the hunt for a good meal anyone can afford. It is the food of the average citizen that excites him. And with having visited close to 100 countries on 6 continents so far, there have been some pretty good meals.