Are you interested in finding out more about the top 5 street foods in South Korea? If yes, you're in the right spot. Travelers and tourists with an interest in the local culture always include sampling the best street food on their itineraries.
It's both fun and interesting to sample new and unfamiliar dishes while touring the streets and markets of Seoul and other major Korean cities. In fact, it won't be long before you get a whiff of garlic from street vendors and restaurants cooking up Korean favorites.
If you're planning your next visit to South Korea, it's the ideal moment to find out more about the street foods you can try while there. 
Prepare yourself to indulge in some spicy and mouth-watering food in South Korea. With its well-known and unique culinary culture, you'll be sampling some of the world's most popular and memorable street food (almost like NYSF). Taste its rich and spicy goodness as you get to know the country's locals and eat foods you'll want to have again and again. 
Don't forget to have a bite of these Korean food favorites on your next trip. 
1. Tteokbokki (Spicy Rice Cakes)
Korean spicy rice cakes are simmered rice cakes that are popular as street food and in restaurants or to make at home. You can purchase the rice cakes in a semi-dehydrated form at a Korean market, and they're the same as ones used for street food and in restaurants. They get their spiciness from Korean chili paste (gochujang), a favorite flavoring ingredient in Korean cooking. 
If you eat spicy rice cakes as street food in any Korean city, you'll find them quickly and may also be offered an alternate, less spicy version. It's flavored with soy sauce (ganjang) and is, therefore, more savory in taste.
The rice cake is symbolic of the Korean culinary tradition, and once you've tasted one, you'll understand why they are so popular. If you're interested in making them at home, check out an online Asian supermarket for the ingredients you'll need once you've settled on a recipe.
2. Odeng (Fish Cakes)
Fish cakes are among the all-time favorite street foods in Korea. People eat them as both snacks and complete meals, depending on the size of the portion. Korean-style fish cakes typically contain ground white fish, potato starch, sugar, and often diced vegetables. Other ingredients often are salt and egg, and they are fried until golden brown. 
You may also be offered fish cake soup (eomuk guk), one of the most popular and loved Korean comfort foods. It is another dish that's both sold as street food and often made at home.
Recipes for how to make it abound online, and it's easy to get the ingredients you need when shopping for Korean groceries. Make sure you don't miss out on trying fish cakes and fish cake soup. It will be fun to decide which one you enjoy the most.
3. Gyeran-ppang (Egg Bread)
Egg bread is a warm street snack you'll find everywhere in South Korea. It's made from Korean pancake dough in a fluffy, rectangular-shaped loaf with a whole egg inside. The flavor is savory and sweet (think umami) and is something everyone must try. You can find it as popular street food all over the country.
You'll see many street vendors making them and be drawn in by their delicious aroma. Like all street food, they're priced so everyone can afford them. 
Want to try it at home? Check out this recipe clip:
4. Hotteok (Stuffed Pancakes)
Korean stuffed pancakes are local favorites and loved by kids and adults alike. Today they're an iconic Korean food but were introduced by Chinese immigrants in the early 1900s. Filling typically includes brown sugar, cinnamon, and ground nuts or seeds. The sweet versions continue to be highly popular, but some savory variations also are well-liked. They can include vegetables, kimchi, cheese, etc. 
If you want to try making some at home, you can buy convenient mixes at Korean grocery stores. With many, you only need to add water, and you're ready to go. Flavor them sweet or savory, depending on which recipes you enjoy the most.
5. Gimbap or Kimbap (Seaweed Rice Rolls)
The history of street food goes back thousands of years, and today gimbap is authentically Korean. But its origins are debated. Most feel that it dates to a much earlier Korean society. Gimbap is made with cooked rice, vegetables, fish, and meats rolled in dried seaweed sheets and sliced into bite-size pieces. It's a popular street food that's often eaten for lunch or at picnics and other outings.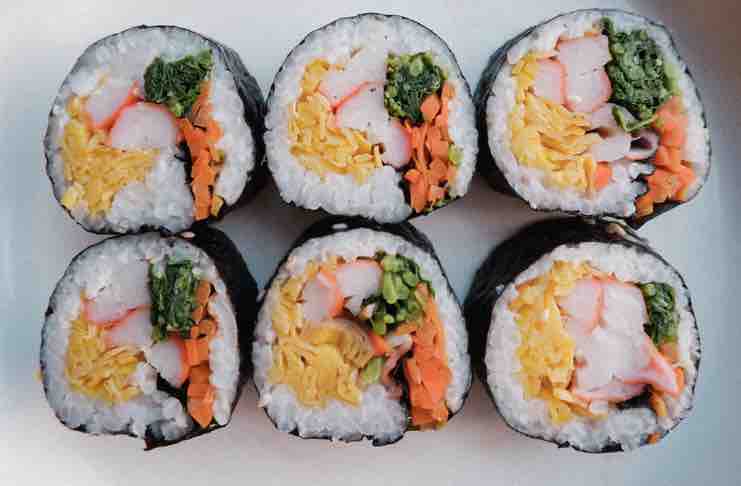 You'll find many vendors selling kimbap while strolling in Seoul and other Korean cities. Make sure to taste some before ending your trip to South Korea.
The flavors vary depending on the ingredients, and you'll have many options to consider. It's a lighter dish that's unlikely to make you feel bloated, so it's an excellent thing to eat for a snack or light meal when you're on the go.
Try to Try All 5 and Other Korean Street Foods
There is little argument that culinary experiences in South Korea are exciting and unique thanks to the many variations and influences on the local cuisine. The list of street-food favorites included in this article is just a few of the many delicious and one-of-a-kind foods the country offers.
Look forward to experiencing some of the most memorable eating in your life when you try these authentic Korean street foods. They are indeed one of the many reasons to travel to South Korea soon.