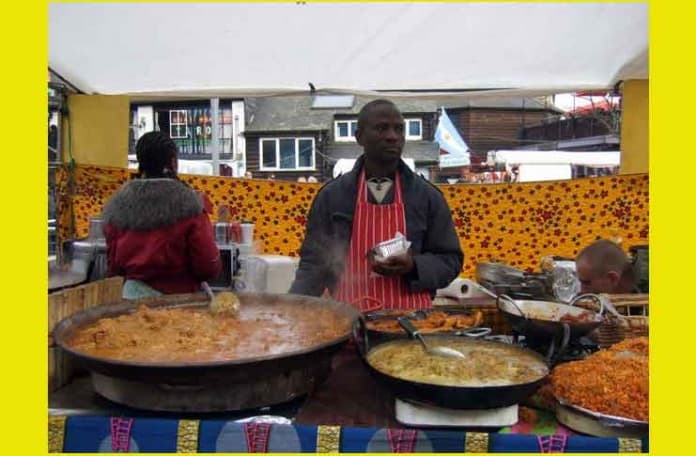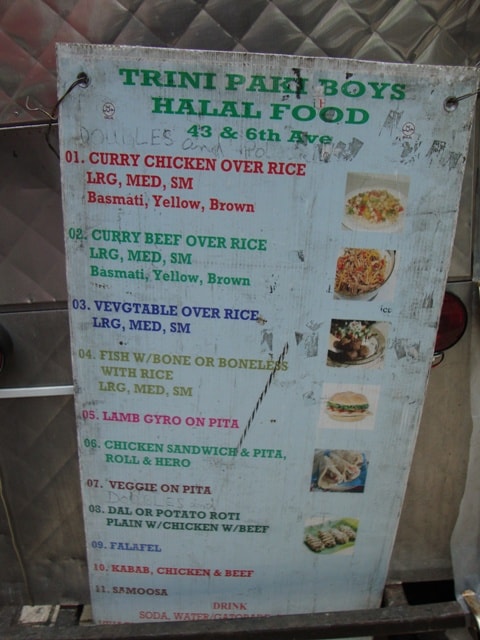 Last week's lunch of fried chicken from the Jerk Pan got me thinking about jerk chicken.  I really like the jerk chicken from Jerk Pan and Jamaican Dutchy, but they are pretty different from each other.
Not wanting to repeat myself, I decided to try the jerk chicken from the Trini-Paki Boys cart.  If you're not familiar with them, the Trini-Paki Boys cart is one of the better street carts around, and is located on West 43rd St just east of 6th Ave.  They are tucked between one of the El Rey del Sabor carts and a generic halal cart.
If you're not sure which cart is theirs, it's the one with the friendly woman in a chair handling the money while her son and daughter-in-law handle the cooking.  One of them is Trinidadian and one is Pakistani, hence the Trini-Paki Boys cart, named after their sons.
The chicken over rice from here is excellent, especially with some tamarind sauce.  But they started making jerk chicken a few months ago, and this is the first chance I've had to try it.  Today's Lunch is the medium sized jerk chicken ($6) from the Trini-Paki Boys cart.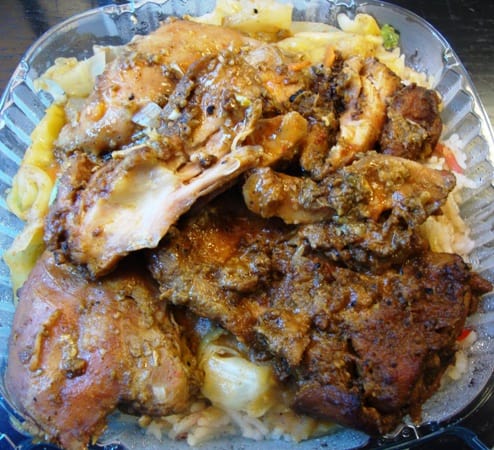 The jerk chicken from Trini-Paki Boys had thin slices of boneless chicken with jerk seasoning that was more like a rub or paste than a sauce.  With the jerk seasoning and hot sauce, this was a seriously spicy lunch!
The chicken was tender and didn't have any funky stuff in it like fat or gristle.  It was pretty tasty…and spicy.
There were also a bunch of veggies served on the side – chickpeas, cabbage, carrots and peas.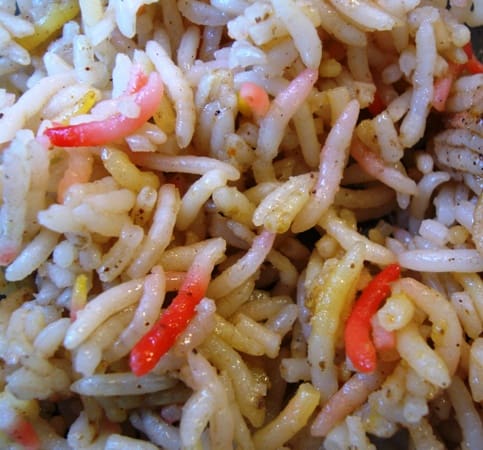 Another thing Trini-Paki Boys does well is their basmati rice.  It's fluffy and aromatic and lightened up the dish.  The rice was peppery too, but not as much as the jerk chicken.
You might ask what's the difference between the jerk chicken at Jamaican Dutchy, Jerk Pan and Trini-Paki Boys?
Jamaican Dutchy's jerk sauce is similar to a light brown peppery gravy.  Jerk Pan's is more like a sweet and spicy bbq sauce, but less ketchupy.  The jerk from Trini-Paki Boys is not a sauce at all, but is more of a spice rub or paste.  They are all good, but don't have much in common with each other.  It's more a question of what your preference is than which one is better.