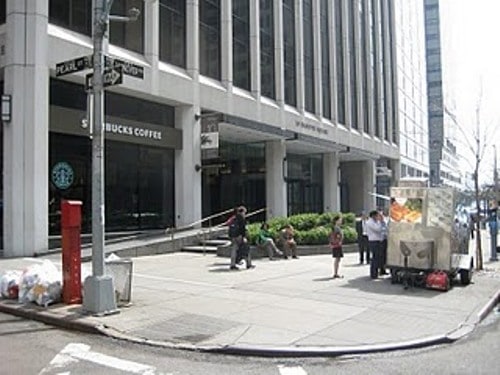 It's time for another edition of Wall Street Winners – downtown street food vendors reviewed by FiDi Mama of the Money Grub blog.  In this week's installment, FiDi Mama reviews the NYC Banh Mi cart at the corner of Hanover Square and Pearl St.  New York Street Food loves banh mi, so we were especially looking forward to this report.
Not only does FiDi Mama try the delicious-looking banh mi, but she returns at a later date for some summer rolls.  Click through for her full review.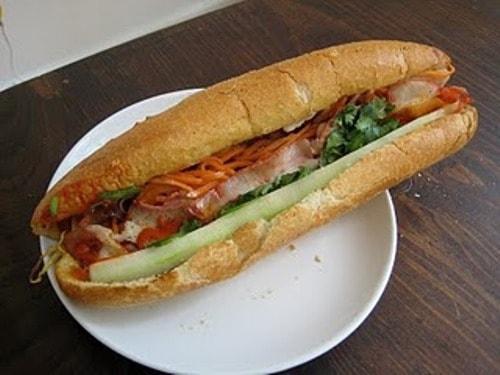 "NYC Banh Mi Cart"
Cuisine: Vietnamese
Location: Corner of Hanover Square and Pearl Street
Grub: 2 No.1 Special Baguettes ($6/each) and 1 order of 4 fried Spring rolls ($4). Total bill = $16 for 2 adults and HD.
Special Baguettes are sliced roasted pork and sliced spam-like meat with julienned carrots, cucumbers, radishes (I'm guessing here), cilantro, hot green peppers, mayonnaise and red spicy sauce on a large fresh, crusty baguette roll.
Spring rolls are a mix of carrots, mushrooms and some kind of meat product fried inside noodle wrappers.
Diners: Upscale, mostly caucasian and Asian office workers.
Speed: It was fast at 11:40am, but I got a feeling the line would grow and the pace would slow.  Skip the wait, and call your order in at 646-996-8990 before 11am or after 1pm.  It really works; the guy was taking an order on his cell phone while we were there at 11:40.  They're apparently not that strict about the 11am thing.
Review: I predict this cart will win my Wall Street food cart competition.  The baguette is a perfect combination of crunchy, mushy, crispy, gooey, sweet, salty and spicy.
If you happened upon this baguette on vacation in Vietnam, you'd be pleased.  The spam-like meat might put some off, but it was delicious.
Both types of pork are sliced super thin.  The carrots and cilantro are super fresh.  And the baguette is top notch.  Soft on the inside, crusty on the outside.  But don't eat it over your keyboard or you'll get crumbs everywhere.
HD gobbled up 3 of the spring rolls.  She would have eaten the fourth if I hadn't grabbed it first.  Can't wait to go back.  Yummy.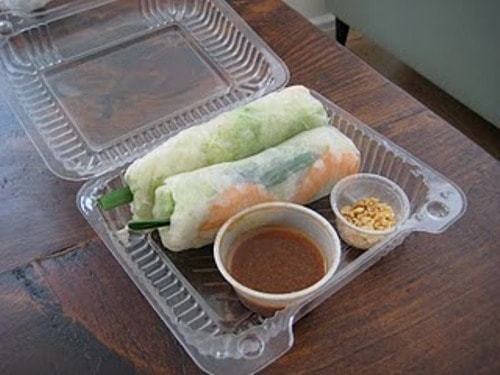 Grub: Summer rolls $4
Review: You get two substantial summer rolls wrapped in sticky translucent rice paper.  Inside are big shrimp, rice vermicelli, lettuce, mint leaves, scallion and bean sprouts.  They come with a tangy brown dipping sauce and crushed peanuts — both served on the side.
HD was delighted with the sticky, see-through outer wrap and loved the whole thing.  I would have liked some cilantro on it.
Rating: 4 (out of 4) pita
Don't forget to check out FiDi Mama's
Money Grub
blog, with plenty of other downtown street food reviews.