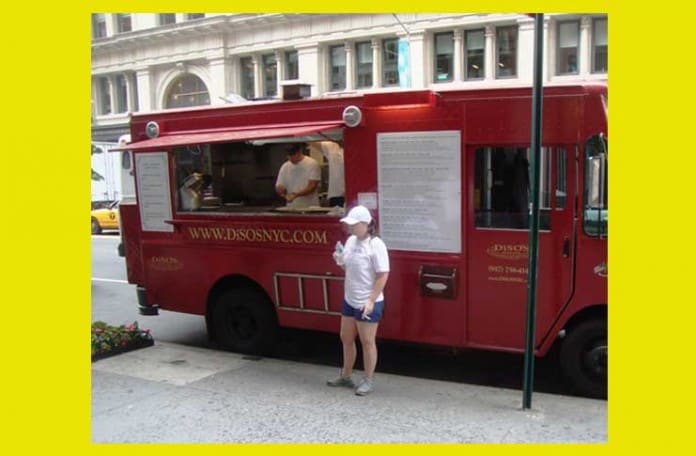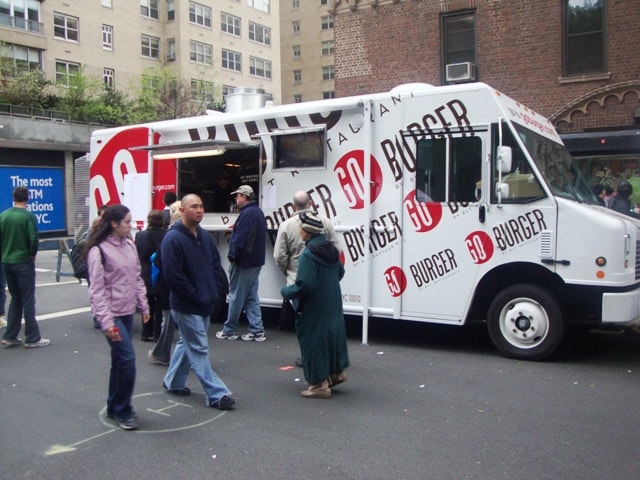 Well today's certainly a lot nicer than yesterday.  A perfect day for enjoying some great New York Street Food from the carts on the right and the trucks below.  Food Network Canada will be filming at the Biryani Cart around lunchtime today, so head over there if you can.
We would also like to extend our heartiest congratulations to Lev at Cupcake Stop on the Grand Opening of his new store today at 1 Greenwood Ave in Montclair, NJ.  We're sure Montclair will love your cupcakes!
As always, make sure to check the pink Mobile Munchies twitter feed on our homepage before heading out – in case any of the trucks had to move at the last minute.
GOBurger – Today we will be at seaport under FDR. We will be open from 11am to 3pm We have coffee,chocolate and strawberry shakes. Yummy !!!!
schnitzeltruck – Dear 48th & 6th. We are on our way to feed you hungry zombies. Schnitzification will commence at 11:30! C u soon
EddiesPizzaNY – today (thurs 7/15) we are on 52nd between park and lex. dont forget we have a chicken parm pizza. Make sure u call ahead your order 9174397522
CupcakeStop – Madison & 99th, 5th & 23rd & shoppe inside the Limelight 6th & 20th and Grand Opening of CupcakeStop in Montclair NJ, 1 Greenwood Ave 10am!
nyccravings – 53rd btw park and lex: ready in 10 minutes! Come get ur early lunch!
waffletruck – Yay Thursday Midtownies! We're on 46 btwn 5 & 6 til 4:31pm. Tell us your guilty pleasure movie for 1 free dinges today.
RickshawTruck – Hey Financial District: This is a call out for dumplings! We are at Hanover Square so come out and give Will + Lauren a hi-5! 11a-3p
StreetSweets – Hudson St we re here 4 u btw King & W.Houston from 8a-3p with many treats! Choc covered Twinkies & Devid Dogs, make ur own gelato sandwiches. Then off 2 JP Morgan Park & 47th St for a RR Donnelley Sweet Stop.
LCBBurgerTruck – Happy Thursday! The La Cense Beef Burger Truck is located at 111 Wall Street today between Front and South Streets. Come on down!
Chefsamirtruck – bought extra Merguez for today! If you didn't have the chance of trying it yesterday you should def try it today!
qbacubankitchen – Hola NYC headed to Midtown! Stay tuned for exact loc'n. Gracias y Buen Provecho!
Hoboken/Jersey City
TheKrave – 7/15 – 12:00-2:00, Hudson & Harborside Pl. 5:30-9:30, Columbus and Marin Blvd http://tumblr.com/xl1dgjkj9
laspicetruck – hudson and york 11:45-2:30 caribbean pork, eggplant and red pepper! Jamaican burger with cilantro ginger salsa. There is bacon creme brulee today. C u soon.
2 new tweets.