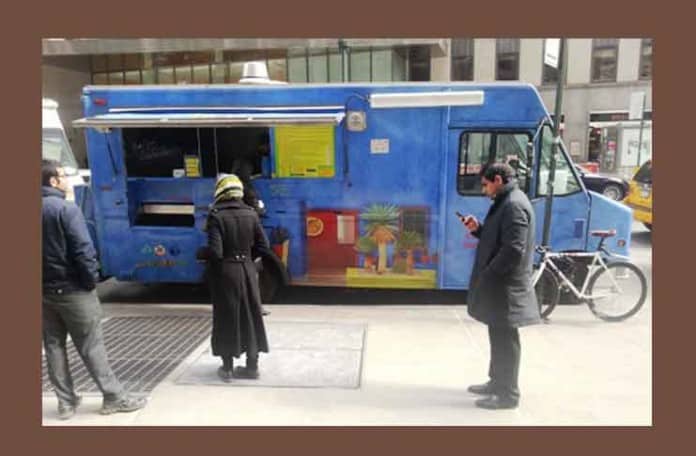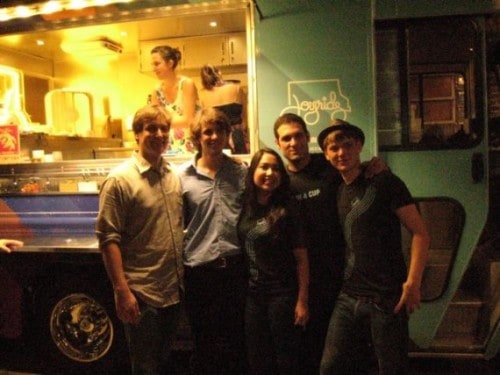 Should be a gorgeous day today without any rain.  Perfect for enjoying some great New York Street Food from the vendors on the right and the trucks below.
When you're ready for dessert or coffee, check out the new Joyride Truck on the SW corner of 52nd St & 6th Ave.  They have really cool fro yo and interesting coffee drinks.
As always, check the pink Mobile Munchies twitter feed on our homepage before heading out, in case any of the trucks had to move since this post.
joyridetruck – We're in the same spot as yesterday. 52nd and 6th (SW corner) from 8am until early afternoon. Come on by for some joy in a cup.
EddiesPizzaNY – Today (th 7/22) EPT is in the middle of the block btwn park and lex on 52nd until 3pm and then off to 14th btwn 3rd and 4th until 9. The pesto pizza is a must try!
StreetSweetsHello Thur. Street Sweets is on Hudson St btw King & W.Houston, & we r ready 2 go. It's only been a week since we were here, but we missed u
CupcakeStop – Truck on 99th and Madison, shoppe inside the Limelight Marketplace and new bakery in Montclair NJ (1 Greenwood Avenue). Red Velv,Oreo,Nutella,Funfetti,Choc PB Swirl,French Toast, Choc Caramel,Margarita,Choc Van & introducing our new Brownie & Blondie Bars!
schnitzeltruck – Hey there 48th & 6th? Lookin good! Gonna be nice and cool today. Warm up your soul with schnitz:) c u @ 11:30 for an XTREME service
waffletruck – Happy Thursday! We're on 46 btwn 5 & 6 til 4:30pm. Tell us the worst joke ever (interpret that how you will) for 1 free dinges.
nyccravings – They are filming at our usual Thursday spot. We're here on 52nd street between park and lexington! Ready by 11:30!!
7 new tweets.
CalexicoCart – The special on Wooster & Prince today is Braised Beef Brisket served in our special mole sauce. Enjoy!
BistroTruck – Special: Spiced Salmon brochettes with yogurt sauce over basmati rice & salad. Soup of day: chilled strawberry banana. Dessert: rasberry panna cotta. Fish Tacos all day long
GOBurger – Today at seaport under FDR by pier 17. Specials veggie burger,blt burger and don't forget salmon,turkey,classic and lamb burgers yummy
fritesnmeats – Howdy amigos! Were running a little late but will be at Park Ave b/w 26th & 27th st by 12. See you then
1 new tweet.
RickshawTruck – Fact – Alex Trebek was born today! Fact 2 – Don't put your life in Jeopardy, find us in FiDi: Hanover Sq or SoHo: Houston and King! 11a-3p!
LCBBurgerTruck – The LCB Burger Truck is parked at 111 Wall Street today between Front and South Streets. Come on down and bring a friend!
miss_softee – kids, shld be at lunchspot on 44th&6th around 12ish. oh babies… Oreo is gonna be stuffed with specials today!! be at the lunchspot nice and early with today's special – into the woods -a mix of nuts and seeds with a little chocolate sprinkled in!!
qbacubankitchen – Qba will be in Elmsford NY 11am-2:30pm. Tell ur friends! 33 w Main street. Gracias y buen provecho!
Hoboken/Jersey City
laspicetruck – Hudson-York 11:45-2:00 dishes from around the world! today: moroccan burger, eggplant and tomatoes tagine, harissa… http://fb.me/wG46ZMCS