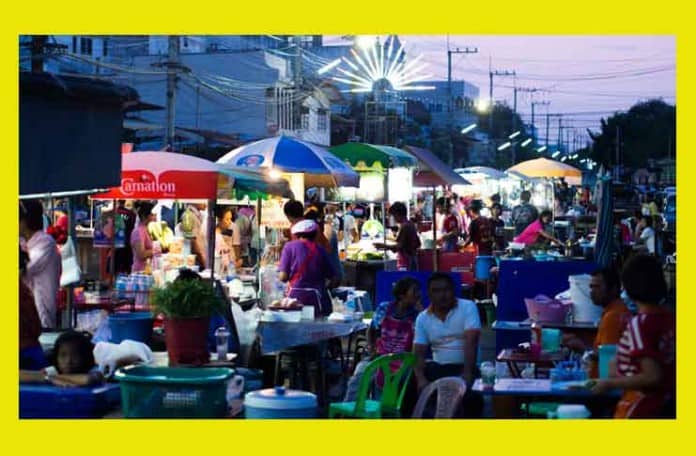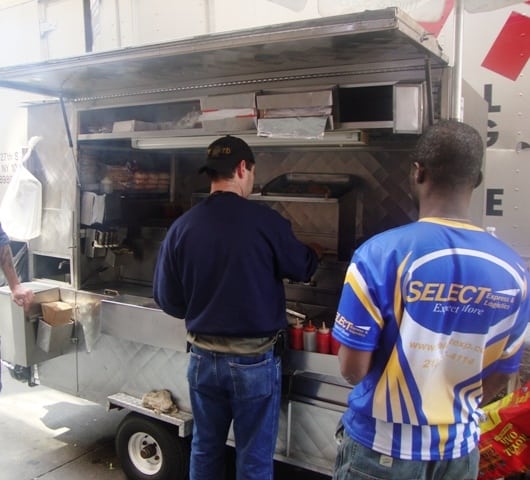 I didn't have a lot of time for lunch today, and have to leave at a decent hour to attend the Malaysian Night Market tonight.  (Check back over the weekend for a full report on this event.)  The closest, and one of the best, street food vendors is Carnegie John on the NE corner of 56th St and 7th Ave, right behind Carnegie Hall.  In fact, there were guys loading-in equipment for a concert there for tonight and it was pretty busy.
Carnegie John was gone for a few weeks and nobody knew where he went or if something bad happened, but he recently came back to his usual spot.  John told me it took him 3 weeks to renew his vending license, as the city is a lot stricter now than they were in the past.  Once he got approved, it only took an hour, but it took 3 weeks (!) to get there.  With all the press and people writing about street food (like us), the city is being more careful.
I wanted to try something new from John today, so Today's Lunch is a sausage and pepper and onion hero for $4.75.  John didn't have any hero bread left so he asked if pita was ok.  It was fine.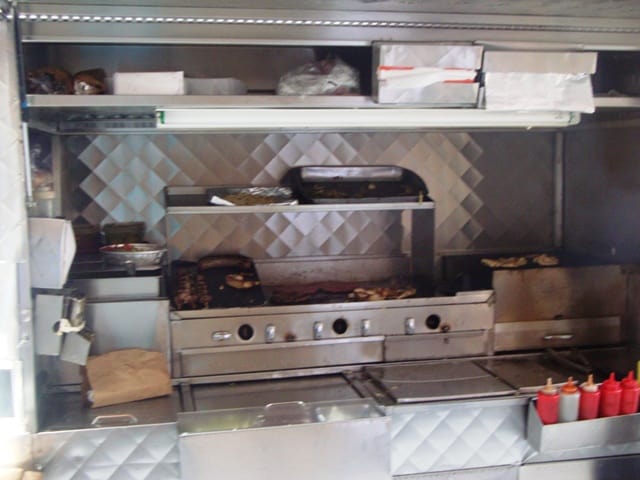 One of the great things about Carnegie John's is the charcoal grilling.  He has a regular flat grill (center rear) like the other carts, but he also has a small charcoal grill (right rear) that gives everything that summer barbecue flavor.  He even keeps a bag of charcoal next to the cart for refills throughout the day.  He transfers food between the charcoal and regular grill, which gives his food a slightly different taste than the other carts with only regular flat grills.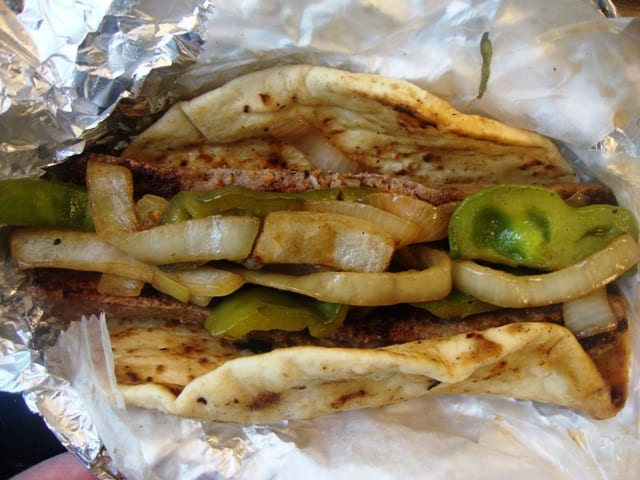 So the sausage was nicely grilled, and it had that nice Italian sausage flavor with fennel seeds, although it was a sweet, not hot sausage.  Maybe I should ask John to stock some hot sausage.  The other thing I like is the way he grill the onions and peppers.  Fairly large chunks of onion and pepper, not thin strips, and he doesn't cook them until they're mush.  The onions and peppers are grilled, but still have a crunch and sweetness to them.
Today's Lunch gets a 9 out of 10.  It's a better version of the standard New York sausage and pepper hero that's sold at every street fair in the city, but this one was not greasy.  It was not a sandwich that will make you feel stuffed all day, but for $4.75, it was very tasty and inexpensive.  It was even good on a pita.